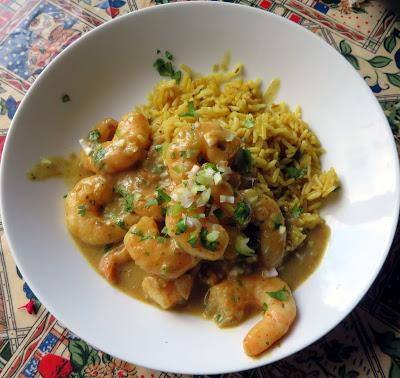 My Todd just adores King Prawns.  Its not something he gets to eat very often as I am allergic to them, but when I do cook them for him, he feels really,
really
special!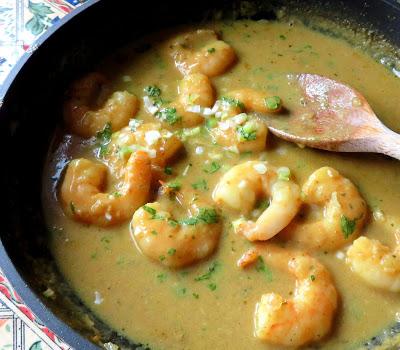 A few months back we had received a beautiful box of fish from
Seafresh Quality Foods
.  Seafresh is an on line fish monger, which sells quality fish, seafood, poultry and meat.  I was incredibly impressed with both their product and their delivery service!  There was absolutely nothing that I could fault with any of it. Feel free to read about
my experience here
.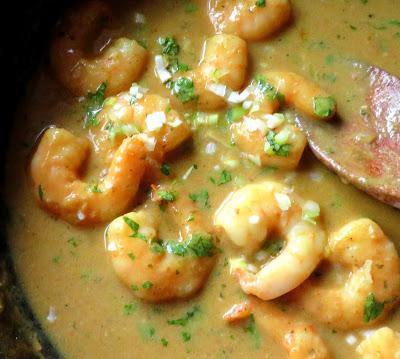 Included in the box was a bag of beautiful large uncooked
King Prawns
. Their prawns are individually quick frozen so that you can take out as many or as little as you want, which makes them very handy to use and ideal for whatever size family you have.  They are also shelled and de-veined at the source, so you can just cook them without any messing about.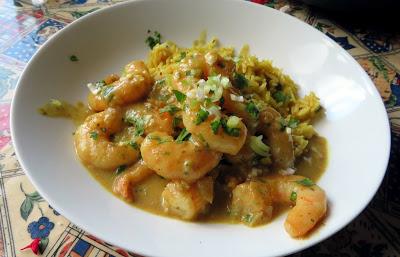 I remember when I worked at the Manor, they loved their prawns and would eat masses of them. I would have to shell and clean them. It was fiddly and time consuming.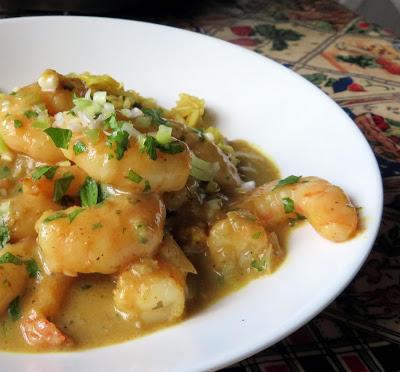 Another thing Todd really enjoys is a good curry.  I don't cook them near often enough either.  I really should cook them more often.  He likes them really spicy.  I prefer them on the mild side.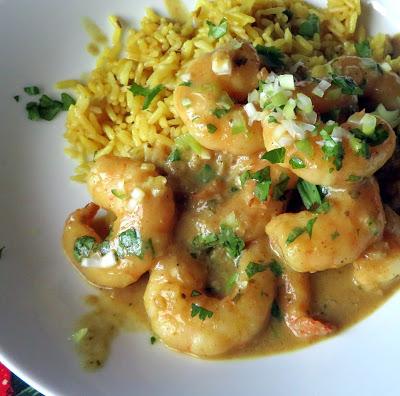 I had been saving some of the King Prawns to cook him a special meal on his birthday. Something he would really enjoy and all just for him.  Curry Coconut King Prawns.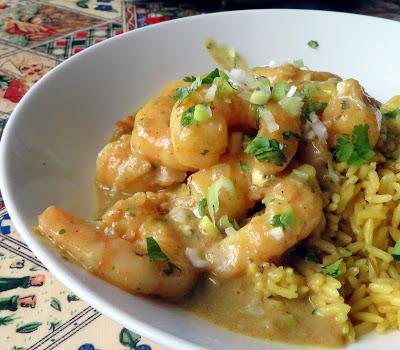 I adapted the recipe from a book my ex boss gave me when I was working for her entitled,
Fresh Every Day, More Great Recipes From Foster's Market,
by Sara Foster.  I love this book.  It is full of lovely, do-able recipes.  I used to use it a lot when I worked at the Manor as my boss liked this kind of food, and I have referred to it many times since. Its just a good
good
cook book.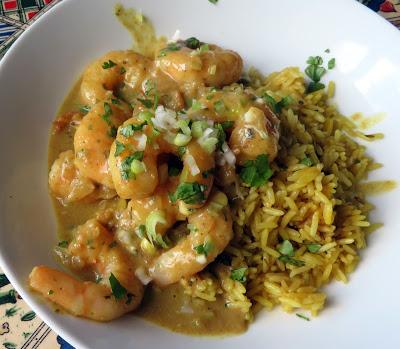 I decided to use the recipe in the book for the Curry Coconut King Prawns because I knew I would be unable to taste the finished dish myself, and I trust Sara Foster's recipes and culinary intuition as far as what tastes good.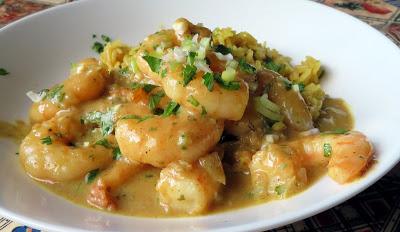 It was a simple recipe.  You need only to soften some onion until translucent and then begin cooking the prawns. You do this in batches, cooking them first on one side and then on the other.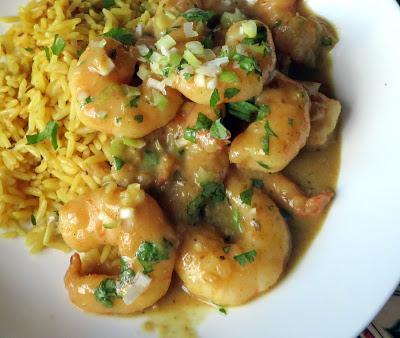 You need only cook them until they are pink on each side. 
DON'T
over cook them!  Overcooked prawns have a rubbery texture that is not very nice.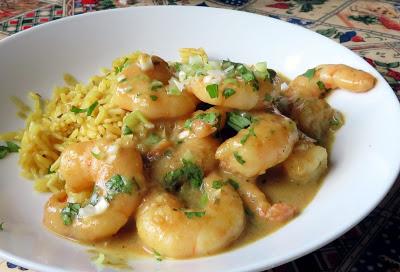 Once you have cooked them, you scoop them out and hold them, covered lightly with some foil in a bowl while you make the sauce.  The sauce is also very simple.  Just coconut milk, stock, dry sherry, curry powder and garlic.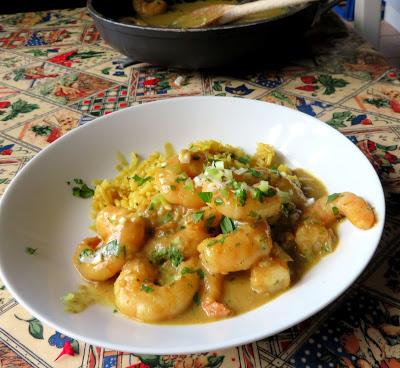 This gets reduced and then you stir the prawns, onions and their juices back into the sauce and heat through briefly along with a handful of chopped fresh coriander, and you're done!  A garnish of fresh minced spring onions and Bob's your Uncle. You have a delicious curry all ready for the people you love to enjoy along with some rice or whatever it is they enjoy with curries!  Easy peasy and according to Todd, most delicious!
Yield:
4 - 6
Author:
Marie Rayner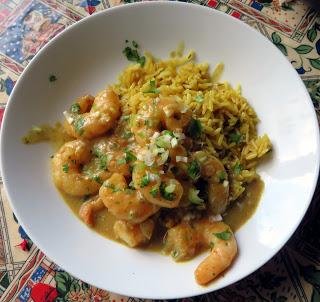 Curry Coconut King Prawns
The perfect supper for when the nights are beginning to draw in and you begin to crave richer foods. Quick, easy and delicious.
ingredients:
3 TBS olive oil
1 small onion, peeled and minced
1 1/2 pounds king prawns, peeled and deveined
salt and pepper
2 tsp curry powder
1 clove garlic, peeled and minced
1 (1-inch) piece of fresh ginger, julienned (about 2 TBS)
120ml dry sherry (1/2 cup)
240ml unsweetened coconut milk (1 cup)
240ml chicken or fish stock (1 cup)
a handful of chopped fresh coriander leaf (cilantro)
2 spring onions, trimmed and minced
instructions:
How to cook Curry Coconut King Prawns
Heat half of the oil in a large skillet. Add the onion and cook over medium high heat until soft and translucent without browning. Add half of the prawns, season with salt and pepper. Saute for 1 to 1 1/2 minutes per side until pink. Remove the prawns from the pan, reserving the onion and pan juices. Place on a serving platter and loosely tent with foil and keep warm. Repeat with the remaining prawns and oil.
Stir the curry powder, garlic and ginger into the pan you cooked the shrimp in. Saute for a minute. Add the sherry and cook for a minute longer, scraping up any brown bits. Add the coconut milk and broth. Bring to the boil. Reduce the temperature to a low boil and cook for 10 to 12 minutes until the sauce thickens and reduces by two thirds. Return the prawns to the pan and cook for a further minute to heat through and coat the prawns with the sauce. Remove from the heat, scatter with the coriander and salt and pepper to taste. Stir to combine. Garnish with the minced spring onions and serve.
Created using
The Recipes Generator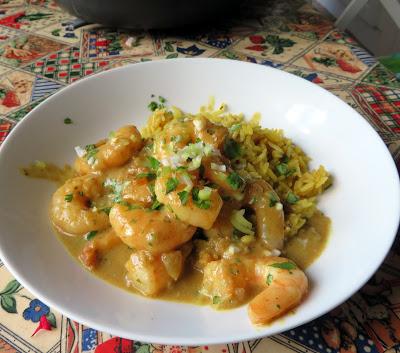 Todd felt really spoilt when I served this up to him.  He was licking his chops big-time! 
A few things about Seafresh:
Same Day dispatch on orders received before 1 PM.
All packages are carefully hand packed.
Free delivery on orders above £50, £8 on orders below that amount. 
Responsibly and sustainably sourced.
Air Blast Frozen at source within 4 hours of being caught.
Wide variety to choose from. 
Do check them out on their
website
to find out more.
Follow them on
Facebook
,
Twitter
and
Instagram
.
Note - Although I was gifted with product free of charge for the purposes of review, I was not required to write a positive review in exchange, nor would my integrity allow me to recommend anything if I did not truly like it. Any and all my opinions are my own entirely.
Up Tomorrow: 
Cheddar & Corn Chowder