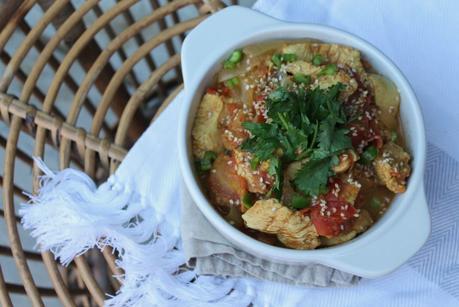 Last month I shared instalment #1 of curry club. Today, I bring you more curry deliciousness! 
This time: a chicken balti.
I used to think making a curry from scratch took hours; selecting and blending the spices, cooking until fragrant... I was wrong. This chicken balti takes no longer than 30 minutes to prepare and cook, making it the perfect mid-week meal. It may seem like the recipe requires a lot of spices, but once you buy them you'll use varying combinations in different recipes and you should find you have most of the ingredients in your cupboard. This recipe makes enough for two hungry people, but just add more chicken and tomatoes if you're cooking for more people, and throw in a little extra of each spice. 
You will need1 onion, sliced (not too small)3 tomatoes, sliced3 chicken breasts, sliced3 garlic cloves, crushed1 tsp ginger paste1 tsp garam masala1 tsp cumin seeds1 tsp chilli powder4 cardamom pods1 cinnamon stick100ml water 1 vegetable stock cubeJuice of half a lemon2 tbsp fat-free Greek style yoghurt Handful of coriander, diced1 green chilli, diced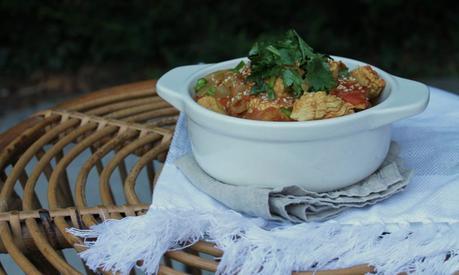 Start by frying the onion in a pan with a few sprays of Fry Light, until golden. Add the tomatoes, combine, and throw in the ginger paste, garlic, garam masala, cumin seeds, chilli powder, cardamom pods, cinnamon stick and salt. Fry for a few minutes until the garlic is cooked and the spices become fragrant. 
Throw in the water and crumble over the stock cube, followed by the chicken. Poaching it like this in the water and spice mix will ensure it stays moist rather than drying out. Leave to cook on a medium heat until the chicken is cooked through and the water has reduced by about 70%, it should take about 10-15 minutes. 
Stir in the Greek yoghurt and lemon juice and leave for a further few minutes to reduce down. You still want some juice/sauce so don't leave it to reduce completely! Five minutes before serving stir through the chilli and serve with coriander. 
Tip - fish out the cardamon pods and cinnamon stick before serving. No-one likes biting into a pesky pod!
Slimming World - syn valuesCompletely free served with basmati rice! Add a poppadom for 2.5 syns, a mini plain naan bread for 7 syns or a chapatti for around 6 syns (check the app for up-to-date branded syn values).