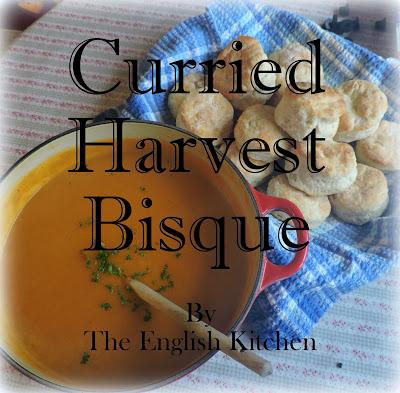 If you are looking for a first course this holiday season that is not only simple and quick to make but delicious as well you need look no further.  Curried Harvest Bisque is a fabulously tasty soup!  Simple ingredients . . .  butternut squash, chicken stock, butter, flour and single cream with a few bits and bobs combine beautifully to create a wonderful soup with not a lot of fuss involved.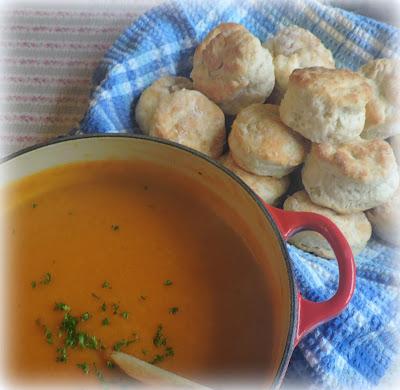 I used already cut up frozen butternut squash cubes today which made it even faster and less of a faff.  The most yukky part of  butternut squash is peeling it.  I had a 700g pack of frozen diced squash and it was just the right size for this recipe.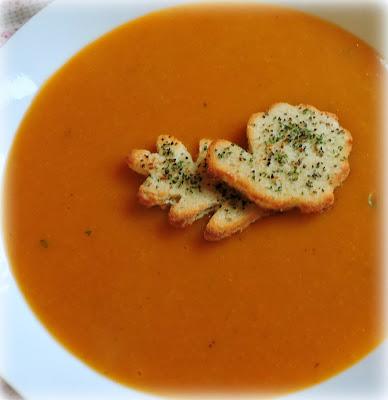 It is as simple as simmering the butternut squash in chicken stock until it is soft and then pureeing it.  I use the stick blender, but you can use a food processor or a blender.  Just take care as hot liquids can soon turn disastrous when using these machines  Always cover with a tea towel as the heat from the soup can make the lid blow off.  You don't want to be scalded or have a mess to deal with.   Better safe than sorry.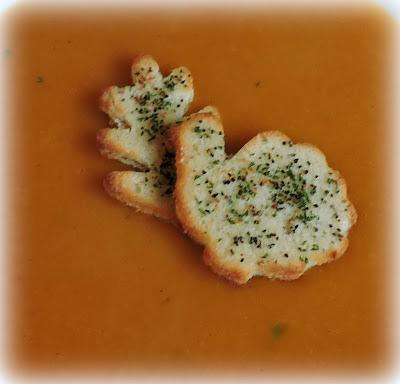 For special occasions I always like to make some decorative croutons to float on top of each serving of soup.  They are very easy to make and look so pretty.  I have put instructions at the end of the recipe which tell you how to do this.  Today I used oak leaves and turkeys.  Very festive!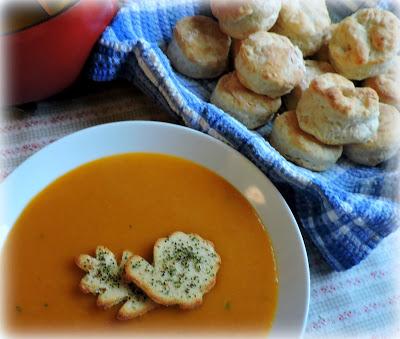 I baked some buttermilk biscuits to go along with the soup today.  I used my favorite Mile High Buttermilk Biscuit recipe.  Todd just loves those.  This soup is delicious and simple.  Light enough when served in smaller portions that it won't spoil your dinner, but when served in larger portions with some rolls or bread, it makes a nice light lunch.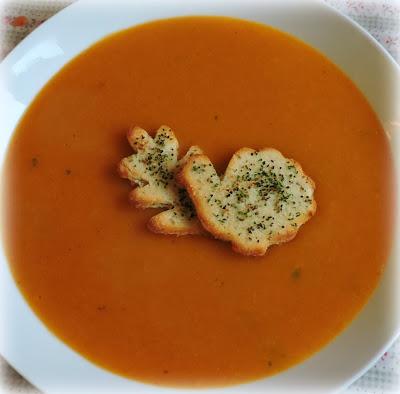 *Curried Harvest Bisque*Serves 4 Printable Recipe   
This is a great first course for your holiday feast.  It's also good anytime.  (Just saying.)  
1 pound butternut squash, peeled and diced into 1 inch cubes1  liter of chicken stock (5 cups)60g butter, softened (1/4 cup)35g flour (1/4 cup)1/4 tsp hot curry powder1 tsp medium curry powder180ml single cream or undiluted evaporated milk (3/4 cup)1 TBS lime juice1/2 tsp salt1/4 tsp white pepperTo Garnish:diced ham (optional)Croutons (optional)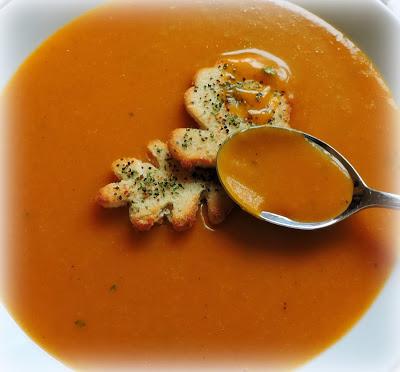 Put the squash in a  large saucepan along with the stock.  Bring to the boil, then reduce to a simmer.  Cook until the squash is very soft and tender.  Blitz the squash mixture until it is smooth.  Cream the flour and butter together until smooth.  Cream in the curry powder.  Drop into the hot soup mixture and blitz again to combine.  Return to the saucepan and cook over medium heat until the mixture begins to thicken.  Whisk in the cream/evap milk, lime juice, salt and pepper.  Heat through without boiling.  Serve hot with garnishes as desired.  
Note - You can make some really nice croutons by cutting bread with decorative cookie cutters and lightly buttering it on both sides.  Sprinkle with coarse black pepper, onion granules and parsley.  Bake in a hot oven for about 5 to 8 minutes until golden brown.  Float on top of the soup.  Very pretty..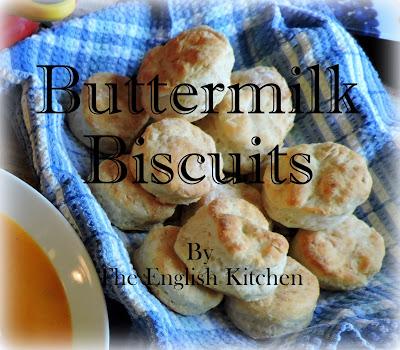 * Buttermilk Biscuits*Makes 12Printable Recipe 
These are the lightest fluffiest buttermilk biscuits you could ever bake or eat.  
 280g of plain flour (2 cups) sifted1 TBS sugar3 tsp baking powder1 tsp salt125g of cold butter, cut into bits (1/2 cup)180ml of buttermilk (3/4 cup)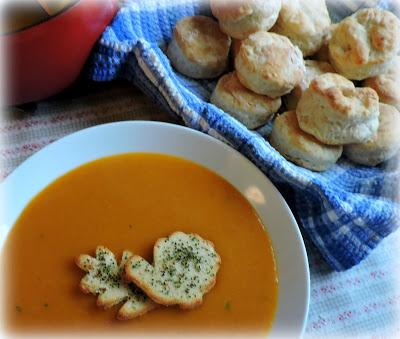 Preheat the oven to 225*C/450*F/ gas mark 7.  Line a baking tray with baking paper.  
Sift the flour into a bowl.  Whisk in the sugar, salt  and baking powder.  Drop in the butter. Cut it into the dry ingredients using two round bladed knives or a pastry blender.  You want pieces no larger than the size of dry peas.  Some that size and some smaller.  Stir in the buttermilk with a fork to mix to a soft dough.   Tip out onto a lightly floured board.  Knead gently a couple of times.  Pat out to a six by nine inch rectangle.  Visually divide into threes and fold the outer thirds in over the middle third like a book.  Pat out again to a six by nine inch rectangle, about 1/2 inch in thickness.  Cut into rounds with a sharp 2 1/2 inch round cutter, using a sharp up and down tap.  Place several inches apart on the baking sheet.
  Bake for 10 to 12 minutes until golden brown and well risen.  Serve warm.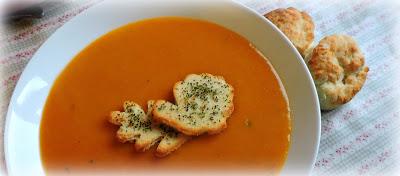 I can almost guarantee that you will love this soup.  It's just spiced nice with only a hint of curry  You can certainly increase it if you wish, but I find that this is just right.  Bon Appetit!