Cooking the perfect rice kernel is a feat that's nearly impossible for me.  Perhaps I am too impatient, always pulling open the pot lid and letting out that precious steam.  Then there's attempting to cook rice in my rice cooker, which works perfectly well in large quantities (which I don't have the need/desire for) but never ceases to burn my small two person portions.
So I did want any good 21st neophyte cook would do, I googled how to cook rice perfectly.  I happened upon several recipes that called for the rice to be bake in the oven.  Genius, pure genius.  So for all you peeps out there without a rice cooker, this recipe is for you.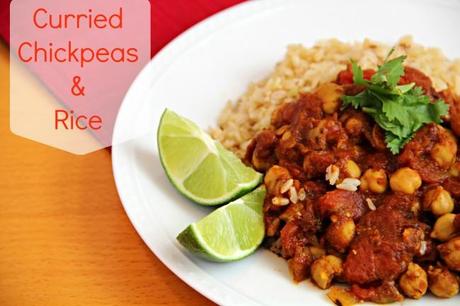 Ingredients
1 cup basmati rice
2 1/4 cups coconut milk
3/4 teaspoon cumin seeds
1 cinnamon stick
1 teaspoon salt
1 cup vegetable broth
28 ounces diced tomatoes
1 large onion, diced
2 cloves garlic, minced
3 tablespoons curry powder
1/4 teaspoon ground ginger
1/2 teaspoon turmeric
1/2 teaspoon garam masala
1 teaspoon cinnamon
1 lime sliced (for garnish)
Method
Preheat oven to 350 degrees.
Add coconut milk, cumin seeds, salt, and cinnamon to a large pot and bring to a boil.
Add basmati rice to a large casserole dish.
Once coconut milk comes to a boil, turn off heat and immediately pour over basmati rice.
Cover the casserole dish with foil and place in the oven to bake for one hour.
While the rice is cooking, sauté your diced onion on medium heat for 10 minutes.
Add your minced garlic and continuing cooking for another 2 minutes.
Add in spices, curry, ginger, turmeric, garam masala, and cinnamon. Cook for 1 minute.
Add in tomatoes, chickpeas, and vegetable broth. Turn down heat to low/medium.
Allow to cook for about 15 minutes.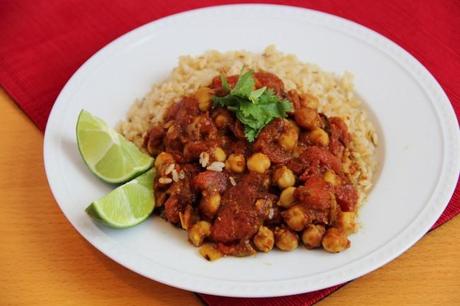 Serve your curried chickpeas and tomatoes over the basmasti rice with some lime slices to garnish.
For those of you not too keen on rice, I definitely recommend trying out this recipe.  The cumin seed and the cinnamon add the perfect kick to characteristically boring rice.  At the same time, the spices are mild enough that they don't overwhelming the curried chickpeas and tomatoes.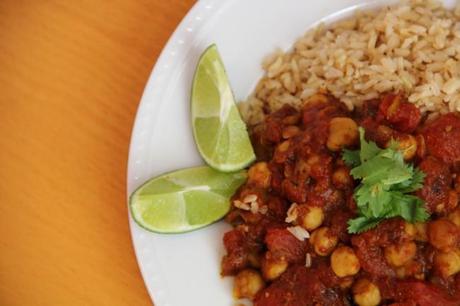 I also wouldn't skip the lime juice.  It adds the perfect acidity to round out the dish.  So bring on those lime slices.