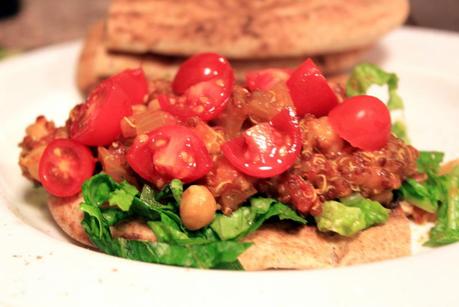 This is one of my favorite dishes, and it's actually one of the first recipes I made when I started my blog. So many things have changed since then:
The husband is no longer scared/skeptical of quinoa, and actually asks for it from time to time
This recipe took me 50% less time to make because my skills in the kitchen have improved
The photographs in this post have all been updated (and are a far cry from what my photos looked like in the early days of blogging!)
Trader Joe's now has whole wheat tandoori naan flatbread: in the original recipe, I just used the regular version which has 6g less fiber than this version
But one thing has remained the same, that is, the awesomeness of this recipe. I originally found it on Fat Free Vegan Kitchen's Blog. I remember being sort of nervous about making it, especially with the husband's skepticism about quinoa as a topping for tandoori flatbread. But he was open to trying it, which meant I had to be open to making it!I made quite a few modifications to the original recipe to amp up the flavor/spicy-ness
(see my notes in purple)
. This meal is also extremely healthy and balanced with veggies, fiber, protein and whole grains – especially with the addition of whole wheat Tandoori Naan Flatbread (one of them will run you about 250 calories, 8g fiber, 10g protein). I actually tried using a whole wheat pita and a slice of toasted whole wheat bread as alternate bases and they turned out great too (and those are healthier/lower calorie options than the flatbread). But any way you make it, this is a great recipe! Oh and the leftovers are delicious too.
a
The Ingredients
a
Part 1: Curried Chickpeas/Flatbread
1 medium onion, chopped

(I used a red onion)

2 cloves garlic, minced

(I actually used about 4 cloves garlic for more flavor)

1 tablespoon minced ginger

(I think I used a little more than 1 Tbsp)

1 15-ounce can chickpeas, rinsed and drained
1 1/2 teaspoons good curry powder (or adjust to taste)

(I ended up using closer to 1 Tbsp)

1/4-1/2 teaspoon cayenne or other ground red pepper (or to taste)

(I used 1/4 tsp and along with the high quality curry powder, it was quite spicy)

1 15-ounce can diced tomatoes
1 cup cooked quinoa 

(I used red quinoa because it has a bit more fiber than regular)

salt to taste

(Definitely don't omit this step – this recipe needs salt added, otherwise it will taste bland!)

Whole wheat pita, or toasted whole wheat bread, or whole wheat Naan Flatbread



Part 2: Tomato "Salsa" & Other Toppings (I added this to give some more dimension & texture to the meal)
1 cup grape tomatoes, quartered/halved

Diced red onion

Diced red bell pepper

A few squirts of lemon juice

Pinch of salt

Mixed greens / baby romaine – chopped
The Directions
Step 1: Chop your veggies, cook the quinoa according to package directions, and heat up your flatbread.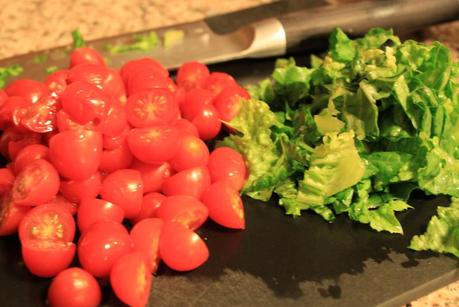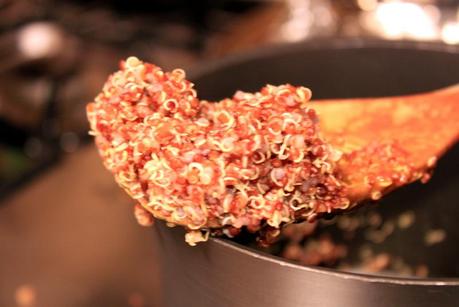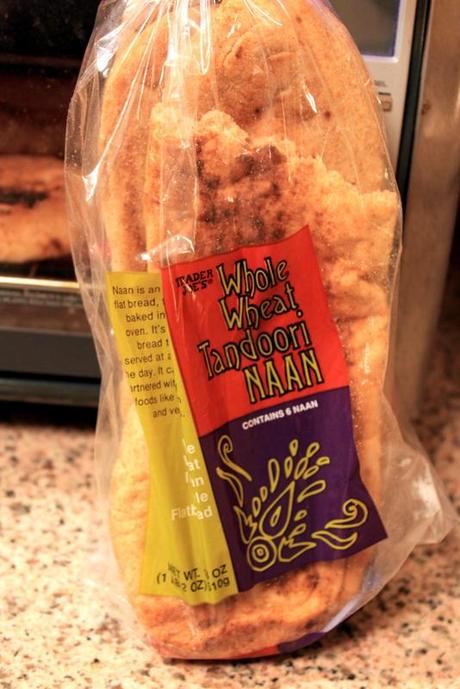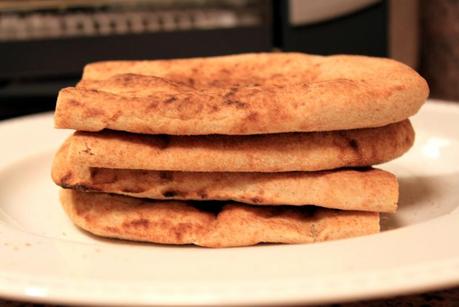 Step 2: Heat a medium-sized, non-stick sauce pan over medium-high heat. Add the onions and a sprinkle of salt and cook, stirring, until onions soften. Add garlic and ginger and cook for another minute. Add the chickpeas, curry powder, and cayenne pepper, and stir briefly. Add the tomatoes and cooked quinoa, reduce heat to low, and cover. Simmer for about 20 minutes to allow flavors to blend. Add salt to taste.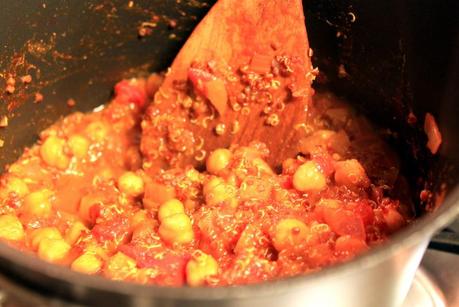 Step 3: Mix tomatoes, onions, red peppers, lemon juice and salt together. Make flatbreads: Top your pita/bread base with chopped romaine/baby greens, 1 serving of the chickpea / quinoa mixture, and the tomato salsa.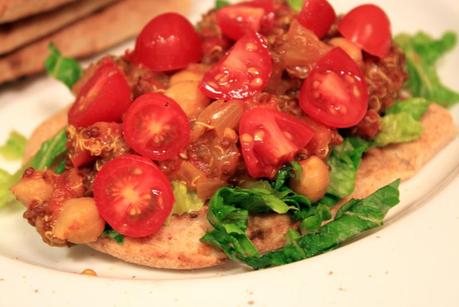 Yes, it tastes as good as it looks

The chickpea/quinoa mixture actually reminded me a bit of channa masala – with a twist. The leftover curry was great with regular naan and 0% Greek yogurt.