Slide a few of these wholegrain cookies into your children's lunchbox to keep them going through to lunch. And why not stock the freezer with extra dough so you can make more cookies in a flash.
Total Time Investment: 25 Minutes + Chilling Time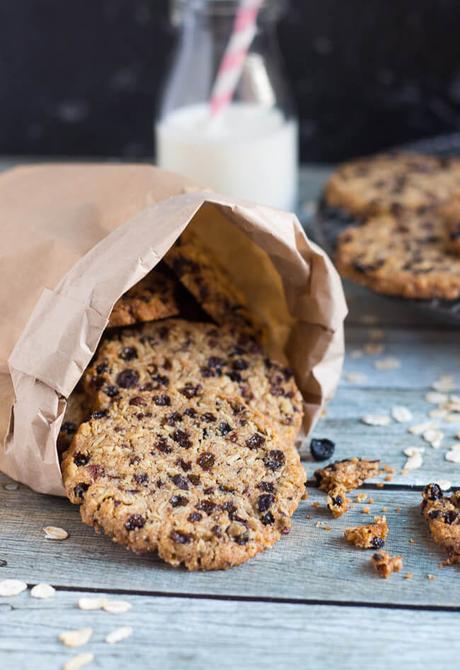 *We are a participant in the Amazon Services LLC Associates Program, an affiliate advertising program designed to provide a means for us to earn fees by linking to Amazon.com and affiliated sites.
The new school year starts next week. I'd like to kid myself that I will be more organised this year; that I will actually manage to stay on top of the baking, and that The Princess will have few reasons to complain that there is nothing in the house to eat.
I am hoping that things have started as I would like them to go on. There is zucchini bread and chocolate zucchini cake (yay for a zucchini glut) in the freezer, along with batches of uncooked cookie dough ready for emergencies. And I have baked a batch of these wholegrain cookies ready to go in the lunchbox Monday morning.
As to whether this fit of organisation continues, only time will tell. The Princess can but hope.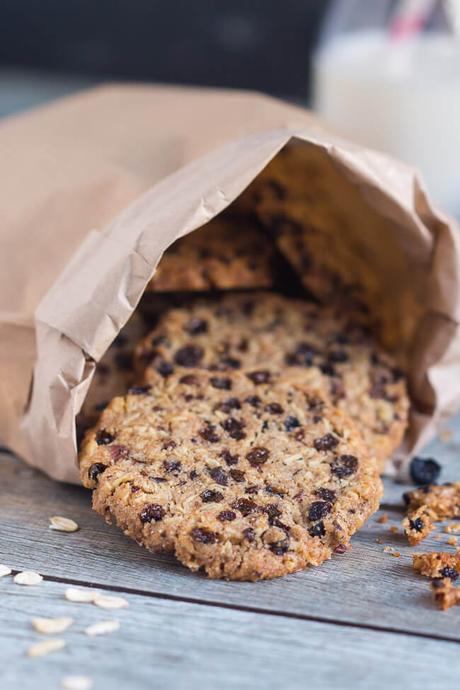 Ingredient Substitutions for Wholegrain Cookies
These cookies are ripe for experimentation, so substitute ingredients freely to make them your own. Just ensure you keep the total quantities the same.
Salted butter can be used in place of the unsalted butter. If you do use salted butter, make sure you omit the pinch of salt from the recipe.
I prefer to use golden caster sugar in my recipes as it is not as sweet as highly refined white caster sugar. These wholegrain cookies will be just as good with white caster if that is all you have. Don't go buying golden caster sugar if you are unlikely to use for other recipes.
Honey can be used in place of the maple syrup.
Slide a few of these #currant & #cocoanib #wholegrain #cookies into your children's #lunchbox to keep them going through to #lunch. Or just munch on a few yourself. Click To Tweet
Substitute sultanas for the currants, and chocolate chips for the cocoa nibs. If you wish to make these substitutions however, I would recommend that you finely chop the sultanas and/or chocolate chips. If the ingredients are too large, the cookies may not stay together and fall apart when baked.
Use wholemeal wheat flour in place of the wholemeal spelt flour.
I love vanilla paste in cookies, however you can use a teaspoon of vanilla extract in place of the vanilla paste if preferred.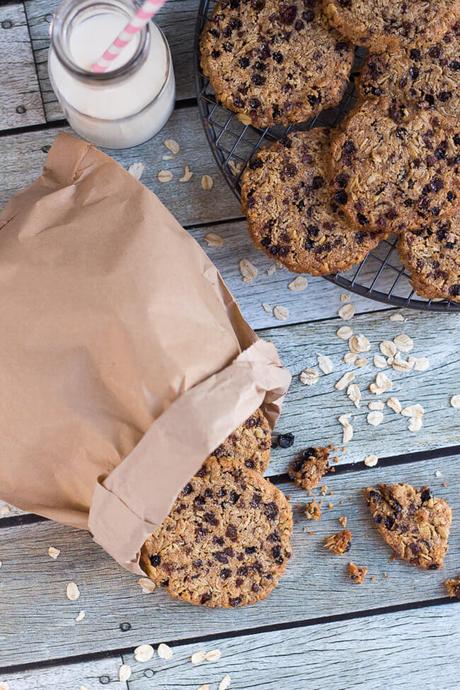 Tips & Tricks For Great Wholegrain Cookies
Most cookie doughs benefit from a few hours in the fridge before baking, and these wholegrain cookies are no exception. The resting time allows the sugars to soften and the flavours to develop. I usually make this dough a day before I wish to bake the cookies, and just rest it in the fridge overnight. The dough will be fine in the fridge for 2 - 3 days, and can be frozen for up to 3 months.
You can also slice and bake the cookies immediately after making the dough if desired, although be aware that the dough may be tricky to handle, and the cookies not as tasy. If you need immediate results, maybe bake some thumbprint cookies or blueberry and ginger cookies instead.
If you wish to freeze the dough, follow the recipe below for making the cookie dough. Then wrap the log of dough again in foil, and label well with both the cooking time and temperature. This way you won't need to find the recipe again before baking. When you wish to bake wholegrain cookies, defrost the dough overnight in the fridge, or allow to soften on the bench for 30 minutes. Then proceed with the recipe.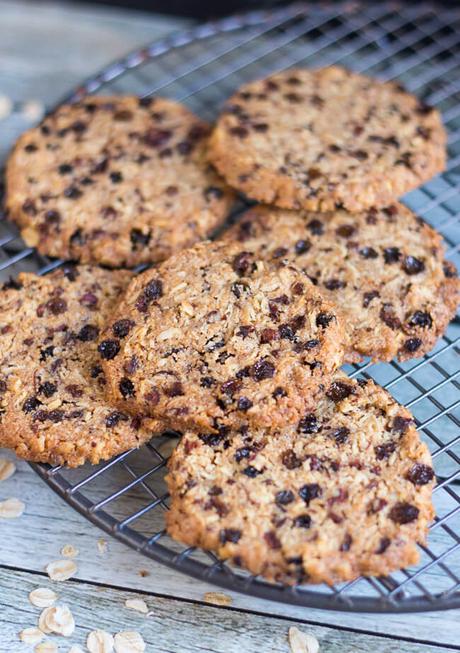 Make sure you allow the cookies to rest for about five minutes on the tray once they are baked. Ignore this advice at your peril, and if you do try to transfer the cookies immediately after baking, don't be too surprised if they disintegrate on the way to the cooling tray. Whilst quite sturdy once cool, these wholegrain cookies are extremely fragile when just out of the oven.
Use a sharp knife to slice the log of cookie dough. Even with a sharp knife, the slices of dough may crumble slightly around the edges. Don't panic if this happens; just gently squeeze the edges of the cookies back together and lay them on your baking tray. They will join together as they bake.
Store the cookies in an airtight container for up to 5 days (if they last that long). Or you can freeze the baked cookies, and defrost them for 10 minutes before eating.
Enjoy!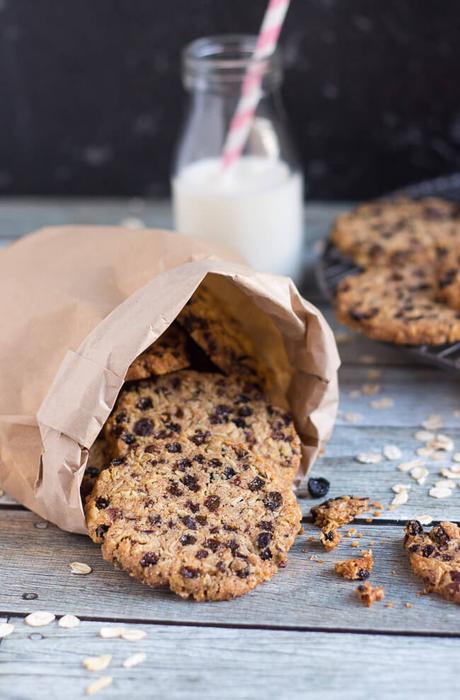 Made this recipe? Tell me how it went in the comments below.
And if you loved it, please don't forget to rate it.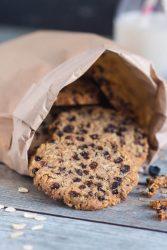 * This post was originally published in August 2013, and has been substantially updated so as to be unrecognisable from the original.