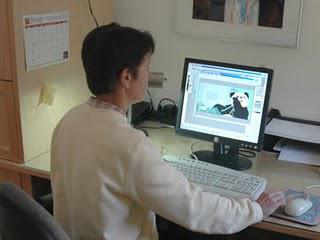 Recently, I received a letter from students in a third grade class who wanted to know more about my writing process.  Here are their questions and my answers:
1. When do you do your writing?
I usually write in the morning when I am fresh. When I am not writing, I am reading and doing research for my books. 
2. Do you write persuasive stories?
No. Almost all of my books are nonfiction books about animals.  
3. What do you do when you are stuck or don't feel like writing?
If I am stuck, I put my story away for the day. Usually, when I go back to it the next day I find ways to get unstuck. If I don't feel like writing, I sometimes take a walk, work in my garden, or read a book. 
4. Do you have stories for each season?
No, I write all the time.  
5.  Where do you keep all your writing ideas?
When I get an idea, I write it down on a piece of paper and put it in a box on my desk. Then, when I'm ready to start a new project I look at all my ideas and choose one. 
6. Which part of the writing process is the easiest/hardest for you (pre-writing, drafting, revising, or editing) and why?
The hardest part of the writing process is the first draft because I have so much to say and it is hard to get it all down in the right order. I usually forget things and then add them in the revising and editing process. That's my favorite part of writing. As I revise, I make small changes to make the story better. When I am finished, the story is exactly the way I want it!