For the last few weeks, everyone in our house has suffered from a cold. All of us in various stages of sniffling, sneezing, coughing… you get the picture. So following the old "BRAT" rule, we have been consuming quite a bit of bananas, rice, apples and tea. Which for a day or two is fine, but you can only eat so much plain rice and applesauce before you long for something with some flavor and substance!
Eggs are very easy to digest and are high in protein not to mention that they are wonderfully versatile. Admittedly, at first the idea of an egg frittata seemed a bit odd, but rice pudding and tamago sushi came to mind and my doubts were quashed.
In addition to being a good sickbed comestible, this unfolded Italian omelet is perfect for brunch or a quick weeknight dinner. This tasty frittata has a particularly pleasing texture, light and toothsome at the same time with a nice crust on the bottom, especially when cooked in a heavy cast-iron skillet. It also lends itself to many delicious variations. Any manner of leftovers (vegetables, mushrooms, sausage) and herbs can simply be folded into the mixture with the rice before cooking or topped with cheese* or a fresh salsa before being served.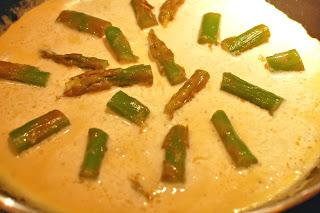 2 teaspoons butter
4 eggs
¼ cup milk (or other liquid such as broth or tomato juice)
1 cup cooked rice
½ cup cooked vegetables (optional)
¼ teaspoon dried herbs (of your choice, if using)
½ cup shredded cheese (optional)
Salt and pepper to taste
Beat eggs until frothy and add milk, rice, and filling ingredients in medium bowl until blended. The filling(s) should be cooked, not raw and cut into pieces that are fairly small and drained well. Herbs, and salt and pepper should be added and well mixed.
Heat butter in 6 to 8-inch pan or skillet over medium-low heat until melted. Pour in egg mixture and cook over low to medium heat until eggs are almost set, about 8 to 10 minutes.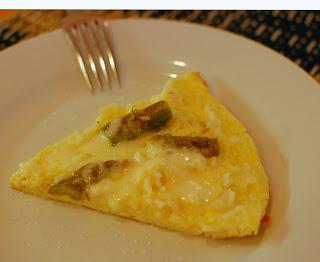 Preheat broiler.  Remove the skillet from the burner and place under the broiler (if your pan does not have an ovenproof handle you should wrap it completely in aluminum foil). If desired, sprinkle with shredded cheese, bread crumbs or even crushed chips. Broil about 6 inches from heat for several minutes until the eggs are firmly set and no visible liquid egg remains and cheese is melted or topping is lightly browned.
Transfer the frittata to a serving platter and serve or cut into wedges and place on individual serving plates.


*Cheese and other dairy products can be difficult to digest and contain casein which is a mucus-forming agent. Casein is the dominant protein in foods such as milk, cheese, yogurt, ice cream and butter. Its gluey texture and histamine-creating properties cause increased mucus production and nasal congestion.