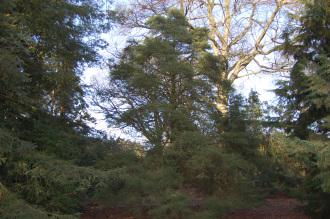 Cupressus macnabiana (02/02/2014, Kew Gardens, London)
Position: Full sun to light shade
Flowering period: Late winter
Soil: Moist, well drained
Eventual Height: 12m
Eventual Spread: 12m
Hardiness: 6b, 7a, 7b, 8a, 8b, 9a, 9b, 10a
Family: Cupressaceae
Cupressus macnabiana is an evergreen small tree or large shrub. Its grey/ green leaves appear in two forms, juvenile and adult and resinous fragrance. Its juvenile leaves soft, needle like and up to 10mm long.  Its adult leaves are scales, up to 2mm long and appear as flattened sprays. Its trunk may achieve a diameter of up to 2m. Its gray bark is rough, furrowed and fibrous. Its yellow monoecious flowers are in the form of female seed cones and male pollen cones. Its grey/ green fruit are cones up to 25mm long and 20mm broad.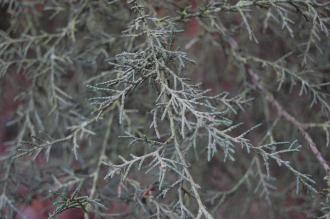 Cupressus macnabiana Leaf (02/02/2014, Kew Gardens, London)
Cupressus macnabiana, commonly known as the MacNab Cypress, Fragrant Cypress or Shasta Cypress, is native to south west USA. In its native habitat it grows in a coniferous woodlands.
The etymological root of the binomial name Cupressus is derived from the old Latin name for 'Italian cypress'. Macnabiana is named after James McNab (1810-1878), Curator of the Edinburgh Botanic Garden.

The landscape architect may find Cupressus macnabiana useful as part of a native planting scheme in California. Once established this tree is drought tolerant.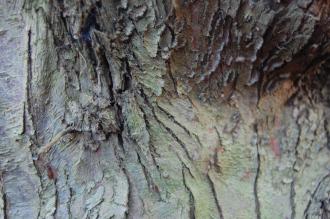 Cupressus macnabiana Bark (02/02/2014, Kew Gardens, London)
Ecologically,  Cupressus macnabiana is of little wildlife benefit in the UK.
Cupressus macnabiana prefers moist, fertile, well-drained soils. It tolerates most pH of soil. It will tolerate poor soils.
Cupressus macnabiana requires little maintenance.