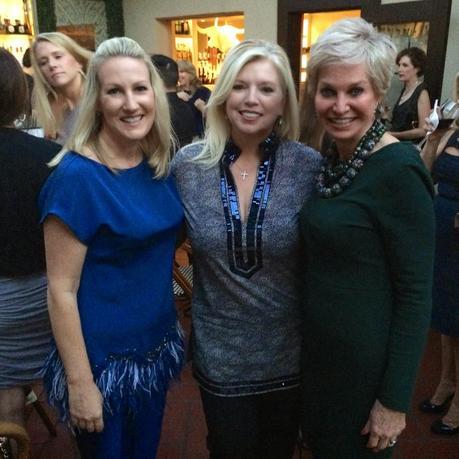 Lisa Singleton, Jennifer Houser & Carmaleta Whiteley
helped to kickoff the LLS St. Valentine's Day Luncheon
For those of you who drove past Highland Park Village on Tuesday night and wondered what all of the high-pitched buzz was about, let me tell you what you missed: It was a high-wattage group of dynamic women gathered to kick off the Leukemia & Lymphoma Society's (LLS) Saint Valentine's Day Luncheon & Fashion Show.
Presiding over the soiree were Lisa Singleton, Chair, Lynn McBee, Honorary Chair, Jennifer LeLash and Nikki Webb, Underwriting Chairs, Maggie Kipp, Raffle Chair and Carmaleta Whiteley, Advisory Chair. Milling about the evening, I also spied Dee Dee Lee, Claire Emanuelson, Janie Condon, Gigi Potter Salley, Holly Davis, Deb SoRelle, Hamilton Sneed, D'Andra Simmons Lock, Kim Alexander, Kerstin Retig, Rainey Fogiel, Natalie Moon and Heather Randall from Trinity Industries (who so generously sponsored the evening).
Mark Tuesday, February 17, 2015 on your calendar for a "Fashionably Late" Valentine's Day celebration. It's going to be another fabulous event and here's why:
Highland Park Village will be the sponsor of the fashion show component of the Saint Valentine's Day Luncheon & Fashion Show. The dynamic variety of contemporary and luxury boutiques at Highland Park Village will create an inspired show under the guidance of producer Jan Strimple. Jennifer Houser will receive this year's Lynda Adleta, Heart of Gold Award Recipient and Brooklynn Alexander (who was in attendance with her family) will receive the Spirit of Tom Landry Award Recipient. While there will be many new & exciting elements to this year's event, what won't change in 2015 are the elements that attendees know and love. The Morton H. Meyerson Symphony Center will play host, local blood cancer survivors and supporters will be honored with the Lynda Adleta Heart of Gold Award and the Spirit of Tom Landry award and FOX4's Clarice Tinsley will return as the gracious host of the afternoon. It is sure to be a fabulous day, so save the date and stay tuned for further details in the months to come.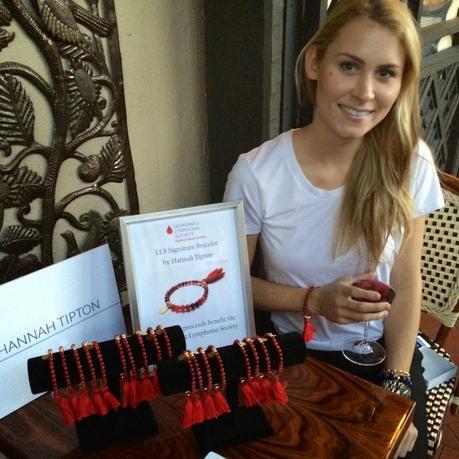 Hannah Tipton is donating 20% of the sales from her Red
Tassel Bracelet to LLS. Purchase online. 
A new fun way to support this year's endeavor is to purchase a red jade tassel bracelet from local artist Hannah Tipton. This bracelet is made with Red Jade, featuring a teardrop symbol to represent the strength of those battling blood cancers. 20% of proceeds will go towards the Leukemia and Lymphoma society.
Thank you to the sponsors who made the kickoff party such a success: Highland Park Village-Fashion Sponsor, Park Place Motorcars-Luncheon Pre-Reception Sponsor, VIPer Consignment-Décor Sponsor, Akin Gump, LLP – Mission Sponsor, BB&T Wealth. Current underwriters include Ruth Robinson, Sandra Roberdeau, Charlotte Kimberlin, Jennifer and Doug Houser.
Just a heads up that there will be limited tables at the low end of the spectrum and a limited amount of general admission tickets so BUY YOUR TICKETS NOW! The print deadline to be included on the invitation is fast approaching – November 1, 2014 - so if you'd like to explore ways to get your company involved, holler at me and I will connect you to the powers that be.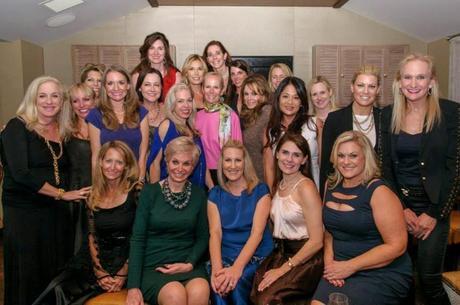 2015 Saint Valentine's Day Luncheon and Fashion Show Leadership and Host Committee
As the official blog sponsor for LLS in 2015 I look forward to bringing you updates on their events but I also encourage you to connect to their channels:
Facebook  |  Twitter  |  Website