I love salads. And, this cumin-coriander chopped salad is one easy tasty pops of flavor and textures winner.
Cumin Coriander Chopped Salad
This is a sponsored post. I've teamed with Brabantia to review one of their products, a chef's knife. Believe me; I don't team with any brand unless that brand embraces similar values regarding cooking, family, and the kitchen as mine. My review of this product comes only from how I really feel about it. I will speak the truth.
How to Make a Chopped Salad?
Making a salad means chopping, dicing, sometimes mincing, and always some cutting. Probably one of the most treasured items you have in your kitchen is a good knife. A versatile knife. A knife that pulls double and triple duty with whatever you're doing. I've been through lots of knives. Inevitably, some are good, and others are mediocre, some are downright bad.
This knife's available on Amazon for about a hundred bucks. It's worth every penny of it...well, that is, if you are going to use it, enjoy cooking and want efficiency with what you're doing in the kitchen. Just be cautious as always with any kind of knife!
Chopped Salad
I love salads. And, this cumin-coriander chopped salad is one easy, tasty pops of flavor and textures winner. A delicious salad made from healthy ingredients is guaranteed to be a hit in your family! Check out my Shrimp Corn Dill Salad. OMG! It's a winner and perfect for grilling, picnics and more.
Great Vegetable Salad Recipes
This salad always looks incredibly elegant and delights the eye, being a delicious and desirable decoration of the table. When choosing several options for light salads, the main thing is to maintain a balance between entirely vegetable vitamins and refreshing salads and the same light salads and protein ingredients. Here's my favorite king pineapple no-bake cheesecake and a coconut cumin shrimp soup! Big yum!
Best Vegetarian Salads
Many vegetarian salads on the table are one of the best gifts you can give your body. Delicious vegetarian salad recipes made from vegetables, fruits, and herbs can help you diversify your daily diet, get all the nutrients you need, and keep your body healthy. In this recipe, I am NOT using the bacon and bleu dressing in the salad mix. Give it a try today!
And, if you're looking for other recipes, then you have to try:
tuscan kale fusilli pasta
red curry & cumin chicken soup
cumin infused pan seared chicken
Oh, you're gonna love these recipes!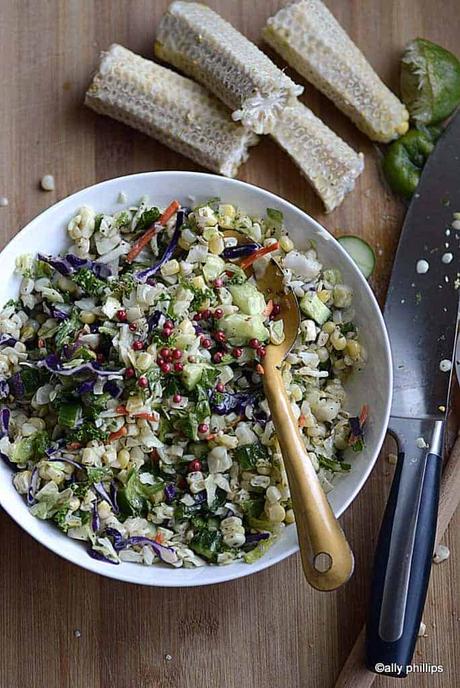 1 package (9.6 oz.) Dole Chopped Salad (I used the Bacon & Bleu, but you won't be using the bacon and blue)
3 cups corn, fresh, cooked and cut from cob
1 cup cucumber, diced
1 tsp. cumin seeds
1 tsp. coriander seeds
1 tsp. sea salt
1 tsp. coarse ground pepper
1 large lime, juice
4 Tbl. extra virgin olive oil
1 tsp. whole peppercorns (I used pink.)