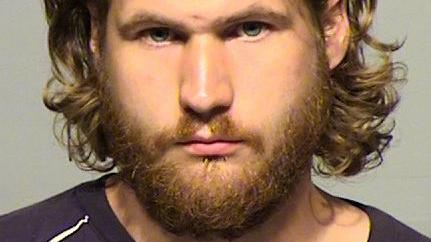 CBS
26-year-old Brandon M. Kronquist is charged with Injury by negligent handing of dangerous weapon after allegedly shooting his cousin in the back. Kronquist tells police the shooting that occurred in his mobile home was completely accidental.
Cudahy police responded to reports of a shootiing on the 5900 block of S. Packard Ave. They arrived to find John Kronquist bleeding from a gunshot wound to the back.
Brandon Kronquist told officers, "it was an accident". He  initially told officers he went to put his gun on top of the refridgerator, because he didn't want to sit and eat with the gun in his pocket. He later told officers he pulled the gun out of his pocket jokingly making a quickdraw motion, and the gun went off.
  According to the complaint, Kronquist appeared very disturbed and bothered by what occurred to his cousin and continually asked about the status and condition of John. He told police he felt sick about what happened and was very concerned about his cousin.    Upon conviction for this offense, a Class I Felony, Brandon Kronquist could be fined up to $10,000 and serve up to may be fined no more than three and a half years in prison.
  Wow, what could account for the seriousness with which they're handling this case? Maybe the arresting officers don't like people who live in trailers or have beards.   "Injury by negligent handing of dangerous weapon," a "Class I Felony" should be standard fare for all negligent shootings.   What's your opinion?  Please leave a comment.