It's my birthday today. Thank you for the greetings, and for having kept this blog company through the years. With your indulgence, I'd like to follow the lead of my dear friend and co-Fabcaster Migs. I want your money--for a good cause. If you have extra cash to spare, please consider donating to the campaign he and other friends have launched to raise HIV awareness through peer education and counseling.
Echoing Migs: I want your material gifts. I want your money. All so we can enable impactful educational programs and counseling to stop the spread of HIV. I want all of us to be well and healthy. So for my birthday, I would still request for your love and friendship--but this time, I would add: as your gift, please donate to The Love Yourself Project.
Here's how: Register (if you haven't yet) and logon to http://groupon.ph/ – there's a donation campaign for The Love Yourself Project starting 9/11. Donate P100, P400, or P1,000! Frenzy the condom-maker has agreed to match each donation with condoms that we, The Love Yourself Project, can distribute for free among participants of our education and counseling programs.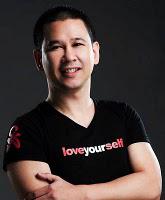 Or, you can join the next The Love Yourself Charity Photoshoot! The likes of Joey Javier Reyes, Risa Hontiveros, Boy Abunda, Rocco Nacino and Paolo Avelino, as well as scores of other generous individuals, have posed for Ian Felix Alquiros' expert lenses in their Love Yourself shirts.
What: The Love Yourself Charity Photoshoot (Part 2!)
When: September 24, 2011 – Saturday – 12nn-10pm
Where: The Room, G/F Crowne 88 Condominium, #88 Panay Ave., Barangay South Triangle, Quezon City.>
Registration link: http://theloveyourselfproject.blogspot.com/p/open-shoot-registration.html
FAQ
1. Do I have to bring anything?
Bring Php1,000 as your donation to The Love Yourself Project. With this, you can avail of the free Love Yourself t-shirt, basic grooming, and the photoshoot. Aside from this, you are not expected to bring anything else.
2. Are the Love Yourself t-shirts available for sale, separate from the photoshoot package?
Yes, they can be purchased at the venue for Php400 each.
3. Will there be lots of people in the venue?
We hope to have a lot of people there to support the project! But for the actual photoshoot area, we shall keep the number of people to a minimum so you can concentrate on projecting your best look without being conscious of many people watching. For your photoshoot, it should be your own private moment – so relax and focus on looking great!
5. May I bring a friend who wants to go for the same photoshoot but has not registered in the website?
Sure, the more the many-er!
If you have other questions, email [email protected] Otherwise, see you there – we'll have fun!
Complete details, including directions to the venue, here.