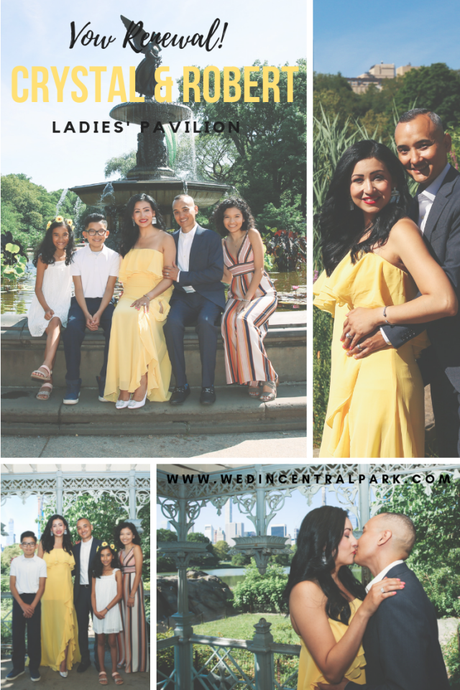 Crystal and Robert brought their three children with them to New York to renew their wedding vows in Central Park this July. They live with their family in Texas. They met when they were 19 and 21 years old, 19 years ago; they were engaged four months after they met!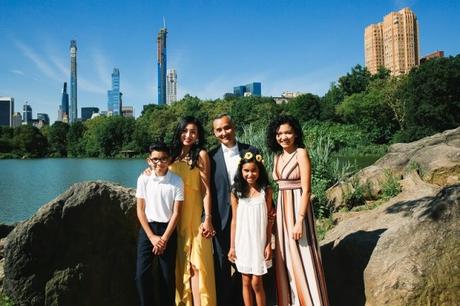 "When we got married we wanted something very small and very intimate," Crystal told me. Their wedding was held in the Little Church of La Villita, a historic stone building in downtown San Antonio. They placed glass jars along the side of this very small church for candle light. They had chosen red and gold as their colors, so Crystal held a bouquet of red roses with gold ribbon tied around and wore an off-white cream colored strapless dress from J Crew (fun fact: I also bought my wedding dress from J Crew!). Robert's tie was red and gold striped.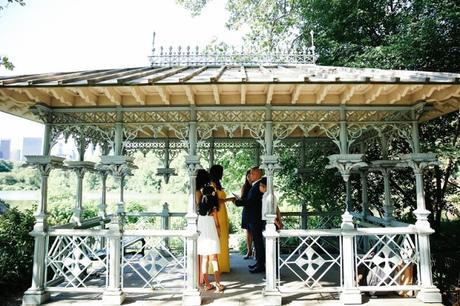 They had around thirty guests in total, with no bridesmaids or best man. Robert likes to remind Crystal that she was late to their wedding! After their ceremony they had dinner in a beautiful private room at their favorite restaurant on Broadway in San Antonio called Tomatillo's. "Everyone ate and had a great time and we had Mariachis come and play music. After we went to a hotel on the Riverwalk and spent our night there. It was all very special," Crystal said.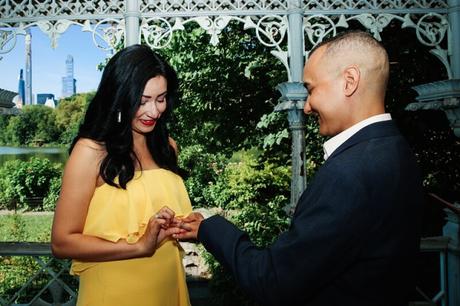 I asked why they had decided to renew their marriage vows. "We have gone through so much together, many ups and downs, changing and raising our children," explained Crystal. "We have changed jobs and been through moving states. We have seen each other through so many things. It seemed appropriate to start fresh again after almost 19 years," she said.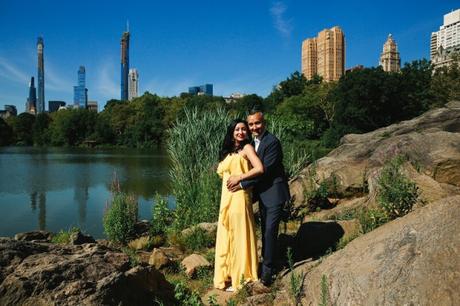 I asked if they had considered renewing their vows in any other places? "We considered near water, something big and something small," Crystal said. "I wanted to leave it up to Robert," she said. "I am very creative but he always tries to out-do me." In fact, Robert did arrange it all with me – I love it when a husband puts the effort in to arrange something like this. "We chose Central Park because it is iconic!" Robert told me. "The park is beautiful and there are so many lovely spots to choose from," he said. "Crystal loves New York City and taking into account how we both love nature and natural settings I could not have thought of a better place to have such a special occasion," he explained.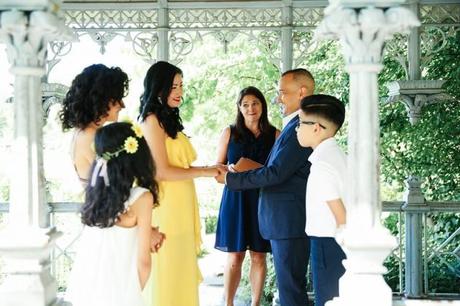 "I think a vow renewal can feel like letting whatever you had go, putting it to rest like in a photo album you can put on a shelf and taking your marriage with all the new vows and put those photos up on the wall in nice frames instead of an album. I hope that makes sense but that I how I feel about it!" explained Crystal. I think that's a beautiful way of putting it.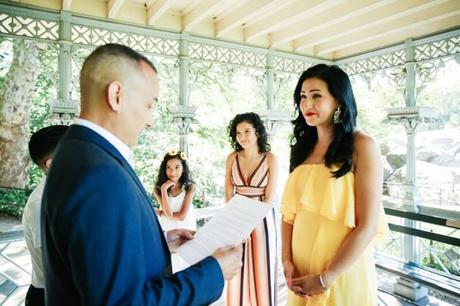 They had their ceremony early on Monday morning in the Ladies' Pavilion. "The ceremony was quiet and very intimate and having it on Monday morning worked perfectly for us" Robert said. "The officiant and the photographer were so helpful and the weather was perfect" he added. "We just wanted to not only reaffirm our love and commitment to each other but to vow to love and cherish who we are now and who we have yet to become," he explained. "A lot has changed since we first married and forever is a long time so we wanted each other to know that we commit to renewal everyday for the rest of our lives together," he said. Anyone else teared up at how lovely this is?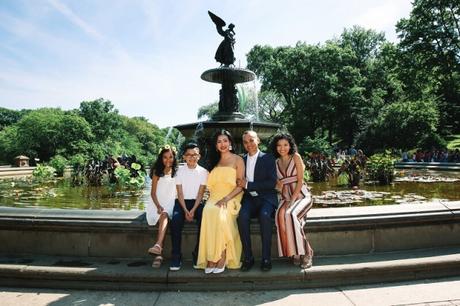 "Our favorite photos were actually at and around the Pavilion, although all of them were amazing," said Robert. "We loved that our family was in the photos and our littles had a few individual shots taken which they all loved. The park just offers so many beautiful views and we loved the skyline in the background and the lake behind us," he added. Their three children were their guests. "It made it so much more special to have them be a part of this" said Crystal. "They have been through the ups and downs with us, and they have seen the changes and moved across the country with us and gone through it all so we wouldn't have done this without them," she added.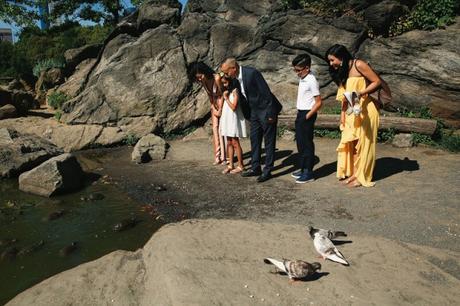 For the renewal of their vows Crystal wore a yellow strapless chiffon summer dress she had in her closet for a few summers. "I didn't want to wear white or cream again and Robert reminded me 'we can do whatever want, it's just us' and that assured me it was just right," she said.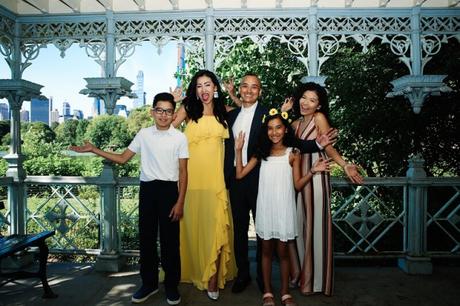 We planned it all in a week! They had been thinking about it for a while and Robert and I had been discussing the possibility by email for a short time, but he wasn't sure which weekend they would be coming to town. In the end he confirmed just a week before the ceremony, so we worked quickly! "The most amazing thing was how easy the whole process was," Robert said. "I was able to surprise my wife and children and Claire took care of the details, he added.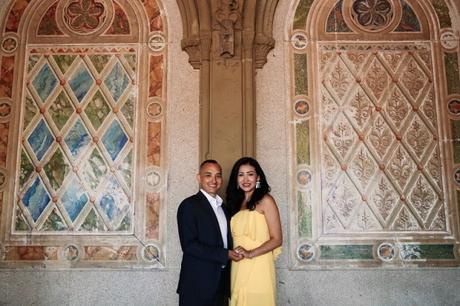 If you're thinking of renewing your marriage vows in Central Park yourself then Robert and Crystal recommend that you take the plunge! "The reviews and comments don't do her service justice. You truly have to experience it for yourself. She has amazing partners to help along the way and puts her reputation on the line to ensure that our dreams are captured and experienced perfectly. The planning was handled all remotely via email and very quickly and Claire delivered. She was responsive and understanding and very patient and in the end what was captured in our hearts and in pictures was less a product of what we did because we just showed up and more of a product of Claire's dedication and brilliance," he said. Thanks so much for your kind words, Robert and Crystal, and for sharing the story of your beautiful vow renewal with us!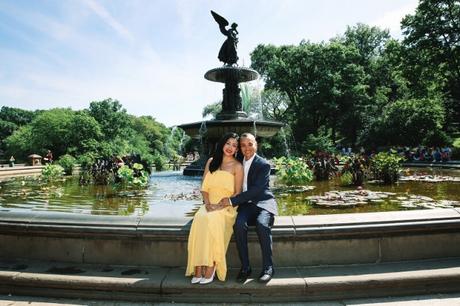 If you would like me to help you with planning your own marriage vow renewal in Central Park" , or your wedding, visit our website, or follow us on Pinterest where we pin all things New York or wedding-related, "like" us on Facebook, and follow us on Instagram for beautiful photos of newlyweds and couples renewing their vows.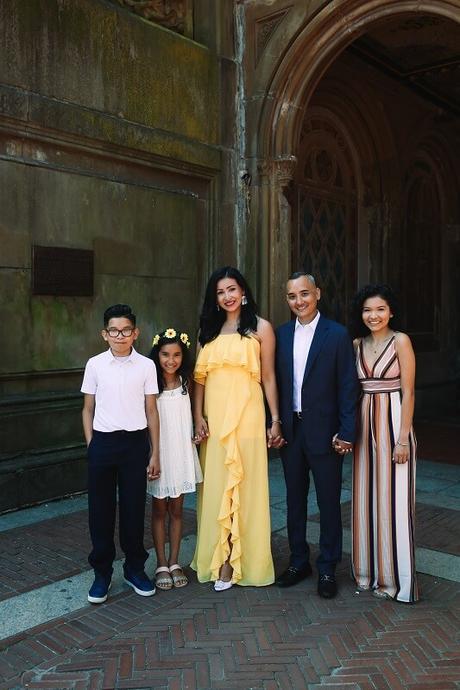 Advertisements