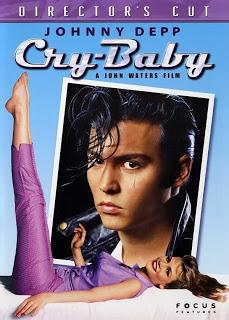 Admittedly, "Cry-Baby" is a very silly movie, and that silliness may not appeal to everyone. I for one found myself consistently bored by the campy goings-on, and found little to like about delinquent greaser 'Cry-Baby' (Johnny Depp) and his redneck family, when the movie insists we cheer on their successes and 'gee-whiz' at their failures.
   It's 1960's Baltimore, and prim, perfect Allison (Amy Locane) has it all- social status, wealth, and a dapper boyfriend (Stephen Mailer.) But, gee, the 'Drapes' from the wrong side of the tracks seem to be having more fun, and Allison is doomed to be a 'Square,' destined for a life of courteousness and decency.  Or is she?
   Everything changes when Allison meets Wade 'Cry-Baby' Walker (Depp,) a singing, dancing, rocking Drape bad boy who wins her heart. But a series of rivalries and misunderstandings strive to keep Cry-Baby and Allison apart. There will be a lot of music and a lot of fights before a customary happy ending, and for me they couldn't get there fast enough.
   I'll be honest with you, folks... the acting here is mediocre, and Johnny Depp as 'Cry-Baby' is unexpectedly terrible. The only stand-outs here are Stephen Mailer as Baldwin, Allison's boyfriend with puppy-dog eyes and a black, black heart, and Polly Bergen, as Allison's well-meaning but clueless grandma. The rest are forgettable.
   Also, there are a load of stereotypes in this movie, all of them attempts at satiric humor and achieving none. Authority figures are the dunces and 'bad guys' of the movie, while promiscuous teenagers and thieves are the ones we should look up to.
  The movie throws around stereotypes of typically corrupt cops and stupid Christians, while the responsible adults were so 'square' that one can only roll their eyes and wonder if director John Waters has the mentality of a goth teen whining to his dear diary about the hypocrisy of grown-ups. Like, they say one thing and mean another. Burn!
   In the end, we are caught between the self-conscious morals of the 'Squares' and the wild unpredictability and grit of the 'Drapes,' from Cry-Baby's nutty stolen hubcap-selling Aunt Ramona (Susan Tyrrell) to the thuggish girl uncharitably called 'Hatchet-Face' (Kim McGuire.)
 But guess what? None of the characters are particularly appealing to me. And maybe next time, John Waters will keep his shallow Goth-kid observations about the inherent dishonesty of adults and the dangers of being square to himself. Burn!