This bit of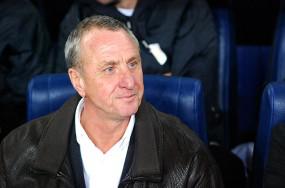 news certainly came out of nowhere on Thursday evening.  Chivas president Jorge Vergara announced that he had signed former Barcelona and Ajax legend Johan Cruyff as he desperately looks for answers in an effort to rebuild his squad.
"Bringing in Cruyff is like having the Pope in Catholicism or to learn for a Nobel Prize winner."-  Jorge Vergara
The club announced via press release that Cruyff joined the "Chivas family".  He will be presented to the public on Saturday at 11:30am local time.  The specifics as to what his role will be at the club will be talked about in depth.  There is a great deal of speculation as to which role he will have; but Vergara continues to throw out mixed signals as he mentions that his role will be "different".
Vergara confirmed the signing of Cruyff via an interview with Mexican site that was given the exclusive story- Medio Tiempo.com.
The Mexican giants find themselves in one of the their worst runs of form in recent history having gone winless in their last 13 matches.
On top of their poor form domestically wherer they are in last place, their international form is leaving much to be desired as they have only earned one point after two matches in Copa Libertadores.
Cruyff recently stepped down from his role on the board at Ajax after the fallout occurred when he did not agree on the hiring of Louis Van Gaal as sporting director.   On top of that it is not know how if and how he will maintain his role as coach of the Catalan Select Side.  He also runs the Johan Cruyff Institute, which also happens to be located in Mexico and one of that institute's most famous alums- former Club América president Michel Bauer.
FOLLOW ME ON TWITTER