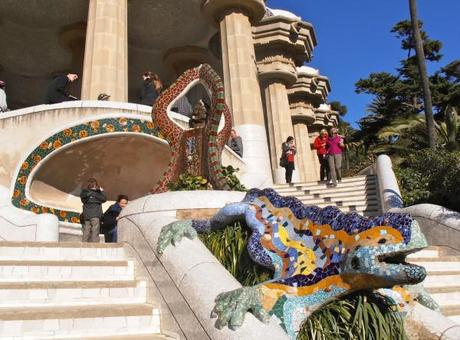 Barcelona,  I have a huge crush on you!  But we need to spend more time together.   I feel like my crush was turning into something more, but then it was time to to leave.  I'm not normally a fan of large cities, but I'll make an exception for you.
I tried to use my time wisely, visiting four of your outstanding nine UNESCO World Heritage Sites, which amazingly seven are by famed Spanish architect Antoni Gaudí: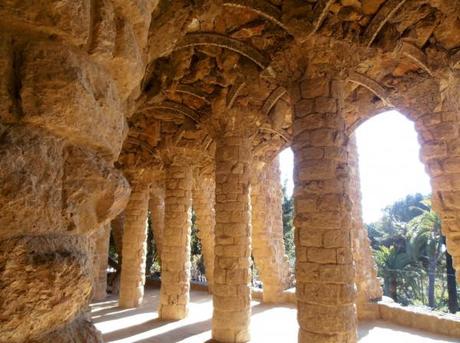 Part of Park Guell - A Gaudi design and UNESCO World Heritage Site.
My friend Jade from @Vagabond3 introduced me to Park Güell, my first Gaudí sight in stark contrast to Salvador Dali's house, which I had visited just days before.  I spent over an hour soaking it the peacefulness of the park and the views overlooking Barcelona, before it became swarmed with tourists.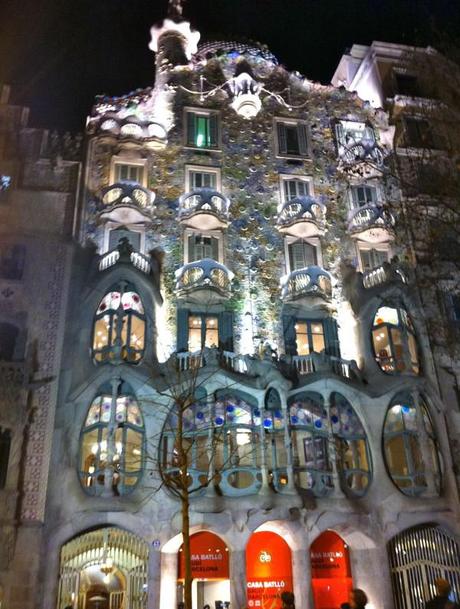 Casa Battlo, just steps from my apartment in Barcelona.
Casa Batlló, another Gaudi design and UNESCO World Heritage Site was just steps from my complimentary apartment in Barcelona kindly provided by Only Apartments.   I was so intrigued by the exterior that I paid the hefty €18.50 admission fee for the self-guided audio tour.  The interior was full of quirky surprises.  I can safely say it's the most unique house I've ever stepped foot in.  I went later in the evening (it's open until 8:00 pm) to avoid the crowds and spent over an hour exploring the house.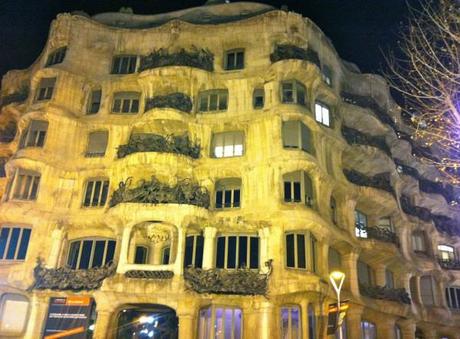 La Pedrera - another Gaudi building and a UNESCO World Heritage Site
La Pedrera, yet another Gaudi building and UNESCO World Heritage Site was a two minute walk from my Barcelona apartment.  I admired it from the outside but sadly didn't have time to go inside.  Yet another reason I need to go back to Barcelona and I now know a great place to stay for my next visit.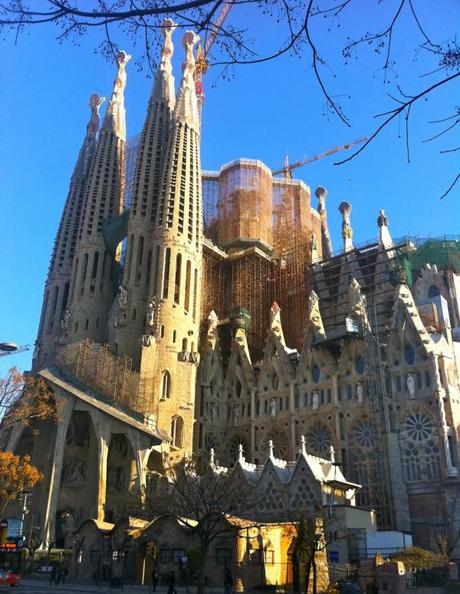 Gaudi's most famous building - La Sagrada Familia
I certainly wasn't going to pass up seeing Gaudi's most famous building, La Sagrada Familia, which despite being started in 1892, still isn't finished and likely won't be for completed for another 18 years!  I even paid the extra €3 on top of the €13 admission fee to take the elevator to the tower – something I wouldn't normally do, but then there's nothing normal about a Gaudi building.  I arrived at 9:05, (opening time is 9:00) in off season and there was already a line around the corner, so arrive early or buy your ticket online to avoid a long wait.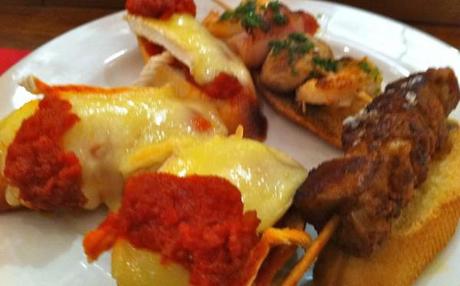 The melted brie over sun dried tomatoes tapas were so good I ordered 3!
And eat, boy did I eat.  With so many delicious looking tapas on offer, how could I choose?  Didn't I owe it to Barcelona to experience Catalonian food to it's fullest extent?  Well, that was my rationale for ordering not one, but three melted brie over sun dried tomatoes tapas! And yes, that was only a few days after the Calcotada – A Catalonian Gastronomical Event.
Barcelona, our brief time together was incredible and flew by too fast.  I missed your other 5 UNESCO World Heritage Sites, most notably the Catalan Romanesque Churches of the Vall de Bui, the Torre Agbar, a 38 story skyscraper/tower that I only caught a glimpse of and sadly even your beaches and harbor.  What do you say should we make another date?  I promise to stay longer next time to give this crush time to turn into a full blown love affair.
Have you ever felt your time in a place was too short?