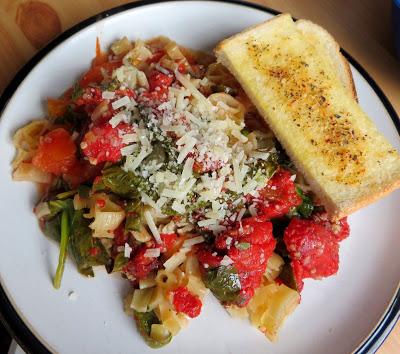 One thing I am enjoying about not being able to get out and about is the opportunity I am having to stretch the food I have in delicious ways.  Exploring new ways of using it, and then sharing that with you, my readers.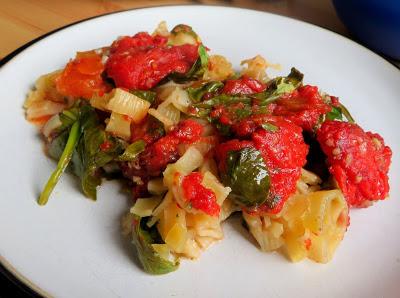 I was recently sent some nice olive oil, bottled tomatoes and pasta from an online supplier, 
Cibilia
, purveyors of fine Italian foods.  I used some of the things they sent me to create this delicious recipe I am sharing today.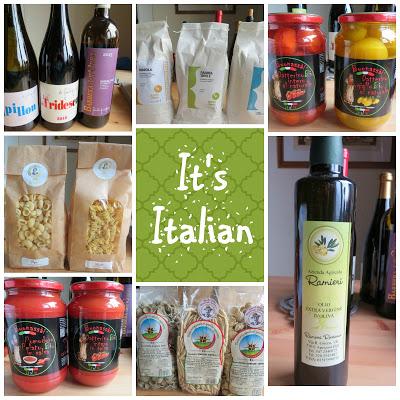 The olive oil is an Extra Virgin Olive Oil – Mono Varietal Peranzana from Apulia produced using only Organic Olives harvested in the family estate of Ramieri Rosanna mother of Amuruso Francesco, a guy in his 20s' with a passion for agriculture. The estate is only 30 hectares and the bottl I received caame from their 2019 harvest. The Peranzana variety of olives is a typical olive grown in  the Apulia region. Apulia is the biggest producer of Olive Oil in Italy. After the harvesting, the olives go to crushing mill and get processed in less than 4 hours to make sure that the Olive Oil produced is at the best. 
In a dish where you are using very few ingredients, it helps to make sure that what you are using is the best that you can get.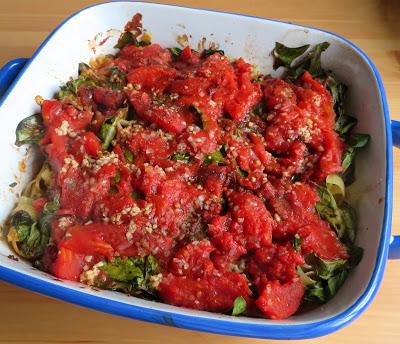 You really want to use good tomatoes with this recipe as well.  They are one of the main ingredients so it only makes sense that you would want to use the best that you can find. Today I used
Buonassai Pomodoro
Pelato, Bio in Salsa.   These are fabulously delicious Italian tomatoes.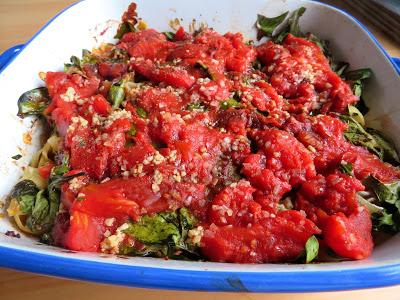 The pasta I used was a ten year out of date, wagon wheel pasta.  Ideally you should use a large macaroni, but I really wanted to get this pasta used up.  Truth be told, even though it was so out of date, there was absolutely nothing wrong with it.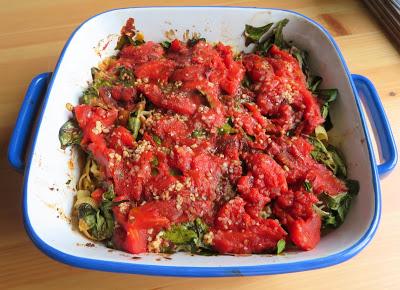 One thing about being in lock down, you need to be able to make good use of the things you have in the house and this recipe is a perfect example of that.  I was fortunate enough the other day to have a friend drop off some fresh salad ingredients on our doorstep along with a big bag of spinach and some nice looking fresh tomatoes.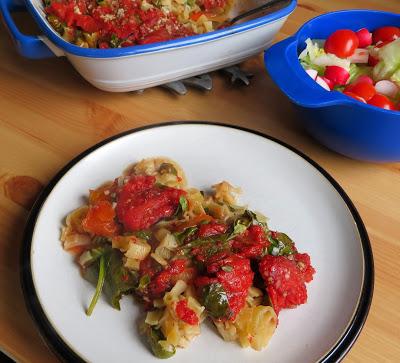 All were used in this delicious recipe which I found in one of my cookbooks entitled  Lost Recipes, meals to share with friends, by the late Marion Cunningham.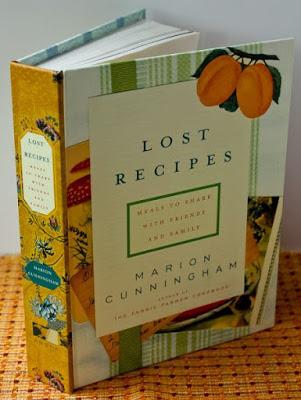 I have always loved Marion's recipes. She was the author of The Fannie Farmer Cookbook, which I have been using since the 1970's. I have worn out three copies of that one.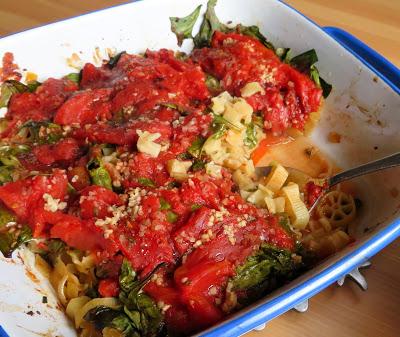 This is a great recipe for the times we are living in.  The bottom of a casserole dish oiled with some olive oil is lined with sliced fresh tomatoes which are seasoned.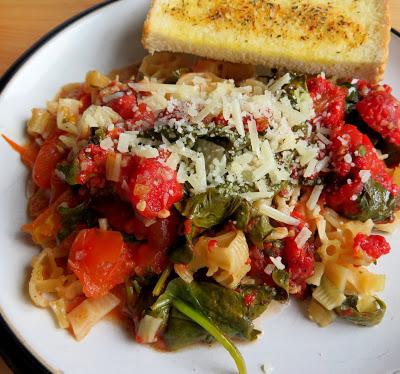 This then gets topped with a mix of torn fresh spinach and chopped parsley. True confessions here. I had to use dry parsley because it is all I have.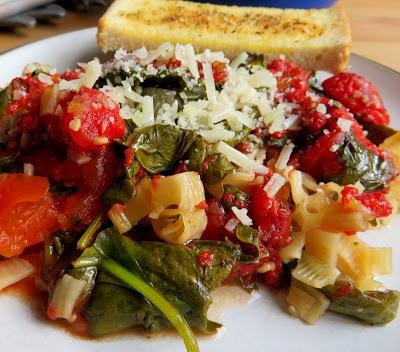 The crushed macaroni gets layed out on top of this and then you add another layer of fresh spinach and parsley.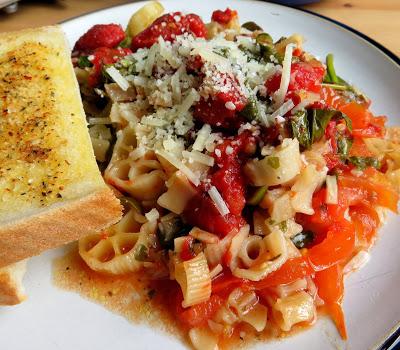 Finally you top the whole thing with a quantity of tomatoes preserved in tomato juice. Marion called for stewed tomatoes.  We don't get those here in the UK, so I just used a jar of those really great Italian tomatoes.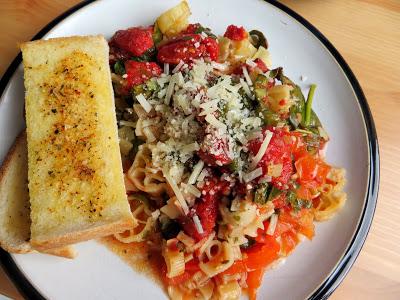 A mix of water, good olive oil and garlic gets poured over everything and here is where I got fancy with the dish. I added a drizzle of good balsamic vinegar.  It was a wise choice I think.  Tightly covered with some aluminum foil, the casserole bakes in a moderate oven for about an hour at which time the macaroni get almost creamy and the vegetables cook beautifully, all of the flavours working together to create something which is incredibly delicious and satisfying.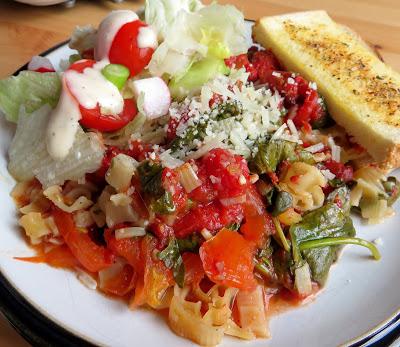 I served it with a mixed salad that I made on the side and some garlic bread fingers, also homemade.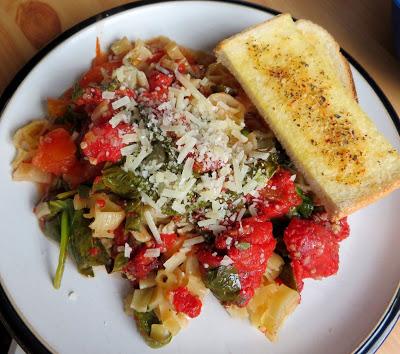 Crushed Macaroni & Vegetables
Yield:
4
Author:
Marie Rayner
From the recipe files of Marion Cunningham, who got it from an old Italian cookery book published in Lucca, Italy.  The end result is a really flavourful dish wih bits of creamy macaroni tasting of garlic and olive oil.
Ingredients:
60ml olive oil (1/4 cup)
80ml water (1/3 cup)
3 large cloves of garlic, peeled and minced
175g large macaroni (1 1/2 cups) crushed with a rolling pin
3 ripe tomatoes, cored and sliced 1/4 inch thick
salt and black pepper to taste
450g fresh spinach, washed and de-stemmed (2 cups, tightly packed)
15g fresh parsley, chopped (1/2 cup)
400g tin of chopped tomatoes in juice (1 1/2 cups), undrained
balsamic vinegar to drizzle
grated Parmesan cheese to serve
Instructions:
How to cook Crushed Macaroni & Vegetables
Preheat the oven to 180*C/350*F/ gas mark 4.  Grease an 8 inch square baking dish with 2 tsp of the olive oil.
Whisk the remaining olive oil together with the water and garlic.  Set aside.
Scatter the macaroni over half of a large clean tea towel.  Fold the other half of the towel over it.  Crush it with a rolling pin or pound until it is in small pieces.
Arrange the sliced tomatoes in the bottom of the oiled casserole dish.  Season with salt and black pepper generously. Tear up the spinach and mix it together with the parsley.  Spread half of it over the tomatoes.  Sprinkle with the crushed macaroni and then cover with the remaining spinach and parsley.  Spread the canned tomatoes over top of everything.  Drizzle wih some balsamic vinegar.  Whisk the water/oil/garlic mixture again and pour this over everything evenly.  Cover tighty with aluminum foil.
Bake in the preheated oven for one hour, or until the macaroni is tender.  Spoon onto heated plates to serve and pass the Parmesan cheese to sprinkle on top.
Did you make this recipe?
Tag @marierayner5530 on instagram and hashtag it #EnglishKitchenCreated using
The Recipes Generator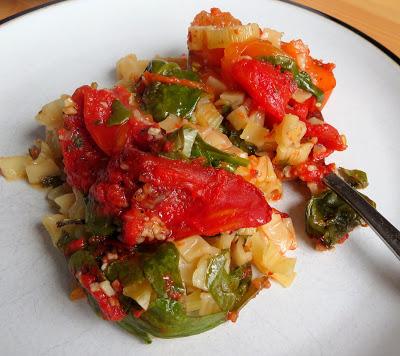 I love recipes like this. They are like hidden gems, that might go unnoticed and forgotten were it not for the likes of people like Marion Cunningham who made it her goal to bring them to light and share them with the world.  This was quite simply delicious.