You might think buttermilk in a salad! Well, let me tell you that this crunchy veggie & olive buttermilk salad is one that you'll never know that it's drenched in creamy buttermilk. The crisp of the vegetables. The saltiness of the olives. Both come together in perfect harmony in this salad.
Now this is a take off on another buttermilk salad that's purely Appalachian cuisine inspired. We love it. And, I fix it often when we're having a big pot of pinto beans cooked with a ham hock or beef bone marrow. And, what else would be Appalachian inspired to serve with this salad?
How about buttermilk c ornbread! Yes, this recipe is super easy and always guaranteed to be deeelicious! And, you can't ever go wrong with serving pork with it. A pork chop. BBQ pork. Shredded pork. You're sure to find something that suits your fancy with these options here.
Yes, Appalachia is where I grew up. Where I cut my teeth so to speak in learning to cook. Usually known for its coal, now the food of Appalachia is gaining some momentum. And, that makes me just want to dance and twirl because there's nothing better than a big sit down dinner of West Virginia inspired food!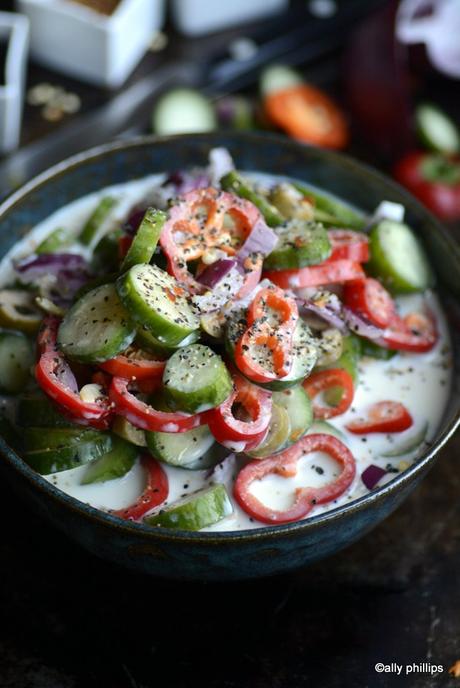 Ingredients
3 cups mini cucumbers, sliced (into rounds)
½ cup red onion, diced
4 mini red peppers, sliced thinly into circles
¼ cup olives with pimentos, chopped & drained
½ tsp. sea salt
½ tsp. coarse ground pepper
½ tsp. red chili flakes
2 cups buttermilk
Instructions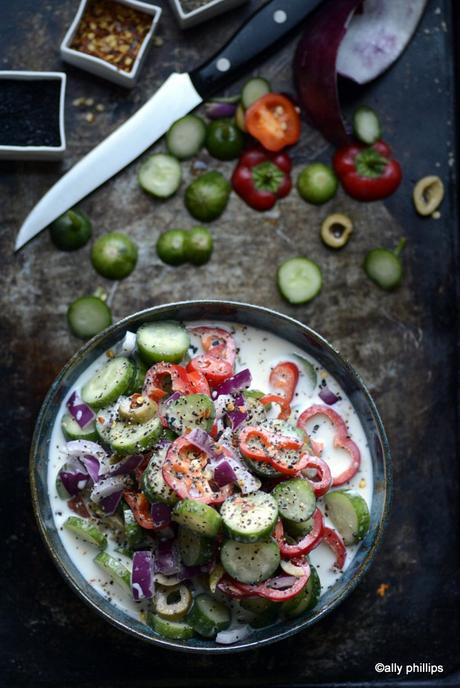 Comments