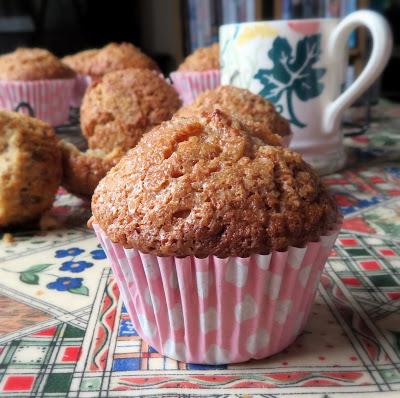 The Great British Bake Off started again this week. Personally, I don't think it is as good since it moved to Channel 4.  I miss Mary Berry, I really do.  I am not a huge fan of Channel 4.  It panders to the younger population, with a lot of reality, shock and garbage shows.  I have noticed each year that the contestants on Bake Off are getting younger and younger.  This year there is only one who appears to be slightly older than 40, with most appearing still wet behind their ears.  I'm not sure I like it.  I prefer the old GBBO for sure.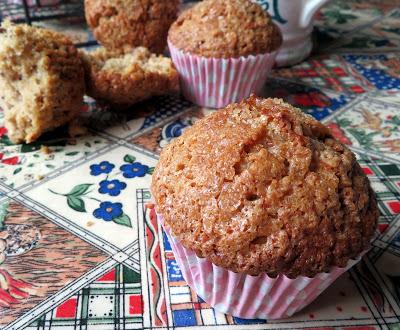 Whenever I bake oatmeal muffins I always think of my middle son Doug, and the trips we used to take into Toronto to spend the day at my ex SIL's . They lived in a lovely house just off Avenue Road, in a somewhat Jewish area of the city.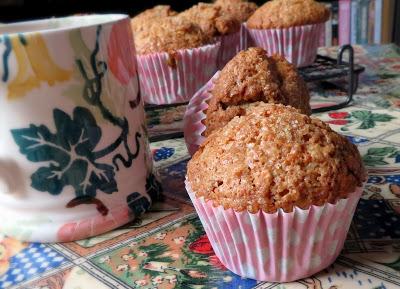 My BIL would bring home a couple of big bags of fresh bagels from the Jewish bakery, and little paper sacks of fresh rugelach . . .  my SIL would bake Oatmeal Muffins with plenty of chocolate chips added.  She used the Quaker Oatmeal Muffin Mix, which is what we all used back then.  It was perfect, or at least we thought so.  We would spend half the day feasting on all of this and just enjoying each other's company.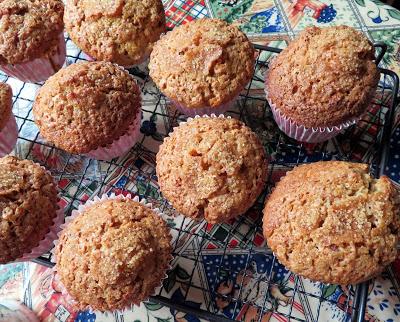 Our wee Doug loved the oatmeal muffins especially and we had some lovely photos of him eating them, with his head full of Shirley Temple curls and chocolate all over his face.  He was only about 2 or 3 at the time.  He will be 38 in November . . .  so a lot of time has passed since then.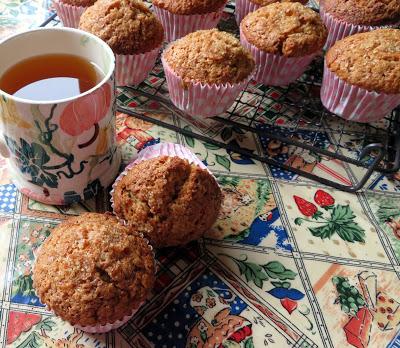 Try as I might I have never been able to bake a homemade oatmeal muffin that tastes like the Quaker Oatmeal Muffin Mix did.  Or maybe it is just that things always taste better in our memories . . .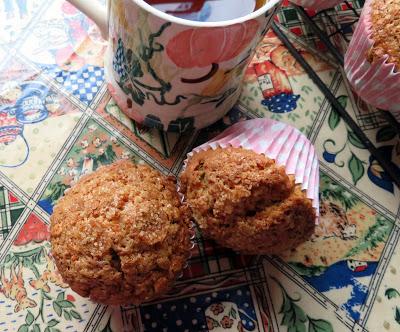 Nothing can ever quite come up to our taste memories . . .  I don't think.  They are coloured with rose coloured glasses and have more to do with the people we share them with than they actually do with the food we were eating, if that makes sense.  Love is a specific flavor that is very difficult to replicate.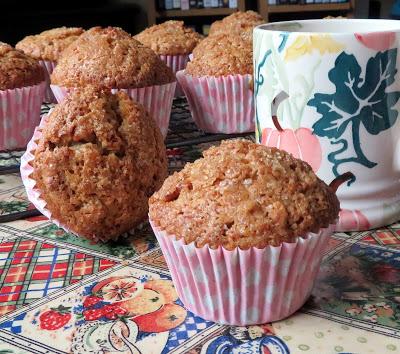 These are very good oatmeal muffins.  Flavoured with Maple syrup and brown sugar, with just a hint of cinnamon . . .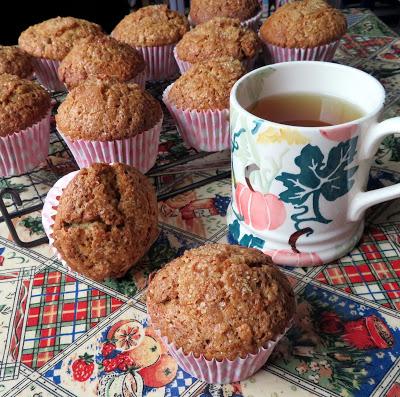 Stogged with toasted walnuts . . .  I love to toast all my nuts before baking with them.  They just taste nuttier, but perhaps that is just in my imagination, I don't know  . . .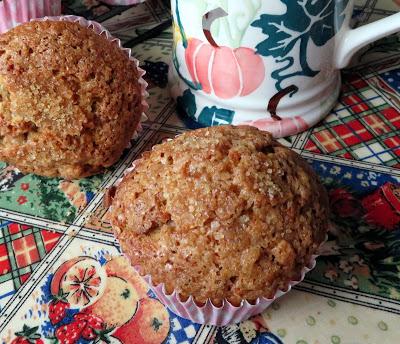 A hefty sprinkling of demerara sugar on the tops prior to baking gives them lovely crunchy tops, that we quite like  . . .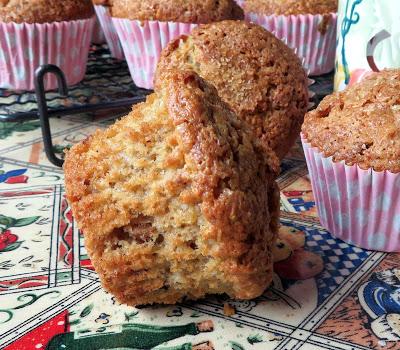 Again, they rise beautifully.  I find that if I almost fill my muffin cups then the batter seems to have nowhere to go but up.  Perhaps that is my secret. I don't know.  I only know my muffins always rise beautifully.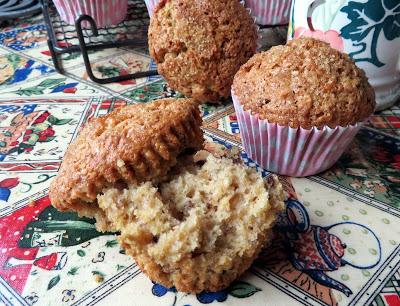 They have a lovely light texture . . .  a perfect muffin texture . . .  full of lovely little holes  . . .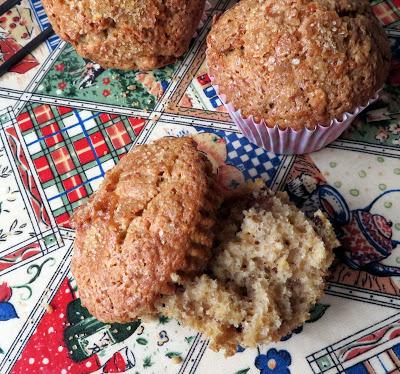 My younger self would have enjoyed these, eaten hot and  liberally spread with butter . . .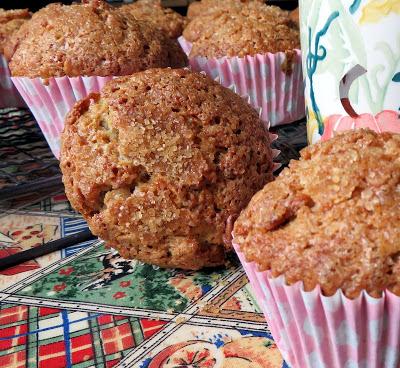 My older self doesn't even dare think about such a thing . . .
Yield:
12
Author:
Marie Rayner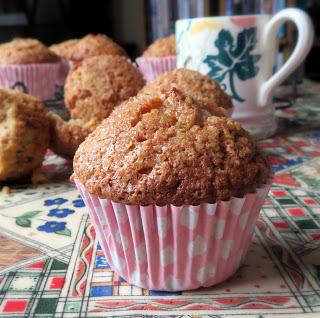 Crunchy Topped Maple Walnut Oatmeal Muffins
A delicious muffin filled with toasted walnuts, oats and maple syrup, with a crunchy demerara topping.  What's not to fall in love with!
ingredients:
160g old fashioned rolled oats (2 cups)
240 ml whole milk (1 cup)
120ml pure maple syrup (1/2 cup)
80ml sunflower oil (1/3 cup)
145g soft light brown sugar (2/3 cup packed)
2 large free-range eggs, lightly beaten
210g plain flour (1 1/2 cups)
1 tsp baking powder
1/2 tsp baking soda
1/2 tsp ground cinnamon
1/2 tsp salt
115g chopped toasted walnuts (1 cup)
demerara sugar to sprinkle on top (turbinado)
instructions:
How to cook Crunchy Topped Maple Walnut Oatmeal Muffins
Preheat the oven to 200*C/400*F/gas mark 4.  Line a 12 cup medium muffin tin with paper liners.  Set aside.
Sift together the flour, soda, baking powder, cinnamon and salt.
Measure the oats into a bowl.  Add the maple syrup, milk, oil and beaten eggs.  Mix together well and then stir in the eggs to combine well.  Add the dry ingredients all at once and stir together just to combine. It is okay if there are lumps.  Stir in the walnuts.
Spoon the batter into the prepared muffin cups, dividing it equally.  They will be about 7/8 full.  That's okay! Sprinkle about 1 tsp of demerara sugar on top of each.
Bake for 18 to 25 minutes, until well risen and the tops spring back when lightly touched.  Cool in the tin for about 5 minutes before removing to a wire rack to finish cooling completely.  Store in an airtight container.
Created using
The Recipes Generator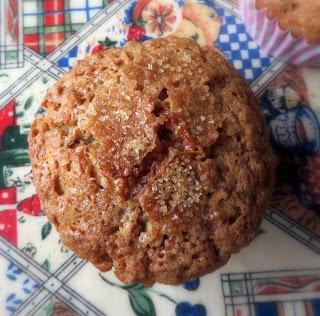 Just look at that lovely, crunchy top.  These are perfect tucked into lunch boxes for our back-to-school scholars or enjoyed with a hot cuppa for elevenses or tea break.  These are just perfect full stop!