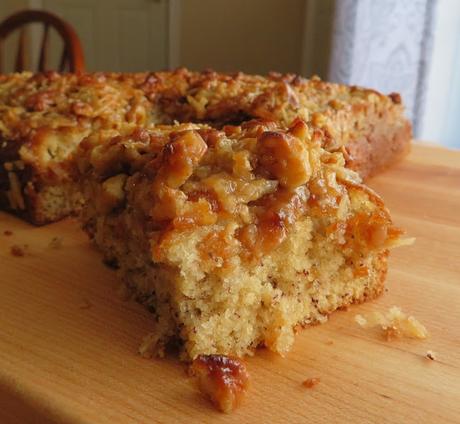 I had some bananas that had gotten rather ripe and so I thought I would bake a banana cake today. I found a recipe that I liked in a cookbook entitled Robin Hood Baking, over 350 recipes from Robin Hood's Baking Festival and Home Baking cookbooks. 
I used to collect those little booklets all the time. Often there would be one tucked into the issues of other magazines such as Chatelaine or Canadian Living.  I loved them.   They were always chock full of lovely recipes.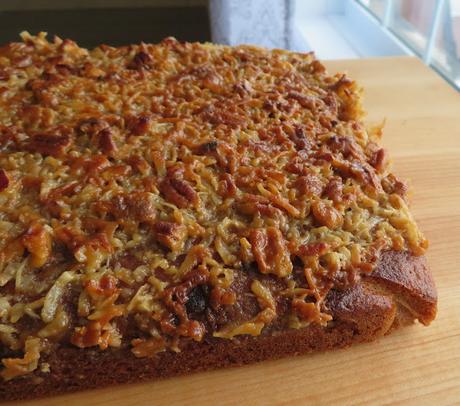 The original recipe made a 9 by 13 inch cake however. I do not need a 9 by 13 inch cake and so I cut the recipe in half to make a more manageable snack cake!  
What is it about brown food???  It never photographs well!  I do hope these photographs don't deter you from baking this fabulous cake.  Trust me when I tell you it is totally delicious!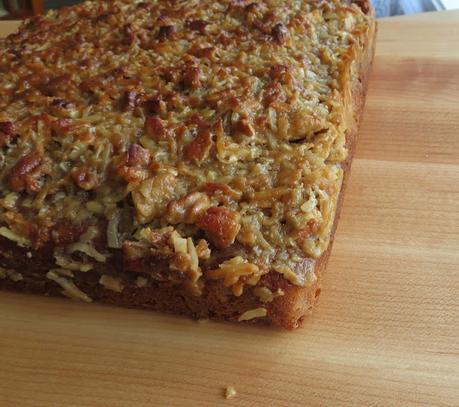 The cake itself is incredibly moist. This is due to the use of banana (of course, it is a banana cake) and sour milk.
That topping has an deliciously moreish, almost candy-bar topping!  Crunchy and sweet and oh-so-yummy!!  Prepare to fall in love!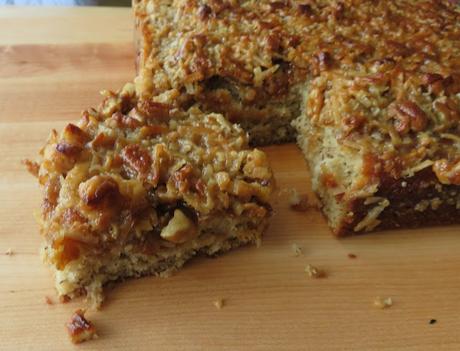 WHAT YOU NEED TO MAKE CRUNCHY TOPPED BANANA SNACK CAKE
I am pretty sure you will probably already have everything you need in your kitchen right now! 
For the cake:
1 cup (140g) plain all purpose flour

3/4 tsp baking powder

1/2 tsp baking soda

1/4 tsp salt

3/4 cup (150g) granulated sugar

1/4 cup (55g) solid white vegetable shortening (Crisco, Trex, White Flora)

1/4 cup (60ml) sour milk or buttermilk, divided 

1 medium ripe banana, peeled and mashed

1 large free range egg

1/2 tsp vanilla extract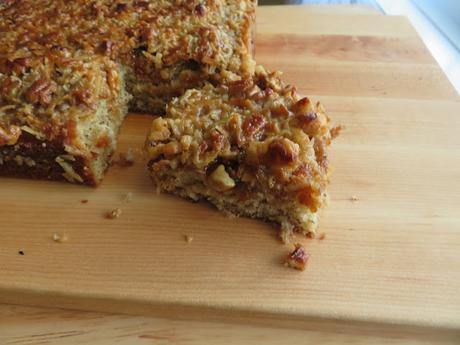 For the topping: 
3 TBS butter (I used salted)

1/3 cup (72g) soft light brown sugar, packed

1 1/2 TBS cream (I used whipping cream)

1/2 cup (38g) flaked coconut (I used sweetened)

1/3 cup (38g) chopped toasted nuts (walnuts, pecans)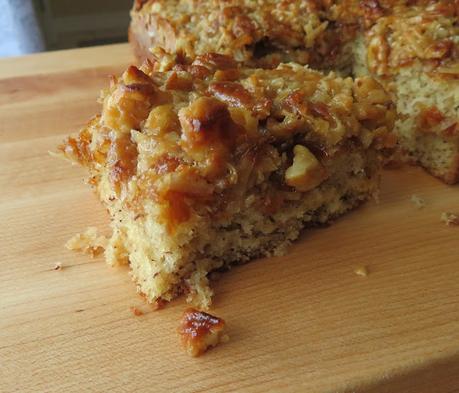 You can very easily make your own buttermilk or sour milk by adding about 1/2 TBS white vinegar or lemon juice to a measuring cup and adding the quantity of milk needed for the recipe. Stir and let sit for about 5 to 10 minutes to clabber.
I always toast my nuts when I am baking.  Eight to ten minutes in a moderate oven (350*F/180*C) does the trick beautifully. Just spread them out on a tray and bake until you can smell them.  Make sure you cool them before using.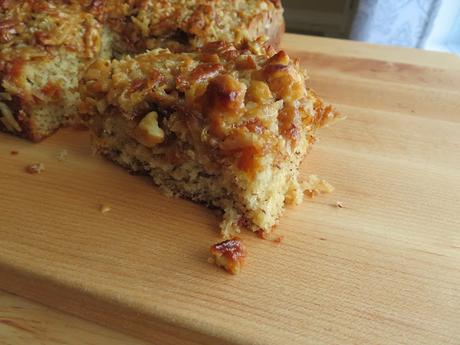 My bananas were a medium size. I only needed one to make up the amount of mashed banana needed for the recipe (1/2 cup). 
You can mash your bananas very easily with a fork. Just break them up into a small bowl and mash away. Alternately you can blitz them with a stick blender. It does a fabulous job!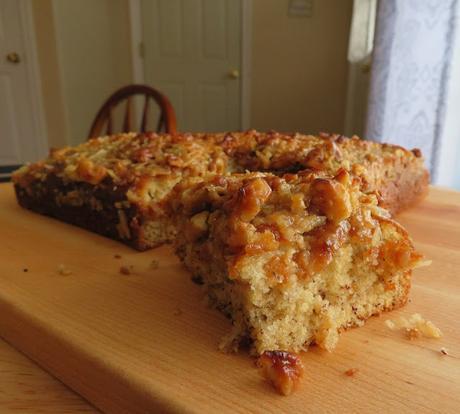 HOW TO MAKE CRUNCHY TOPPED BANANA SNACK CAKE 
This is a very easy cake to make. You won't need to faff about with two or three different bowls. It can all be done easily in one bowl. 
Begin by
 pr

eheating the oven to 350*F/180*C/ gas mark 4. Butter an 8-inch square baking tin.  I normally use Pam and just spray it. 
Line the with baking paper so that you have an overhang over two sides for ease of lifting out when baked.  You don't need to do this, but it just makes it so much easier to lift out and to cut.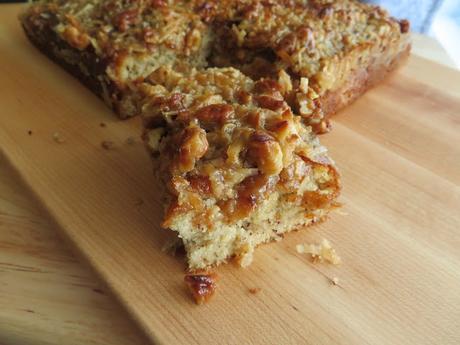 Combine the flour, baking powder, soda and salt in a medium sized bowl. Add the sugar, shortening, 1/2 of the buttermilk/sour milk, and banana. 
Beat on medium speed with an electric hand whisk for two minutes. Add the egg, vanilla and remaining buttermilk/sour milk and beat for one minute. Spread evenly into the prepared pan.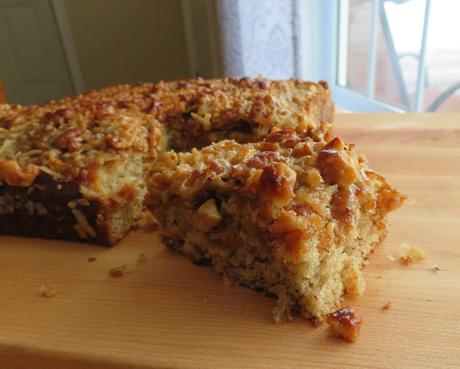 Bake for 25 to 30 minutes until well risen, golden brown and a toothpick inserted in the center comes out clean. The top will also spring back when lightly touched.  
Prepare the topping while the cake is baking. Melt the butter and stir in the remaining ingredients, mixing them in thoroughly.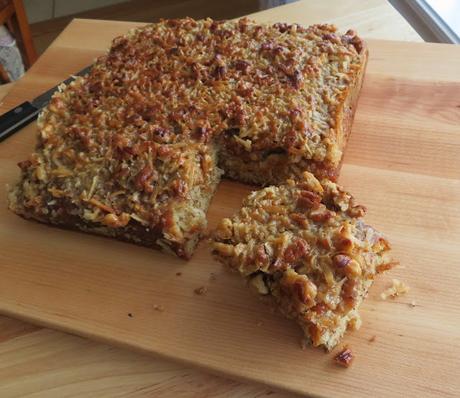 When cake is done, remove it from the oven and immediately spread the topping over top of the cake.Preheat your broiler/grill to high. Pop the cake underneath (6 inches below) and toast for two to three minutes until bubbly and golden.Allow to cool completely. Cut into squares to serve.  Store any leftovers in an airtight container. This cake also freezes very well.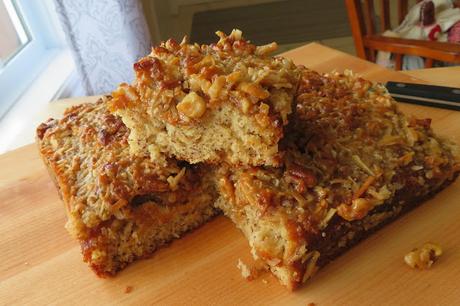 The topping for this cake is very similar to the topping which is used on a Lazy Daisy Cake.   I love Lazy Daisy Cake. It is a vanilla cake with a broiled topping such as this.
I got my recipe for it from my Aunt Freda. You can
find that tasty recipe here
!  Its also really good!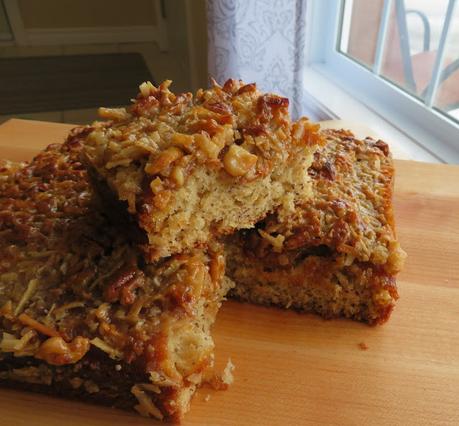 If you are wanting to bake a full recipe of this cake (Nine by Thirteen inch) then just message me and I will give you the measurements for the full sized cake.  It does freeze well actually.
This is a fabulously tasty cake. It is unbelievably moist and that moreish topping really adds a special touch to it. It would be wonderful in school lunches, for a tea or coffee break, or served as a nice dessert after supper cut into squares with a nice scoop of Vanilla ice cream on top!  In short, its delicious any time!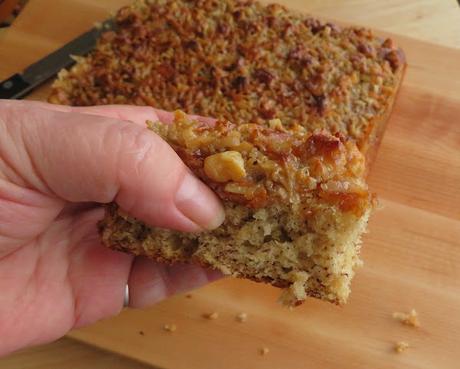 This content (written and photography) is the sole property of The English Kitchen. Any reposting or misuse is not permitted. If you are reading this elsewhere, please know that it is stolen content and you may report it to me at: mariealicejoan at aol dot com Thanks so much for visiting. Do come again! 
Follow me on Bloglovin