This crunchy Asian cucumber salad is cool, refreshing and perfect for summer! Simple to prepare and made with fresh cucumber, cilantro, shallots and peanuts tossed in a rice wine vinaigrette, it's a great way to cool down in the heat.
When summer rolls around, we are all about the simple, refreshing, side salads. Our staple kale salad goes on repeat, as does orzo pasta salad. This crunchy Asian cucumber salad is another super simple recipe that is perfect for summer!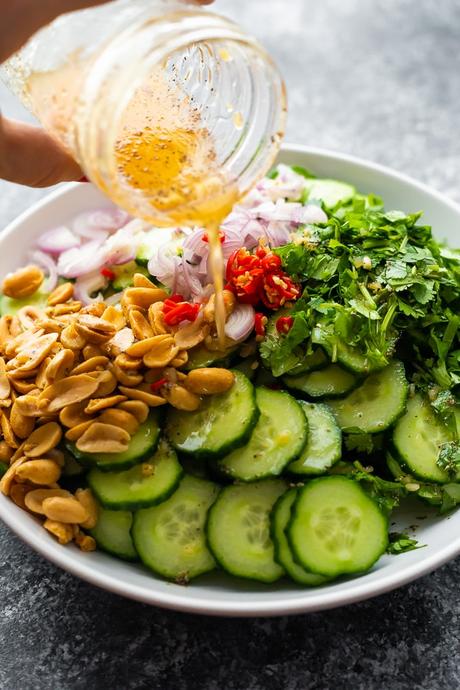 We always need a good recipe in our back pocket that can come together in under 15 minutes, right? Well this Asian cucumber salad is the one for you!
With crunchy cucumbers and peanuts, fresh cilantro, shallots and (if you dare) Thai red chiles, this salad is tossed in a tangy rice wine vinaigrette. It is perfect for a weeknight dinner or a summer picnic!
Reasons you'll ♡ Asian cucumber salad
it's light, crisp, and so refreshing
it comes together in 15 minutes
it's gluten-free, vegan, paleo and dairy-free
Recipe video
Watch the video below to see exactly how I prepped this Asian cucumber salad. It's so easy! You can find more of my recipe videos on my YouTube channel.
Continue reading:Crunchy Asian Cucumber Salad