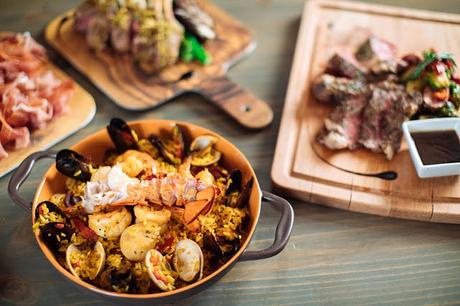 Crudo Italian opened a few weeks ago at 8411 Preston Road and Northwest Hwy in Park Cities. According to a release, "Crudo Italian observes the traditions of Northern Italy, taking a lighter and more sophisticated approach to the cuisine. Signature dishes are centered on handmade artisan pastas and gnocchi, the best meats available, and seafood flown in daily. A robust baking program will produce warm, delicious breads made in-house, as well as an array of fresh desserts. Under the guidance of Executive Chef and Partner Javier Perez, the food is made from scratch, using fresh, highest-quality ingredients." I am a big fan of Italian cuisine and upon receiving an invitation to visit, my husband and I ventured over last week to give them a try. You would think a location at this busy corner would be a gold mine, but the spot has been cursed thanks to poor concepts that didn't fit the area and bad parking. I went in with minimal expectations and after dining there, I am hopeful that Crudo will break the curse. It is worth the parking effort. It's a warm, welcoming space on two different levels, with bars on each level. I am a big fan of the upstairs bar, which is more loungy in feel. Patio seating is also available, as is a small, private dining room for meetings and special events.
Crudo Italian's signature entrees include: Pistachio-crusted Rack of Lamb, served with asparagus and goat cheese polenta; Lobster Ravioli Pescatore with Fresh Maine Scallops/Gulf Crab/Shrimp, served with asparagus and lobster sherry sauce; and Oven Roasted Chicken Al Limone with Brussel sprouts, fingerling potatoes, carrots. A selection of shareable plates includes items such as Wagyu Beef Carpaccio, Gluten-free Calamari Fritto Misto, and Veal Beef Pork Mozzarella Polpette. Pizza and flatbreads are made to order in a wood-fired oven. Fresh soups and salads, hand-cut steaks and chops and homemade artisan pastas all round out a true Italian experience to be savored and enjoyed with friends and family. Spirits are Old World-style creations, including those made from special Crudo-label whiskey.
Crudo Italian is located at 8411 Preston Road, Suite 132,  Dallas, TX 75225, (214) 888-0050. Serving lunch and dinner with weekend brunch. Hours of operation: Monday – Thursday, 11 a.m. – 10 p.m.; Friday - Saturday 11 a.m. -- 1 a.m.; Sunday, 10 a.m. – 3:30 p.m. Crudo Italian will feature a happy hour Monday through Friday, 4 to 7 p.m.