ingrafted:
The last time this sort of thing happened the churches involved were referred to as "Reich Church", the official church of the Nazi Regime. Those pastors signed off on Hitler's "Aryan Clause" and agreed to monitor it's congregations for dissent, propagate the Nazi ideology, and enjoy the "protection" of the state. Please read another great piece by Ann Corcoran, Refugee Resettlement Watch. H/T American Thinker

Originally posted on Refugee Resettlement Watch:
I love it!  Crony Christianity!  It's like crony capitalism when government and big business work hand in hand (benefiting each other) to the detriment of those paying the bills—you—but this time it's religious charities feeding on the taxpayer teat while directing government policy.

And, I am overjoyed to see that so many people, writers like Lee Cary, are starting to understand the depth of this evil perpetrated on the American citizen by 'religious' behemoths in the name of Christian charity.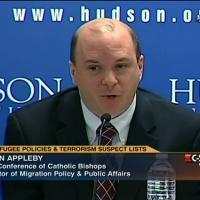 Kevin Appleby, USCCB lobbyist and author of the 2013 report predicting the invasion from Central America. Did the Bishops "mission" help make it happen?
Lee Cary, a retired United Methodist Pastor, has coined the perfect phrase to describe what we have been talking about for years.  Here is his description at American Thinker this morning (hat tip: Judy).  Emphasis below is mine:
Crony Christianity challenges the separation of Church and…
View original 646 more words