Crockpot whole chicken with a rotisserie-style rub, potatoes, vegetables, and a delicious gravy to drizzle over everything. Perfect for meal prep or for Sunday dinner!
Just like my favorite Instant Pot whole chicken, this slow cooker whole chicken gets the job done easily! Not only do you get perfectly juicy rotisserie-style chicken, but potatoes, carrots, and a seriously delicious gravy.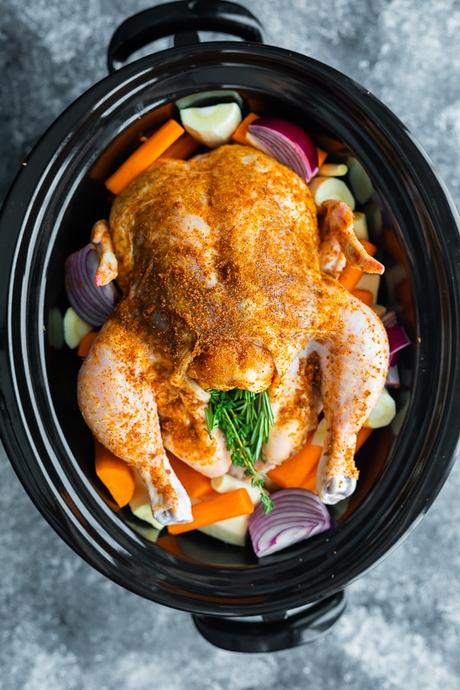 This crockpot whole chicken recipe is just like a traditional Sunday dinner, but is so easy thanks to the slow cooker!
The chicken tastes just like rotisserie chicken, and the gravy is perfect for drizzling over the root veggies and potatoes.
You can use this recipe for meal prep (check out this whole chicken meal prep for some ideas), or enjoy for dinner.
Why you'll ♡ this crockpot whole chicken
you can get a Sunday-style dinner cooking and go about your day
you can use it for meal prep
it's gluten-free, free from typical unpronounceable rotisserie chicken additives, and delicious
Continue reading:Crockpot Whole Chicken (+ Veggies)