I was recently asked by one of my readers for a recipe in the crockpot that did not have onions.  I'm not a big fan of onions myself so I enjoyed this challenge.  I actually found a few recipes that I really do hope to try very soon, but hadn't gotten around to doing.  It has been a crazy week or so.
Yesterday though, my husband pulled out the crockpot and started making his version of Ranch Chicken.  Normally he does this in the oven, but I think he was in a set it and forget it kind of mood so he tossed it in there to cook for the day so we could enjoy the pleasant aroma all day long.  And I got my camera and snapped a few pictures of it going together so I could share it with all of you.
Ingredients
1 1/2 pounds boneless skinless chicken breast
2 packages Ranch dressing mix
1-16 oz bottle of Ranch dressing
1/2 cup of milk
 Directions
If you did not purchase thin sliced chicken breast then split the breasts in half.  Next sprinkle the chicken breast with the Ranch dressing mix.  Season both sides of the chicken.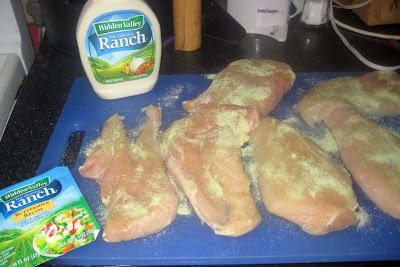 Chicken breast seasoned with Ranch dressing mix

Now you can pour some of the Ranch dressing into the bottom of the bowl of the crockpot.  Just enough to fill the bottom.  Layer the chicken on top adding more Ranch dressing to each layer of chicken.  Mix about half a cup of milk with the ranch dressing left in the bottle and pour that over the top of the chicken and if you have any remaining Ranch dressing mix sprinkle that over everything in the crockpot...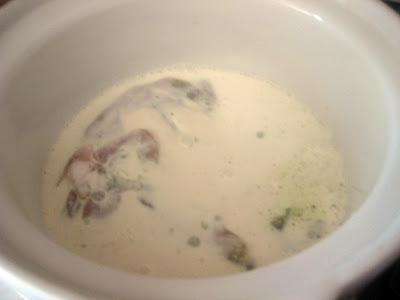 Crockpot Ranch Chicken ready to cook!
 Cover it and cook on high for 4 hours.  Or you can cook on low for 6-8 hours.
Side suggestions and opinions!
We then made noodles and mixed vegetables when it was just about time to eat to go along with this.  It was so flavorful and moist.  All of my children loved it.
So there you have it a quick set it and forget it meal for six that had no onions in it!  I have a few more crockpot recipes I am looking forward to trying out soon too for you all so check back.
What's your favorite crockpot recipe?  Did you make it up yourself or find it online or in a recipe book?