This healthy crockpot Mexican chicken stew is inspired by tortilla soup. Packed full of delicious Mexican flavors and super simple to prepare, you'll love how easy it is to make this stew recipe in your slow cooker or Instant Pot!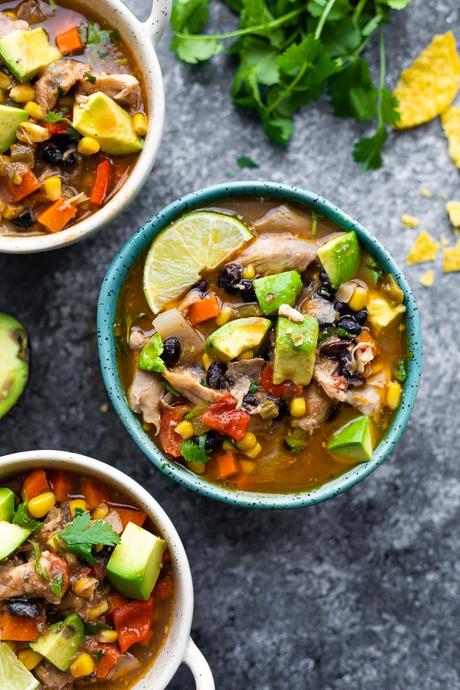 As soon as cold weather arrives, the stew cravings kick in. There is just nothing more comforting than curling up with a hot bowl of hearty goodness, like Slow Cooker Tuscan Chicken Stew or Slow Cooker Spanish Chicken Stew, or this crockpot Mexican chicken stew on a chilly evening.
Basically, anything worthy of bread dunking is considered satisfying comfort food in my book.
This Mexican Chicken Stew recipe is perfect as a weeknight dinner or meal prep this winter. Packed with fresh veggies and zesty spices, the rich broth of this stew easily comes together in the slow cooker or Instant Pot. Absolutely crave-worthy in every way!
This recipe is gluten-free, and is great for enjoying with tortilla chips – or cornbread! Whatever your preference, you'll love dunking in delicious chicken stew!
Reasons you'll ♡ this crockpot Mexican chicken stew
it's gluten-free and dairy-free
you can assemble ahead as a freezer-friendly meal
there is no sauteeing required: simply "dump and go" in the crockpot or Instant Pot
Don't forget to pin this post and save it for later!
Continue reading:Crockpot Mexican Chicken Stew (+ Instant Pot)