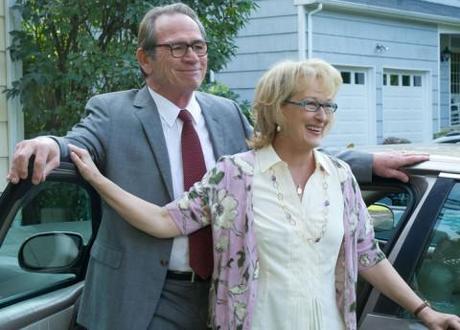 Tommy Lee Jones and Meryl Streep in Hope Springs. Photo: Sony Pictures
The background
In an attempt to rekindle her 30-year-old and stagnating marriage, Kay Soames (Meryl Streep) persuades her reluctant husband, Arnold, (Tommy Lee Jones) to attend a one-week couples' counseling retreat, led by a renowned therapist (Steve Carrel) in the small town of Great Hope Springs. The real challenge for the couple comes when they are set 'sexercises', after being told that a good sex life is as important as any other aspect in a functional marriage. Awkward for them – and perhaps the audience? Critics don't seem to think so.
Superb acting
Peter Travers from Rolling Stone declared stars Streep and Jones quite plainly as "two of the best actors on the planet". And though there was much to say about the rest of the cast's contribution, many seemed especially impressed with Jones's stellar performance in particular. "His character has the furthest distance to travel," observed Lorien Haynes from  Movieline, "and watching him do this is at the core of this film's heart – and its heartbreak." Rex Reed from The New York Observer concurred, "[I]t is really Tommy Lee Jones who surprises and thrills, matching his co-star moment by moment, scene by scene. I've never seen him so truly involved." Streep, who could probably elevate a soap commercial to Oscar-winning glory, is reliably good: CNN's Tom Charity observed, "Streep fans, I think you're going to enjoy this one. I know I did".
A-list actors save the day?
But, some critics claimed, if it weren't for the actors, the film itself would be unwatchable. Said Haynes, "Let's face it though, the premise is a hard sell. Films about old people are an anathema to mainstream Hollywood." Then there's the "simplistic framework and some heavy-handed signposting" – director David Frankel, of The Devil Wears Prada fame, "is not renowned for his subtlety". Jones and Streep give the movie heart, but, wrote Haynes, "The movie is an unsatisfying combination of touching and excruciating, and a large part of the problem stems from Frankel's attempt to hammer such serious and sensitive subject matter into a half-hearted comedy."
Nope, it's the story that compels
On the other hand, it was the very bathetic nature of the plotline that gained Hope Springs points with other critics. Rex Reed from The New York Observer awarded the movie a rating of 3.5/4, claimed to have had quite enough of this "age of idiotic garbage overpopulated with alternate realities and toxic avengers in Halloween costumes", and gladly welcomed this gentle, touching story about "real people dealing with real problems in the everyday world" for a change.