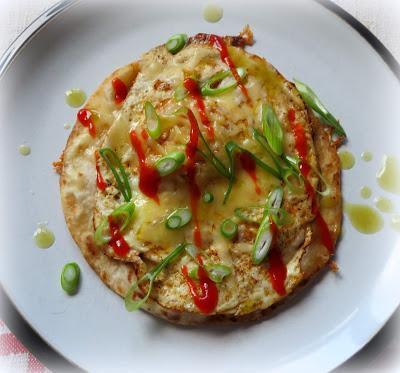 At the weekend I like to cook the man something a bit heftier for his breakfast rather than his usual Oats or Wheatabix.  I've never had him complain.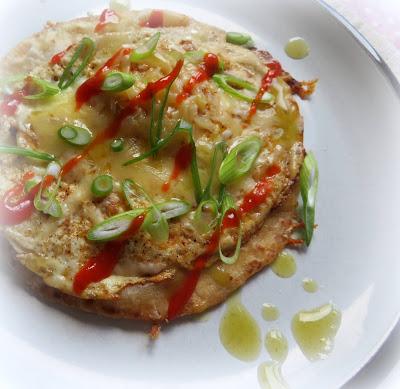 When I first moved over here we used to pop into Chester often on a Saturday morning and treat ourselves to an all-day breakfast . . . .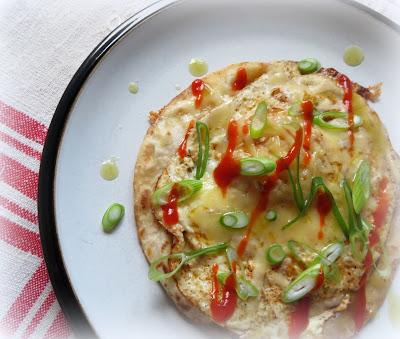 Bacon, sausage  . . .  eggs any way you wanted them . . .  grilled tomatoes, baked beans, mushrooms  . . .  hash browns, black pudding (only if you liked it) and beautiful crisp fried bread . . . oh, I so
loved
the fried bread.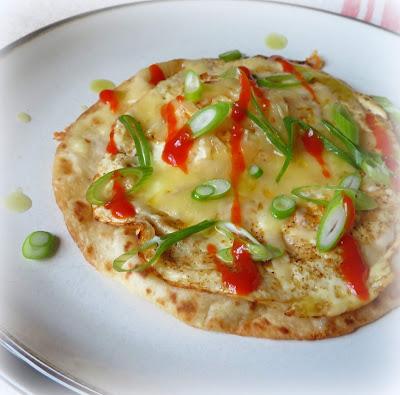 Thick  slices of white bread that's been fried in fat until crisp . . . oh, it is sooo good.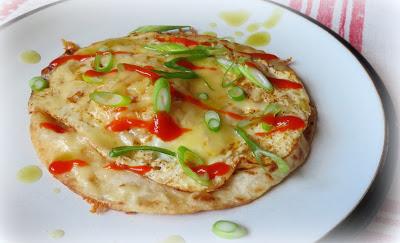 They closed down the local BHS a few years back, so no more Saturday breakfasts . . .  Oh, I know we could get one easily somewhere else, but there was just something about the BHS, and they were the only ones I knew that served fried bread.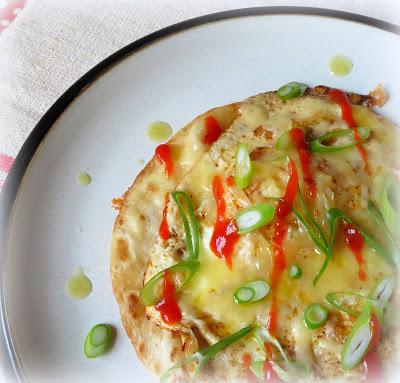 I'll tell you something however  . . .  those full breakfasts don't hold a patch to these Crispy Tortilla Eggs!  They are phenomenal!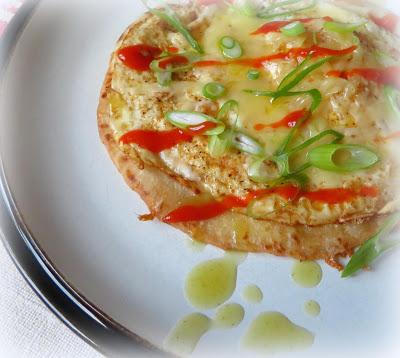 Buttery crisp tortilla topped with a fried egg and cheese  . . . and garnishes . . .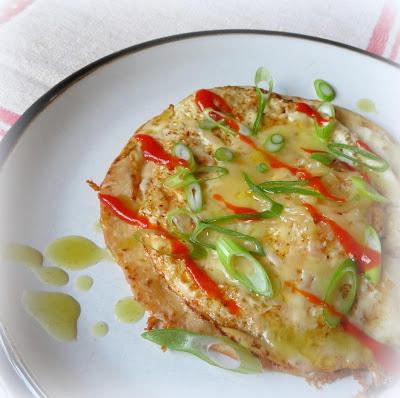 You start off by frying the egg . . . .  just until the white is opaque, season it and flip the egg over . . .  carefully so the yolk doesn't break.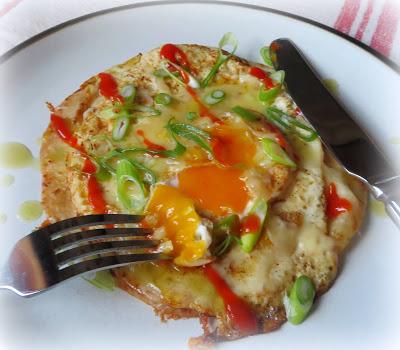 I only ever use large free range organic eggs, and if they are RSPCA approved so much the better.  I refuse to support an industry that is in-humane if I can help it.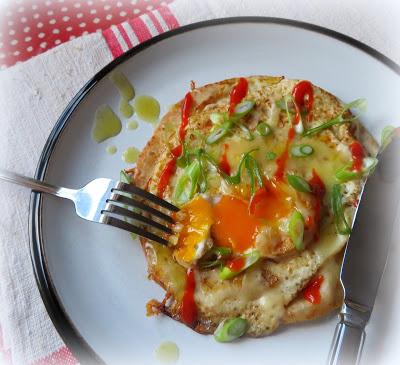 Once you have flipped the egg, quickly sprinkle it with a tablespoon of cheese and a 6 inch tortilla . . .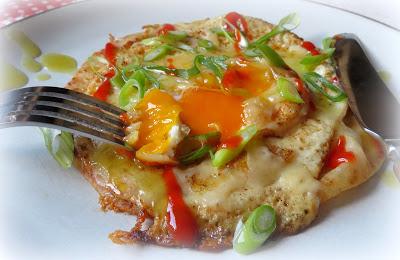 Leave it until the cheese melts and helps the tortilla to stick to the egg and then carefully flip it over so you can fry that tortilla in the pan drippings  . . . it only takes about a minute for it to get lovely and crisp.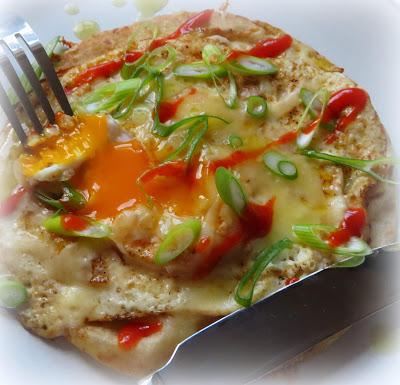 Crisp and buttery  . . .  after that you turn the heat out, top with a bit more cheese and pop on a lid so that the cheese can melt.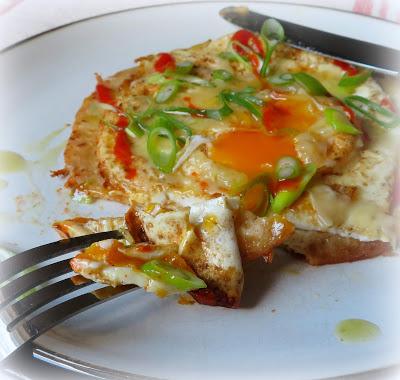 Slide that baby onto a heated plate and top with some hot sauce and spring onions  . . . I like to use a combination of Sriracha sauce and green Tabasco.  Just a drizzle of each . . .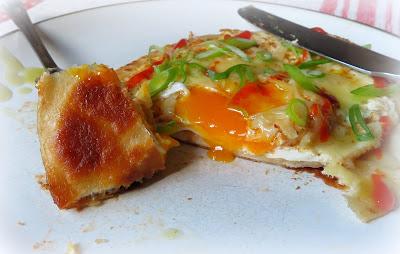 Fabulously tasty . . .  FABULOUSLY!!
Yield: 1
Author: Marie Rayner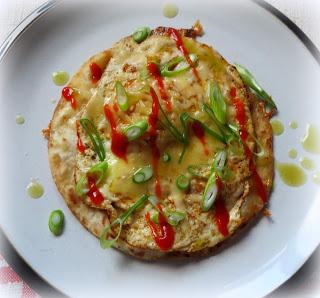 Crispy Tortilla Eggs
You can make as many or as few of these as you want.  Simple ingredients put together in a spectacular way.  NOM NOM!
ingredients:
1 tsp butter
1 large free range egg
1/4 tsp seasoning salt
2 TBS grated cheddar or Jack cheese
1 (15cm) flour tortilla (6 inch)
Toppings:
chopped spring onions
hot sauce (I used Sriracha and Green Tabasco)
instructions:
Melt the butter in a medium skillet over moderate heat.  Crack in the egg.  Sprinkle with the seasoning salt.  Cook until the whites are set.  Carefully flip over.  Sprinkle with 1 TBS cheese.  Immediately top with the tortilla.  Cook until the cheese melts (won't take long).  Carefully flip back over until the egg is on top and the tortilla is on the bottom. Cook for about a minute. Sprinkle on the remaining TBS cheese.  Remove from the heat and pop on a lid.  Leave til the cheese melts. 
Slide onto a heated plate and top with some hot sauce and the spring onions.  Serve immediately.
NOTES:
Note - I like these with a softly cooked egg, but if your family prefers them firmer, just let the egg cook for a bit longer.
Created using
The Recipes Generator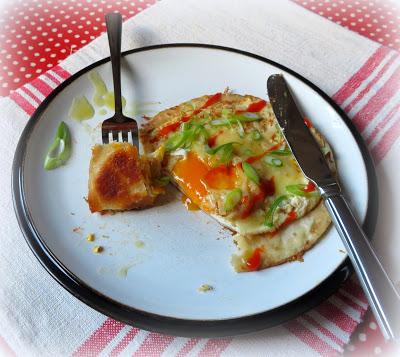 These are so, so, SO good.  I had planned on only making one for Todd, but it was so delicious, I ended up eating it and then had to make him another one.  I know.  Me <====== willpower.