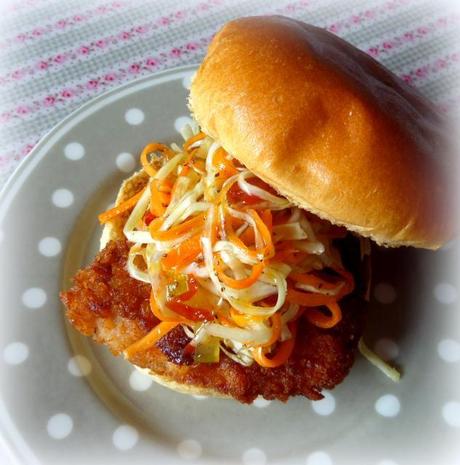 Here we are with day three of the Crispy Chicken recipes.  This is the second recipe using the leftovers from that delicious Crispy Chicken with Sweet and Sour Dipping Sauce. If you didn't cook extra you are going to regret that decision now!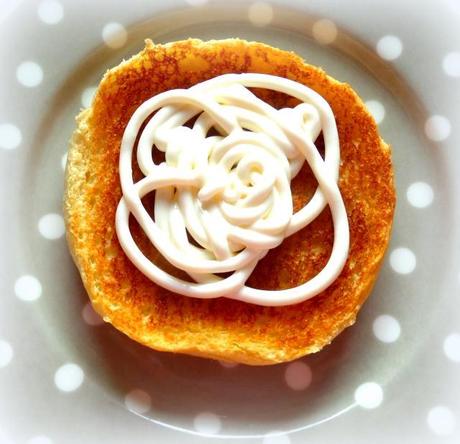 Imagine a deliciously simple hot chicken sandwich composed of a brioche bun, split and toasted and slathered with a spicy garlic mayo . . .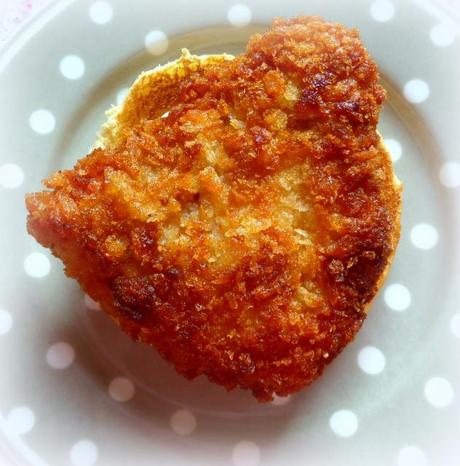 topped with a crispy coated and tender well flavoured chicken breast . . .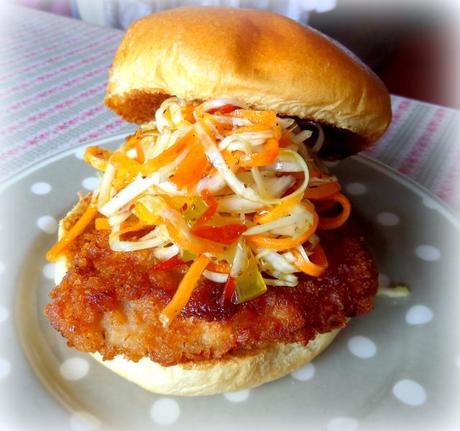 Now top that crispy coated and tender well-flavoured chicken breast, sitting on that spicy garlic mayo, sitting on that toasted brioche bun . . .  with a delicious pile of sweet and tangy coleslaw vinaigrette!  Then of course the toasted top of the bun.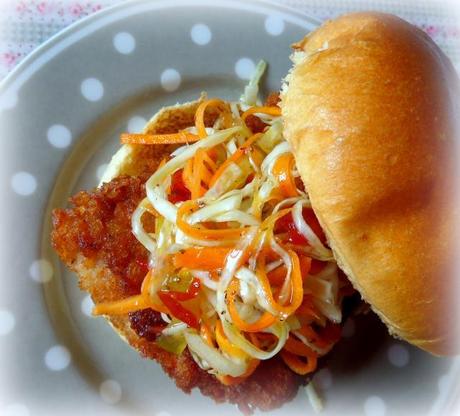 If THIS is not the best hot chicken sandwich you have ever eaten . . .  I'll eat my hat.
'Nuff said.   Try it.  You will love it.  I guarantee.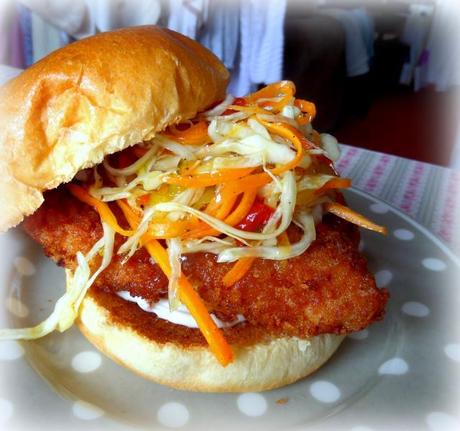 *Crispy Chicken Sandwiches*
Serves 4Printable Recipe  

These are delicious.  I need say no more.  If you don't make these, you are missing out on something really special.  
For the chicken:2 large boneless skinless chicken breasts, cut in half crosswise
and pounded to an even thickness
salt and black pepper40g of plain flour (about 1/4 cup)1 large free range egg, beaten180g of packaged dry bread crumbs (I used panko) (1 1/2 cups)oil for frying
For the spicy garlic mayo:110g of garlic mayo (1/2 cup)1/4 tsp cayenne pepper
For the coleslaw:1/2 small white cabbage, finely shredded (about 2 cups)(Use a knife so you get strands)1 medium carrot, peeled and shredded2 or 3 sour gerkins, chopped4 or 5 sweet pickled hot peppers, chopped (I like Peppadews, in American the equivalent would be Cherchies)1/2 tsp celery seed
salt and black pepper to taste2 TBS apple cider vinegar2 TBS sugar2 TBS olive oil  
You will also need 4 toasted buns (I used brioche buns, lovely)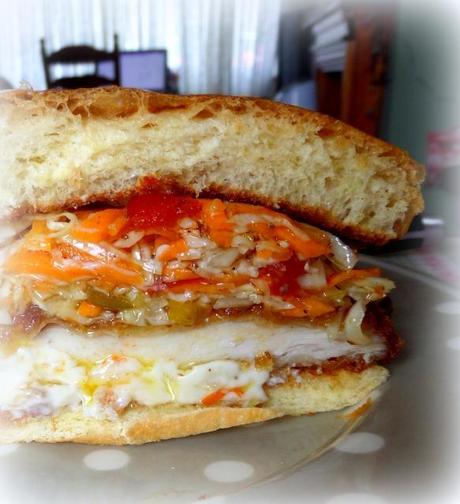 First make the mayo.  Whisk together the mayo and the pepper.   Cover and chill in the refrigerator.Next make the coleslaw.  Put the vinegar, sugar and oil in a glass measuring cup.  Heat in the microwave for about a minute to melt the sugar.   Place the vegetables and pickles in a bowl.  Whisk the celery seed, salt and pepper into the warm oil mixture.  Pour this over the vegetables and toss to coat.  Set aside to macerate. 
Put the flour on a plate.   Put the beaten egg in a shallow bowl.  Put the breadcrumbs onto a place.  Have ready a paper lined baking tray.  Season your chicken pieces all over with salt and pepper.  Dredge them in the flour to coat.   Coat with the beaten egg and then coat them with the bread crumbs, pressing so that they adhere.   Place on the baking tray until you are finished all of them.
Heat a small amount of oil in a skillet.  Once it is hot, add the chicken pieces one or two at a time.  Cook on one side until golden brown, about 4 minutes, flip over and cook until golden on the other side.  Repeat until they are all done.  Drain on paper towelling.  
Place the bottom halves of the toasted buns on each of four plates.  Top with one fourth of the mayo and a piece of chicken.  Top each with an equal portion of well drained slaw and the top buns and serve immediately.  Delicious! 
Note - If you have saved chicken from cooking the other day you will not need to bread and fry the chicken, as it will already be done.   Simply reheat in a medium oven until hot through.