This is the script of this morning's Pause for Thought on BBC Radio 2's Chris Evans Show in the presence of David Walliams, Jack Whitehall, Jodie Foster and Richard Ashcroft:
I think I'm the only bishop to have been arrested for busking on the Paris Metro. OK, I was only nineteen or twenty and I was living and working near the Eiffel Tower for a few months as part of my degree. Fantastic job – paid by a telecommunications company for a full week, but only working two days and spending the rest of the week busking my way around the city. I loved it.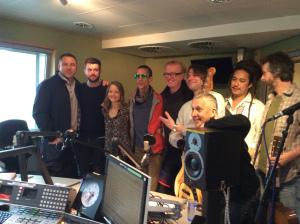 But, just to be clear, I didn't get stopped by the police because I was rubbish – or that my singing offended French sensibilities. It was just that the King of Denmark (I think) had arrived in the Elysee Palace above us, and I was the only busker who didn't know he was coming. It was a security thing.
When they stopped me I'd done a couple of Beatles songs and was half way through a John Lennon song that went deep at the time. On his 'Imagine' album there was a song called 'Crippled Inside' which basically says that you can put on all the appearances you like – "shine your shoes and wear a suit" -that sort of thing – but one thing you can't hide is when you're crippled inside.
A bit miserable, maybe. But, John Lennon was what I call an honest hypocrite – in other words, he never pretended not to be one. Writing "imagine no possessions" on a Bechstein grand piano took some nerve, didn't it? But, he had a knack of going to the heart of being human. In a culture that too often appears to value only success, beauty and appearances, my fellow Scouser stripped off the veneer of respectability and owned up to the pain of being a mess underneath it all.
For a Christian like me this should come as no surprise. We're all a mess really. The first question in the Bible has God walking in the Garden of Eden in the cool of the day asking the hiding Adam: "Where on earth are you?"
In other words, stop hiding, come on out from behind the bushes, don't worry about being seen through, or being a mess. We can all see it anyway. Perhaps freedom is to be found in facing the reality deep within us and not trying to hide it away, pretending to be what we are not.
Imagine that.

Posted with Blogsy