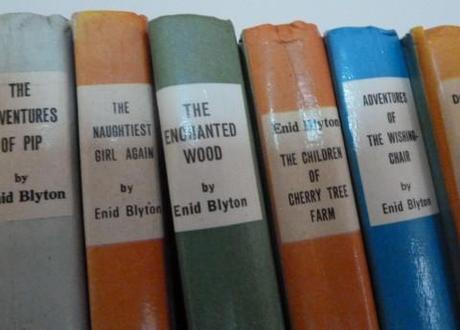 Enid Blyton's books are set for a resurgence. Photo credit: Junkbed, http://www.flickr.com/photos/[email protected]/5903640888/
This year is proving to be a big one for anniversaries. Not only is it a century since the sinking of the Titanic and yet another decade since the Queen's 1952 coronation, but 2012 also marks the 70th anniversary of the first edition of Enid Blyton's The Famous Five.  To celebrate this momentous event, Hodder are publishing five new anniversary editions, released in May, with covers by leading illustrators including Quentin Blake and Oliver Jeffers.
But that's not all: It was announced on Monday that Hachette UK have bought the rights to Blyton's estate (excluding Noddy) from Chorion. The news came with plans to drag the tales of boarding school mischief and casual racism into the 21st century –but does anyone still want to read them?
Enid's coming home. The Managing Director of Hachette Children's Books, Marlene Johnson, said she was delighted that Blyton's works would be back where they belonged; "Hodder was her original publisher, so it is fitting that her whole portfolio has come home and will now be published and managed under one roof." Blyton's fiction goes much further than The Famous Five; brands include The Secret Seven, Faraway Tree, Enchanted Wood and The Twins at St Clare's. However, they may not be quite as you remember – Johnson has "great plans for the future". Unsurprisingly these include digitisation; at the moment only around 50 Blyton books are available to download.
No more jolly hockey sticks?  Hachette believe that revamping the books could boost sales as children are put off by language they can't relate to. Johnson wants "to catapult Blyton into contemporary society" – a society which apparently no longer includes "jolly japes".  However, when The Guardian's Nick Duerden sampled the newly-updated Famous Five, he found that the books "still clunk in a rather charming way".  Fans will be pleased to know that censorship was not extensive: "Dick interacts very enthusiastically with a character called Fanny".
Blighty loves Blyton.  The Daily Mail reported that Blyton was the 20th best-selling author in the UK last year, despite first being published in the 1920s, and according to IBN Live over 500 million copies of her work have been sold to date. Hachette now owns the rights to around 800 novels and short stories, some possibly unpublished, including a manuscript titled 'Happy Christmas, Five'. The Telegraph led the nostalgia with an album of her book covers through the ages.
Nick Duerden commented in The Guardian, "You cannot get more anachronistic in children's literature in 2012 than Enid Blyton, a rosy throwback to simpler times when the working class could still be scoffed at and rudeness to people of color was commonplace."
Beloved –but irrelevant?  The Independent quoted Michael Rosen, previous Children's Laureate, admitting to "flinching at occasional bursts of snobbery and the assumed level of privilege" in Blyton's books. The question has been raised whether children should still be reading her work when there are so many great authors around writing appropriate and relevant books. One of these authors, Michael Morpurgo, thinks children should be reading both; "today's writers are much better in terms of complexity and depth, but Blyton endures because her books give a sense that the world really can be your oyster – you just have to go out and claim it."
More in children's and YA lit

The Twilight-Potter Games? How The Hunger Games is the next… big YA thing
Reviews in for The Hunger Games
Harry Potter's magical studio tour