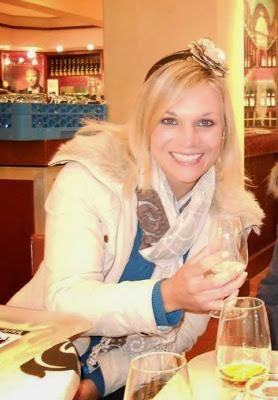 Sure, one may not readily identify this good looking person…….
She is a Cricketer – a right handed bats(wo)man and occasional wicket keeper, who made her debut in Jan 2007, when aged 17……..  she is

Mignon du Preez

and  in news as Cricket South Africa has offered contract to her alongwith few others for the first time in its history.   Sometime back when interviewed she said

:  Before you read further do you know or remember the first Captain of Indian womens' Team ?
Who is your favorite cricketer, and why? :    

Sachin Tendulkar

– Love his presence at the crease, how he always looks calm and how he structures his innings.
Which international cricketer would you most liken your playing style to, and why?:    

Jonty Rhodes.

I'm quick between the wickets and an excellent fielder.
What is your best cricketing moment/performance to date?   -Being announced as the captain of the South African   Women's Cricket team
Want is your cricketing ambition?     -To be the change I want to see in Women's Cricket
Through the increased investment of CSA's main partner, final services provider Momentum, six players are being  afforded contracts. In December 2012, the sponsorship enabled CSA to employ a full-time women's coach, Hilton Moreeng. In what is seen as a major boost  for the women's game, South Africa joined England, Australia, West Indies and Pakistan in centrally contracting some women's internationals.  The players contracted now are : Captain Mignon du Preez, allrounders Dané van Niekerk and Marizanne Kapp, bowlers Marcia Letsoalo and Shabnim Ismail and wicketkeeper Trisha Chetty.  South Africa finished in sixth place at the 2013 World Cup and recently completed a double series clean sweep over Bangladesh in One-Day Internationals and Twenty20 Internationals on home soil.
There was some criticism that local English daily newspapers did not provide enough coverage recognizing the historic event in South African cricket.  On 8th Oct 2013, for  the first time contracts were awarded to women's cricketers.  The move by Cricket South Africa (CSA) is seen as a momentous leap for women's sport. It is not the entire team but only 6 women but still a strong way forward.  The Proteas women will take on Sri Lanka in an ODI series from 24 October 2013 and a T20 series from 31 October 2013.
What used to be a sport and industry more suitable for men is changing perceptions, and South Africa seems to be setting the bar. This means that players like Mignon du Preez, who scored a double century in a 40-over game as a 12-year-old, can now focus on just playing cricket instead of having to find a job which will allow her to sneak away for training.
Getting back to the Q at the start ~ it was the tall Shanta Rangaswamy who captained India in its first Test against West Indies in 1976.  Incidentally, the first woman Captain of Indian team in ODI was Diana Edulji – Shanta was the 2nd. 
About a year ago, there was news that ace Indian shooter Jaspal Rana was appointed chief coach for junior pistol shooters by the National Rifle Association of India (NRAI) and becoming  entitled to get a monthly salary of INR 50,000. Cricket Board is much rich and they pay huge foreign currency to Duncan Fletcher ~ the way they did to Gary Kirsten, Greg Chappell and more…Duncan Fletcher who looks so serious on screen is reportedly paid princely 34 lakhs + per month. 
We are seeing the bowling cupboard barren with opponents scoring runs heavily – death bowling is mere surrender making Harsha Bhogle remark that Dhoni should search for a death-bowler in some reality show.  With this background, one must remember that  payment to players is regulated under an annual  contract by the BCCI and that players would continue to get their remuneration irrespective of the fact whether they play in the XI or part of the squad or not !!!  There are grades A, B & C  -  last year with the  changes made by the BCCI - Offspinner Harbhajan Singh and seamer Ishant Sharma were demoted from Grade A to B; while offspinner R Ashwin was promoted from Grade B to A.  That meant that the duo of Harbhajan and Ishant will draw a fixed income of Rs 50 lakh (approx $93,000) each from October 2012 to September 2013, instead of the Rs 1 crore (approx $186,000) that players with the top grade of contracts will get.
There is lot of money - big money associated with Cricket and that partially explains the way players perform… the whole World – more of those who do not like Cricket tended to equate IPL with a villain – criticizing IPL is all about money – it did appear that everyone connected with IPL were basking in money.  One would be startled to know that Sunil Gavaskar and Ravi Shastri who earn as commentators also are paid by BCCI also for not commenting anything against the policies of the rich Board.  
With regards – S. Sampathkumar
23rd Oct 2013.