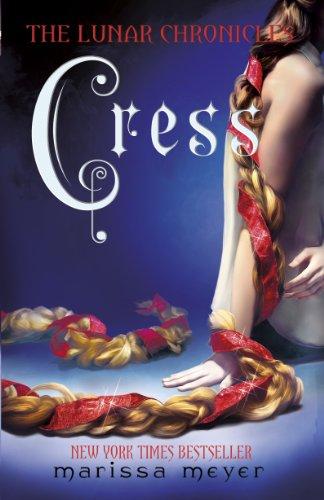 TITLE & AUTHOR: Cress (The Lunar Chronicles #3) by Marissa MeyerWHAT'S IT'S ABOUT
Cress is the third book in the bestselling Lunar Chronicles series, following Cinder and Scarlet.
PUBLISHER: PuffinThis is not the fairy tale you remember. But it's one you won't forget.
OPENING
EDITION: KoboWHAT I THOUGHT

RELEASE DATE: 6 February 2014PAGES: 560SOURCE: Digital Library
Incarcerated in a satellite, an expert hacker and out to save the world - Cress isn't your usual damsel in distress.
CRESS grew-up as a prisoner. With only netscreens for company she's forced to do the bidding of the evil Queen Levana. Now that means tracking down Cinder and her handsome accomplice Emperor Kai. But little does Levana know that those she seeks, and the man she loves, are plotting her downfall . . .
As paths cross and the price of freedom rises, happily ever after has never seemed further away for Cress, Scarlet and Cinder.
Her satellite made one full orbit around planet Earth every sixteen hours. It was a prison that came with an endlessly breath-taking view - vast blue oceans and swirling clouds and sunrises that set half the world on fire.
Cress is my favourite book from the Lunar Chronicles so far. This time around the author takes her inspiration from Rapunzel in creating the character of Cress. Cress picks up right where Scarlet left off. There is a lot more happening in this book than the previous two. The stakes are much higher. I really liked the character of Cress and her story. When the plot focused on Scarlet or Cinder I found myself pining to read more about Cress. There are revelations in this book that have left me reeling. I've reserved Winter from my library because they don't have a digital copy and cannot wait to find out how it all ends. I also want to read Fairest as well. The character of Winter is introduced towards the end of Cress and I cannot wait to read more about her. She's the kind of crazy I like to hang out with. As with the other two book I really liked the way the author draws inspiration from fairytales, twisting and shaping them into something very different but still recognisable. Cress is great. I'm definitely a huge fan of this series.