Circuit Breaker Day 49
Crème caramel or 
Leche
 flan or Caramel Flan are all the same.  When I just got married and living on our own, I used to make this very often for myself especially when hubby was out of town.  To satisfy my sweet tooth and as a snack as I can chill the rest and eat one a day.  
Years later, I was taught how to prepare Leche flan using condensed milk which I find it way too sweet.
Now, I wanted to try another method of making it.  A toy that I acquired after I saw how my sister in law uses it practically for every meal and that is the Instant Pot.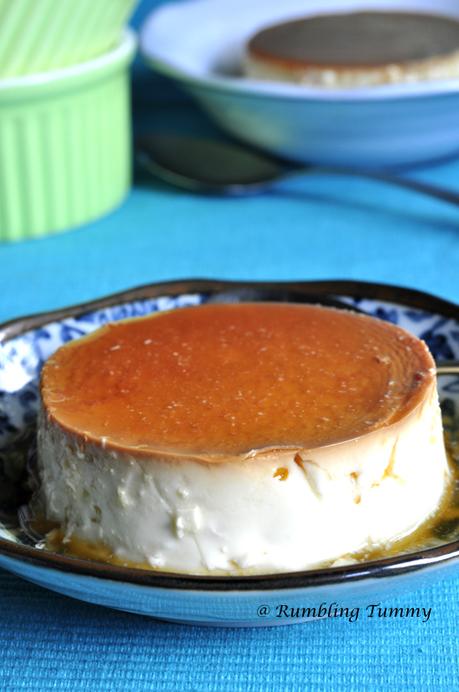 Findings: The texture is a little firm but other than that, this is really good.  Making it in such a short time, saves electricity and gas too.  Besides requires a little more time to make the caramel sauce, other than that, it is pretty much effortless.
Source
What you need:
yield: 6 portions
Caramel Syrup
100g castor sugar
2 tbsp cold water
Flan
1 cup fresh milk
1 cup whipping cream (35% fat)
50g castor sugar
2 tsp vanilla extract
a pinch salt
3 extra large eggs, lightly beaten
Method:
Make Caramel Syrup:
Over medium high heat, melt sugar in cold water in a saucepan. Swirl occasionally until dark golden brown.
Divide the caramel into the 6 ramekins. Then, allow the caramel syrup to cool.
Make flan: 
Heat up milk and whipping cream in a medium pot. 
Add in sugar, vanilla extract and a pinch of salt to the hot milk/cream mixture, then stir until the sugar fully dissolves.
Beat eggs lightly in a medium bowl.  Pour in the hot cream mixture slowly while whisking.  Little by little. Continue to whisk and pour the remaining milk mixture into the eggs.
Sieve through the mixture.
Pour into the ramekin and cover with aluminum foil tightly.
Add 1 cup cold water into the Instant Pot.
Place steamer rack in Instant Pot and arrange the covered ramekins on the rack. 
Pressure cook at High Pressure for 9 minutes + Natural Release. Open the lid carefully.
Remove ramekins and set aside to cool.
Chill overnight.
Run a knife around the ramekins and invert onto a plate.
Serve cold.

Enjoy!

If you have enjoyed this post by
Rumbling Tummy
, be sure to follow her on
Facebook
, Instagram, Pinterest,
Twitter
and
Google+
.