I find it very strange (and a bit dishonest) how you can pour custard into a dish, chuck it in an oven, set fire to it and suddenly it becomes one of the most popular puddings of all time just because you called it a fancy French name.  Doesn't seem fair really does it?  It's like one of those Pinterest 'recipes' that claims opening a tin of Heinz soup and pouring it over some chicken and pasta is culinary genius or layers some pre-mix items together and describes them as baking when in reality it's a bit of a cop out.
I guess this is what this is - cop out Creme Brulee.  Just don't try it with Bird's custard powder - I don't think it will have quite the same effect.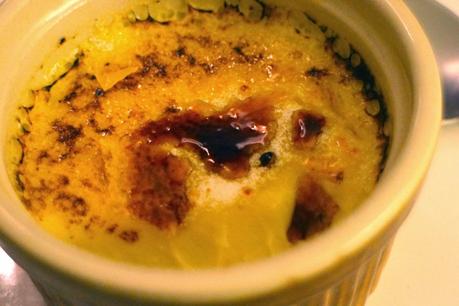 At its most basic level, baked custard is all Creme Brulee really is and yet because of the creamy texture it feels like one of the most decadent desserts out there.   The combination of toffee like crisp shell and smooth, velvety vanilla interior is an absolute classic.
This is one of my favorite desserts to serve at dinner parties as it does have a wow factor, everyone loves it and it can be made a day in advance and just left in the fridge until required.  You also look like a friggin' kitchen genius.  Never a bad thing.
It is also unfairly easy to make!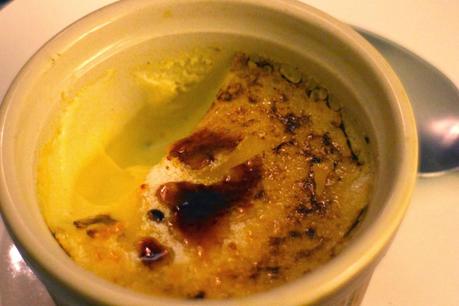 Ingredients (makes 6):
600ml double cream (it must be double, high fat content is crucial)
5 egg yolks
1 vanilla pod / 1 tablespoon vanilla bean paste
100g caster sugar plus extra for caramalising
6 ramekins and a baking dish big enough to fit them all in
Preheat the oven to 150C
Pour the cream into a saucepan and add the vanilla extract or slit the vanilla pod lengthways, scrape out the seeds and add the seeds and the pod to the cream.
Heat gently to just below boiling point then remove from the heat and allow the vanilla to infuse.
Whisk the caster sugar and egg yolks together in a large bowl, getting as much air into the mixture as possible.
Remove the vanilla pod from the cream if using then gradually pour the cream into the sugar and egg mix, whisking continuously as you do so.  The custard should be smooth, with no lumps and a light froth on the top.
Pour the custard into the ramekins, then put the ramekins in a baking tray and fill the baking tray with hot water (about half way up the side of the ramekins, making a bain marie).
Bake in the oven for about 30 minutes or until just set.  They should still wobble when moved.
Allow to cool for an hour before putting in the fridge to chill.
Remove from the fridge 20 minutes before serving to bring them up to room temperature.
Sprinkle caster sugar on the top and caramalise it with a cooks blowtorch (I always want to sport a visor a la Flashdance when using mine) or under a hot grill.
Leave for 2 minutes to allow the sugar to set hard before serving.