From Daily Kos Diarist, senilebiker
via The Daily Mail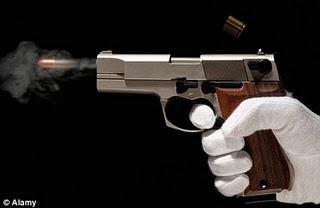 A bizarre new service that allows you to lock and load your loved one's ashes is blowing up on the internet.
Holy Smoke, based in Stockton, Alabama, boasts a 'tribute to your outdoorsman or woman like no other,' according to their website.
The company offers a means to 'continue to protect your home and family even after you are gone,' by turning ashes into fully-functioning bullets.
Senilebiker suggested that this serivce to the bereaved family members of gun lovers is evidence that they (some of them) are
"stark raving mad."
What do you think? Does he have a point?
Please leave a comment.