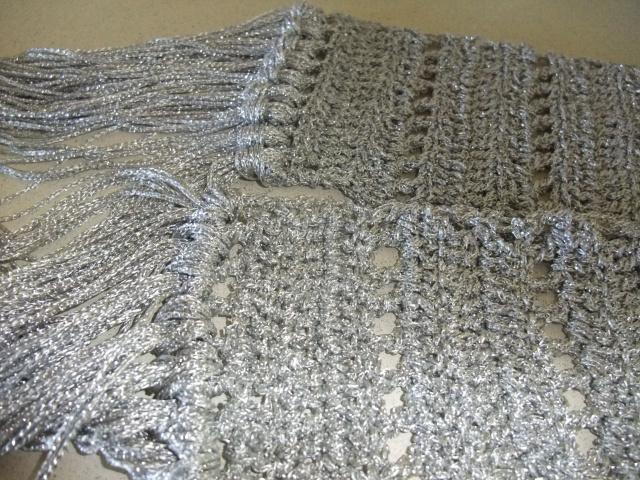 I have included the odd post on here about my creative exploits.  Aside from my botanical painting which is definitely on the back burner at the moment, there has been the tiny clothes for my mother's toy goose, a skirt and more recently a crocheted scarf.
I want to re-discover my creative side. When I was a teenager and when my sons were little I was always knitting and sewing.  In my late teens I used to make my own dresses and skirts often from complex Vogue designer patterns and I had some success but then I met my ex-husband and due to his personality problems my confidence went and I stopped dressmaking and knitting.  When the boys were little, and I was on my own I started making fancy dress outfits for them and even trousers from an old pair of mine.  They were very simplistic but they worked.  I have had knitting projects on the go frequently on and off over the years but last summer the pattern I was attempting just wouldn't work and I lost my confidence, then the aforementioned skirt didn't come out as well as I would have liked and I really threw in the towel.
I then decided to learn how to crochet as I thought learning a new skill would  give me a bit of confidence.  I have subscribed to the Art of Crochet and am learning step by step.  I also returned to tapestry work which is easy to do when you are watching television and quite therapeutic but now I want to make the tapestries into cushion covers and my first attempt  was awful.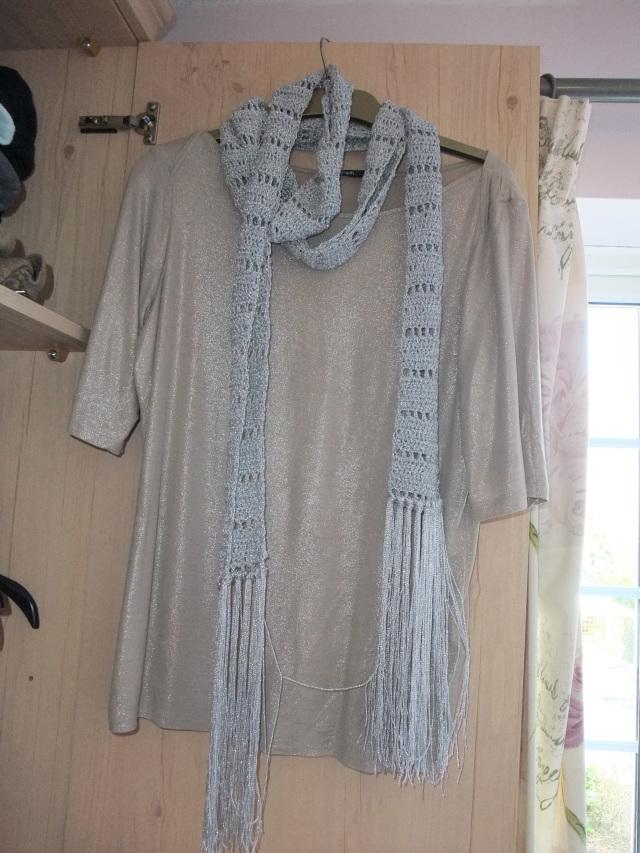 The crocheting has given me some confidence and on this post you can see a skinny scarf that I finished a while ago.  The fabric is quite itchy so I think it will be something I wear with a jacket more when I go out but it was good to work through something steadily and build  confidence.  I particularly love the long tassles!
In recent weeks I have been inspired by the Great British Sewing Bee on BBC2.  The thing that encouraged me the most was that the contestants had been chosen from lots of entrants and they were still making mistakes, the type I have made recently.  It showed me not to give up so easily and that practice will help.  I have bought the book which gives a range of projects from cushion covers, curtains to a range of clothes.  The book shows you have to put in a zip and other skills.  I always avoided zips when I was dressmaking before and being self-taught I tended to stick to the simpler buttonholes.  My biggest problem with dressmaking again is the cost and a lack of confidence in what suits me.  When I was younger, I was very slim and seemed to be able to wear anything, this is not the case now.   I have decided to work on some very simple dressmaking/sewing projects first and then maybe try a simple A line skirt to build confidence.
I have enjoyed crocheting the shoulder bag I am working on at the moment and am currently trying to decided whether to follow the instructions fully and felt it in the washing machine or leave the 'fabric' as it is – it is rather lovely.  There is something wonderful and satisfying about having made something yourself and I am planning on using this blog to record my journey and the things that inspire me – these posts will be on a Thursday, though I doubt  if  it  will be every Thursday.