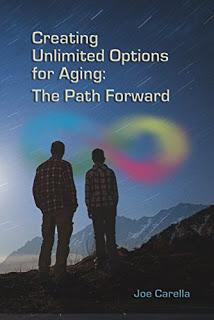 Published October 12, 2017.
Joe Carella has been challenging institutional settings for over two decades.
Drawing on his experience growing up in a tight-knit neighborhood in the Greater Boston area, his experience being admitted into a geriatric ward when he was a high school student, his experience visiting several autonomous, community-based housing in Scandinavia, Carella eventually established the
Scandinavian Living Center
 (SLC) in Newton, Massachusetts.
Since opening its doors in 2001, the SLC has become a crossroads for inter-generational connectivity.
More than 2,000 people per month--not counting friends and family members of residents--come to the site to participate in an array of activities.
More than 25 nonprofit organizations and clubs use the spacious common areas for meetings, projects, performances, and presentations. Yes, there are 40 apartments at the SLC; however, about half of the building space is dedicated to common areas.
Carella expresses particular delight when the "walls" between residents and visitors dissolve during community events. As
Carella told the Leading Age
: "I love it when [visitors] come for an event and don't have any idea this is an assisted living community."
How has Carella served as a catalyst for this integration of ages, abilities, and interests?
Reading
Creating Unlimited Options for Aging: The Path Forward
 (October 12, 2017) provides a lot of great detail.
His 2017 book describes his journey from his Arlington, MA neighborhood in the 1960s to his current role as Executive Director of the Scandinavian Charitable Society of Greater Boston. His book blends his personal history, formal education, on-site visits to several housing models in northern Europe, interviews with participating individuals, and observations of community dynamics.
It's vital to recognize that the greater society suffers as well without the perspective of community elders.
In his description of how older adults taught younger people how to use a handcrafted yo-yo, Carell notes the power of connection across generations:
"And there it was, older adults influencing a younger generation. In this brief and fun-filled connection 'old-timers' were transformed into 'elders of importance who had something valuable to share'" (p. 55).
The sum is greater than its parts, but here are four principles that guide his model for senior housing that focuses on inter-generational community building:
1) Elder housing should create a positive residential reality.
2) Housing should allow residents to maintain their lifestyle.
3) Housing should encourage autonomy.
4) Housing should foster community-centered living.
Even though Carella's personal experience has strongly influenced the development of the Scandinavian Living Center and its affiliated Scandinavian Cultural Center. He also gestures to the works of others in the field of culture change. These like-minded individuals seek to dismantle the sequestered model that promotes passivity and stagnation in older adults. Carella's book is filled with references to government documents, scholarly articles, trade books, and Internet sources--demonstrating how community-centered living is a philosophy that has practical applications with vivid, positive outcomes.
Towards the end of
Creating Unlimited Options for Aging
, Carella describes the work of Dr. Bill Thomas of the
Eden Alternative
/
Changing Aging
as well as the work of Barry Berman of the
Chelsea Jewish Foundation
and the
Leonard Florence Center for Living
.
To hear Carella describe his book and life's work,
visit this link
to his 7/12/18 AgeWyz interview.
Related:
Books on Aging