Creating Expandable Driftwood Candleholders and Plant Holders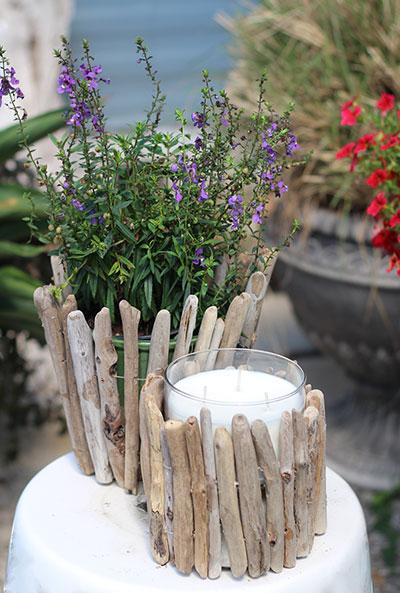 This is an easy way to make driftwood candleholders and plant holders that will be able to accommodate different size candle jars and simple glass flower vases or flower pots.  Those glass candle jars that you normally throw out after the candle burns down can now become a thing of beauty on their own while holding pretty flowers or a plant.  I'm using mine with a beautiful orchid plant and since my favorite scented candle comes in various sizes, I can now use the same Driftwood candleholders for a candle.  The secret is simply using "stretch" bead and jewelry cord purchased from Michaels or from Amazon BEADNOVA 1mm Clear Elastic Stretch Jewelry Roll
.  Yes, you might be able to see some of the cording when it stretches to fit a larger container but it's easy to hide by turning the holder and adjusting the driftwood pieces that show. 
If you want to make your own driftwood for this project, check out our tutorial on How to Create your Own Driftwood – it really works.
The simple holders are also great for Using driftwood in a Party or Wedding Theme.
Materials You Will Need:
1mm Clear Stretch Beading or Jewelry Cording
Glue Gun
Glue Sticks
Drill
1/8″ drill bit
Glass container
Driftwood Pieces preferably 1/2″ or more round, and straight
Pencil to mark drill holes
Ruler to measure and mark for drill holes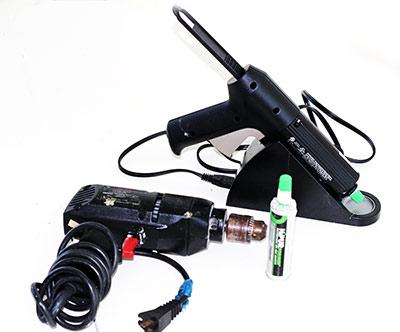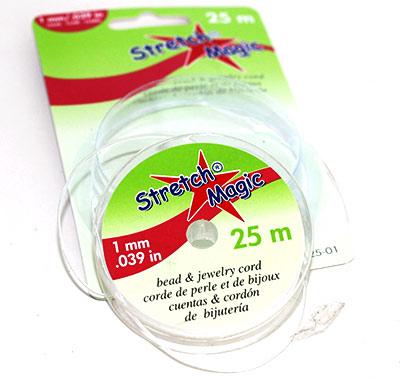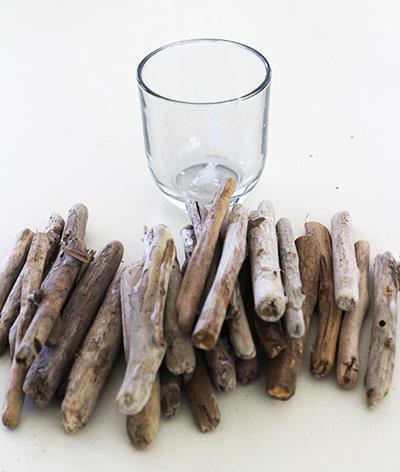 Place a driftwood piece against your glass container, figure and mark the distance from the bottom of your driftwood piece (approx. 2″).  Then measure another 2-3″ from the first mark and make a mark  so you know where to drill.  You want the holes to line up as much as possible on each piece of driftwood.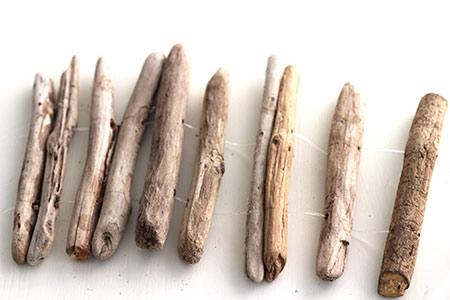 Once your pieces are all drilled, just start threading the stretch cord through the holes.  I actually tied knots about every 4th piece to keep spacing a little more equal when the candleholder expanded but it's not really necessary.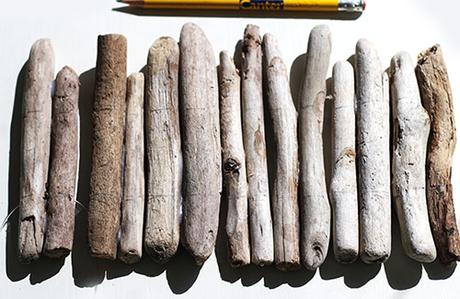 Occasionally place the pieces around your container to see if you want to add more or until you have enough to go all the way around.  Then tie a final knot.  I did three knots and then threaded the cording back through about 3 pieces and tied another knot just to keep it from coming apart.  Add a little bit of hot glue to the end knots to keep them from coming undone.
And that's it – pretty simple.  Make them as tall or short as you want and you should be able to adjust it to fit another container an 1″ or larger.