My friend Ruth from Rubanesque has a shop this summer in Lacoste which features her handmade one of a kind jewelry using antique silk ribbons from her family's historical silk ribbon company, plus treasures she has collected from the brocante.
The delightful combination of Ruth, her craft and creativity, plus Lacoste made me jump with excitement. The opening was more than I imagined, and my imagination is off the charts. Ruth's shop is in the town square next to a cafe, a church, lavender and in the shadow of the Marquise de Sade's castle... dream land made real. A perfect place to be reborn without every leaving ones soul or shoes.
Inspiring roots. Blooming without end.
Ribbons, lace, fabric made with gold and silver is notably: "noble" thread.
Cotton and linen threads were consider common used for practical purposes like work shirts and aprons. Noble threads were only for the wealthy and used for finery, pleasure... 
I love how Ruth used old French black and white postcards throughout her shop to highlight her jewelry. The above French postcard depicts a young woman a field worker. In her hand is a sickle used to cut lavender. She is wearing a cotton dress with a provencal scarf. Tucked within her straw hat she has layered ribbons and flowers to resemble a crown.
Noble beauty.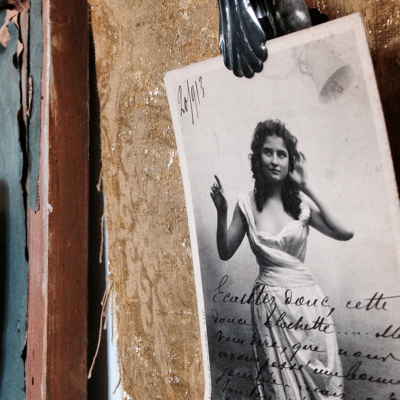 French Postcard 1900s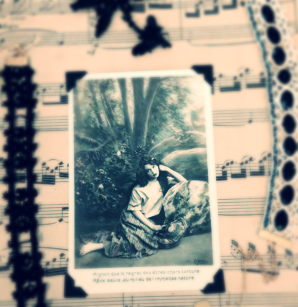 Black textiles were used to signify mourning. Ribbons, lace, velvets, silks, cotton, buttons even jewelry... Called: Mourning Art.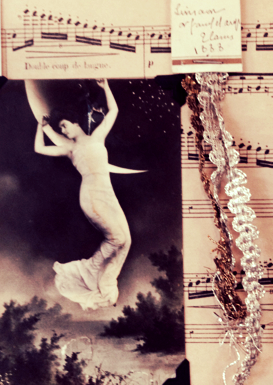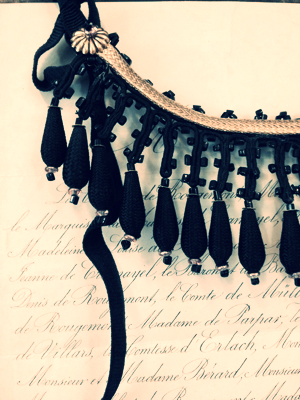 Ruth combined several pieces of antique ribbons, sequins and bobs to create this choker piece. Hand sewn, can I say noble workmanship?
Dressed in white air thin muslin, sitting uncomfortably on mistletoe the maiden waits to be kissed.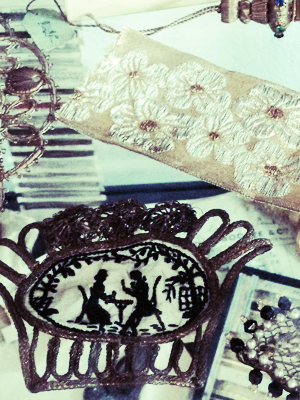 Silk 1900s ribbons used to create this hair comb.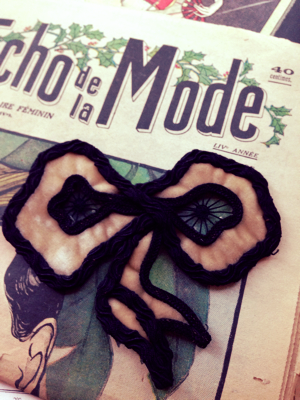 The handiwork of someone's creative force, the desire to make something ordinary to become fancy. Someone took black and cream velvet to make a bow applique. Was it ever used? Was it ever admired? Was it considered good enough? And yet here it is years later. Perfect all on its own.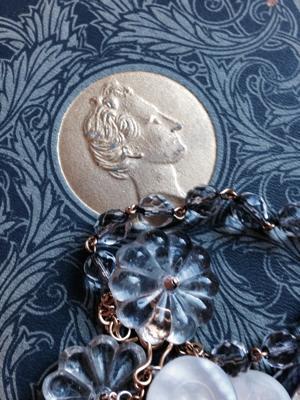 Re-purposed chandelier rosette crystals and mother of pearl buttons.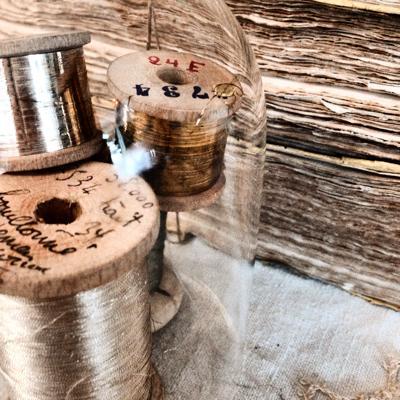 Pure silver thread on wooden spools.
Each marked with its weight and thickness.
A decorative box that held buttons.
Old things waiting in line to become reborn.
Mourning bits and bobs.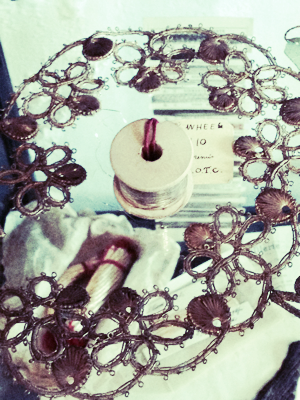 Museum pieces. Gold thread lace.
Ruth's creation is next to a postcard of a young woman creating her art.
Now and then.
Today and tomorrow.
Forever creating, dreaming becoming,
living an artful life.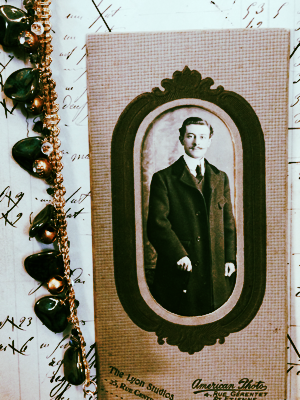 The art of creating with ribbons.
Ruth's blog and online collection.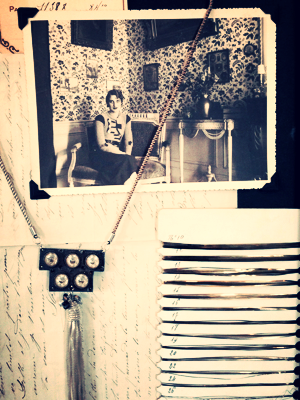 The cardboard holds samples of different colored, tinted silver and gold threads.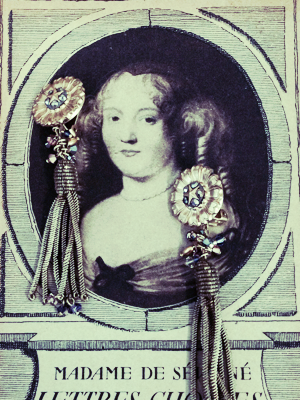 Hair do please don't.
My mother use to "fix" my hair everyday when I was a child. 
I wasn't keen on it.
I preferred the -- come what may look.
My mother use to say, "You have to suffer to look beautiful." In which I woud respond, "I do not want to look beautiful." One of my favorite memories is saying that exact same thing to Chelsea when she was a little girl... though her response is what I have held true:
"I am already beautiful!"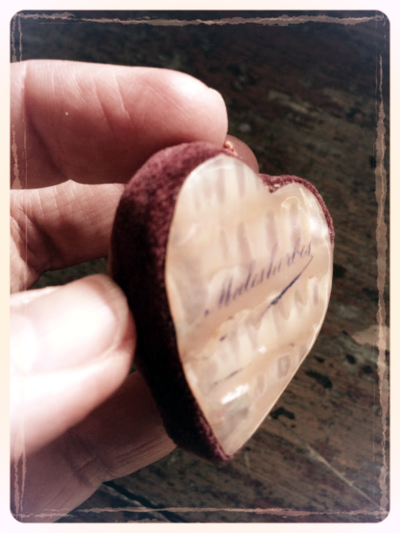 Where are you unfolding your beauty today?






Related Stories