We are very pleased to welcome our first freelance creative writer to the Decorque Blog today. Aimee Claire is an enthusiastic, well-educated writer with a passion for making things who will share her 'creating a craft workspace' personal story with you all….so over to Aimee.
Creative crafters need their own workspace. I figured this out early on following a series of mishaps involving various works in progress. I love my family dearly, but they don't mix well with delicate crafting materials, such as small beads, tiny sequins, delicate tissue papers and the like. Suffice to say, there were one too many catastrophic spillages over the kitchen floor caused by discarded football boots, leaping dogs or a clumsy husband. It all got too much for me, and I insisted on having my own craft workspace.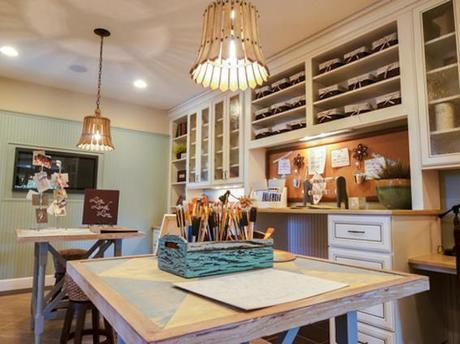 Here's how I did it
My craft is based around needle and stitch work so I needed a workspace that had plenty of light. Natural light would be the best, failing that I needed some strong overhead task lighting. The problem was, our house wasn't big enough for me to have a dedicated craft workroom. I tried all sorts of solutions: the cupboard under the stairs, a hallway alcove, the basement – all nicely tucked out of the way, but all too dark and cramped.
So I got working on my husband. I sold him the idea of creating a studio in the garden. I told him it could double up as an entertaining space – all we would need to do is find one of those lovely extending dining tables and I would be sorted. The perfect work surface for crafting and dining!
Now I am able to leave my crafts out on the table, safe in the knowledge that I can close the door at the end of the day and the following morning everything will be exactly as I left it.
The bespoke teak clad garden room has turned out far better than I could have imagined. I worked with the supplier to ensure all my crafting needs were built into the design. The overhead roof light spills natural daylight onto my worktable and I also have a floor standing Anglepoise lamp that works a treat on dark winter days. A comfortable swivel chair enables me to move easily between work areas.
Storage is key to making it all work. I have become a bit of a storage junkie and every time I see a pretty jar, box or container I have to have it. Lined up on my floor to ceiling shelves like sweets in a shop are jar after jar of multi-coloured beads and sequins.
I use a sewing machine and a few other gadgets that require electricity, so I made sure power sockets were fitted in the most convenient places. I found a couple of old filing cabinets in a junk shop and fitted them with castors – these work as my every day toolboxes. Being on wheels they are easy to move about on the hard floor and I can store them away neatly under the table when not in use.
We had our first family dinner out in my craft workspace just last week. Because I had organised the room with a dual-purpose intention, it was simple stowing away my craft kit and setting the table for supper. We had a great evening and it makes me happy that I can share this great new space with my family and not have to worry about the havoc they may cause.
Author information

Aimee
Aimee is an enthusiastic, well-educated freelance writer with a passion for making things. She is fascinated at how different patterns, textures and materials can completely change the look and feel of something, just by mixing them together. One day she would like to run her own Interior Design company or craft shop, but for now is happy experimenting with new designs in her own house.