Creamy Tuscan Mushroom Sauce with Sun-Dried Tomatoes and Spinach is a rich, Tuscan inspired recipe that is great over chicken, beef, and pork, or rice and pasta.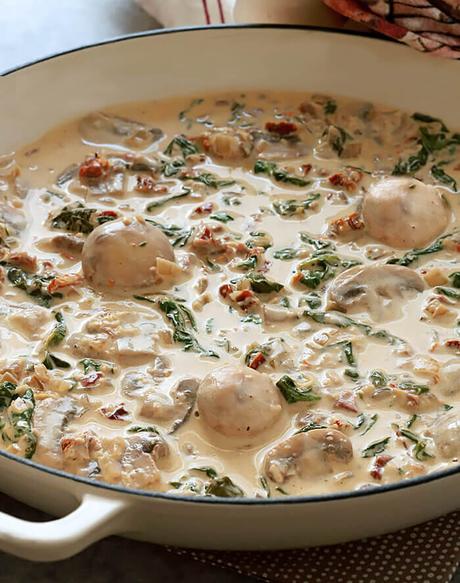 This is too easy to be so good and my neighbor Amy can attest to the goodness as well; I had so much I begged her to come and have dinner with me. I had some chicken breasts in the fridge that I had cooked the day before and these photos include that grilled breast but it would be equally good over pork or beef or simply as a sauce for rice or noodles. Honestly I would have been happy with simply a spoon.
There is no particular reason for the Tuscan moniker except that I so often associate anything with sun-dried tomatoes and Parmesan cheese with Italian; add some leafy green spinach and mushrooms and it seems earthy enough to warrant the name.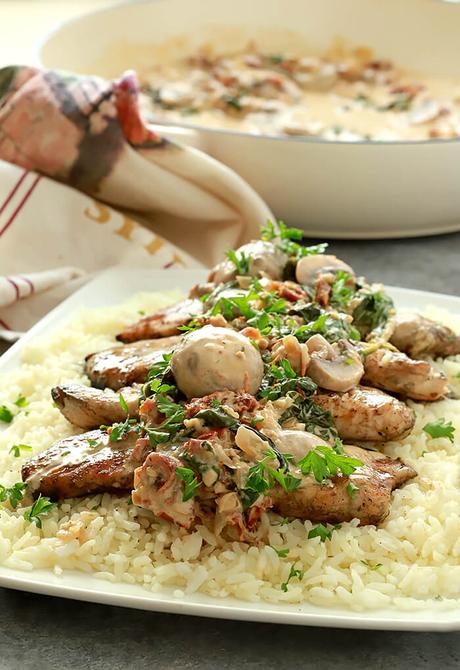 Truth be told I made it twice. I know I break some unwritten food blogger rules that expects I should make it at least three times. I prefer to let my 25 extra years of cooking compared to a lot of younger bloggers equate to the same. I can make a dish and know immediately if it's successful. If it's not? You'll never read about it on this blog!
My first attempt was foiled by the grocery store...it's true! I give myself the luxury of having my groceries delivered and I had thrown two boxes of mushrooms into the crisper without paying much attention. When I pulled out ingredients for this Creamy Tuscan Mushroom Sauce, I only then discovered that one box was sliced instead of whole button mushrooms. Not what I had in mind. I never get pre-sliced mushrooms because they are sliced way too thin for my taste and clearly, their shelf life is not as long as their whole cousins.
I HAD to use the sliced ones immediately, I had gotten to them just in the nick of time. And I didn't want to combine the thin sliced ones with the other package that would better suit me with small mushrooms and ones I could slice much thicker. So I decided to make a batch for dinner and then do it the next again the next day with the whole ones that were still in great shape. I scaled down from my original plan too and truth be told, the recipe I'm providing is plenty..any more might have been overkill.
The sliced mushrooms had started to get a bit watery so I laid them out on top of some paper towels and made sure they were dry. Wet mushrooms are a no-no. Never wash them; they are grown in a sterile environment so the only thing you need to do is wipe them down with a paper towel if you want to dust off some dirt and cut off the tip of the stem before slicing. Another reason I like to buy them whole. And be sure to slice them into big slices too; you don't want them to disappear into the sauce.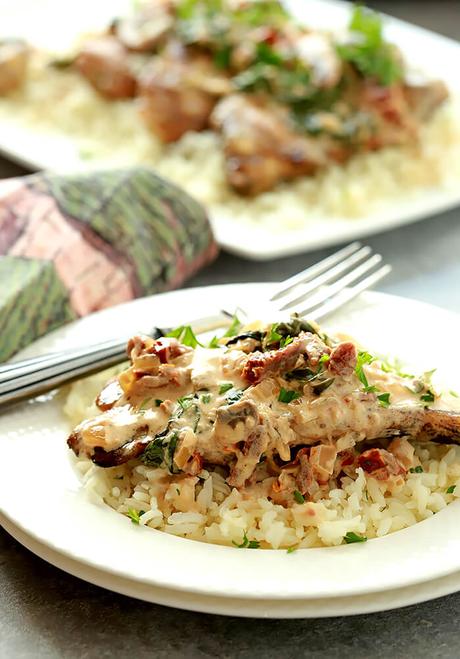 While I do love grocery delivery this is the extra price you pay; mistakes happen. So I proceeded as planned and while I certainly enjoyed my dinner, I have to say that the second round the next day was much better, for a couple of reasons. Yes, I like the mushrooms thicker and I even left a couple of small ones whole. But one thing I learned...the recipe needs very little salt. There is salt in the sun-dried tomatoes and the Parmesan cheese, for me that turned out to be enough...so taste, taste, taste before salting when you make them too.
I'm not including the chicken as part of the recipe I'm sharing because you can use whatever you have. I had leftover barbecued chicken breasts. I had a package of breasts that weighed about 4 pounds and there were only 4 pieces so they were huge. I pounded them to about a quarter inch thick with the flat side of a meat mallet and then cut the breasts into three slices each. A little bit of olive oil and some salt and pepper and they went on the grill for about 7-8 minutes. I have a thermometer like this and have learned to always check the internal temp to insure the meat is done.
Since the chicken was grilled the day before I warmed it a bit and then served the sauce on the chicken I had plated on top of rice. Spaghetti noodles would be good too. I'm a sucker for angel hair pasta; I love that it cooks in less than 5 minutes once the water starts to boil. It does mean you can't forget it but it's perfect for a quick weeknight meal. Especially if you have leftover chicken...or buy one of those roasted ones at the market; that works too!
PIN IT! 'Creamy Tuscan Mushroom Sauce with Sun-Dried Tomatoes and Spinach'