By Meet Karina 
Creamy Gluten-Free Penne Pasta Bake Recipe with Zucchini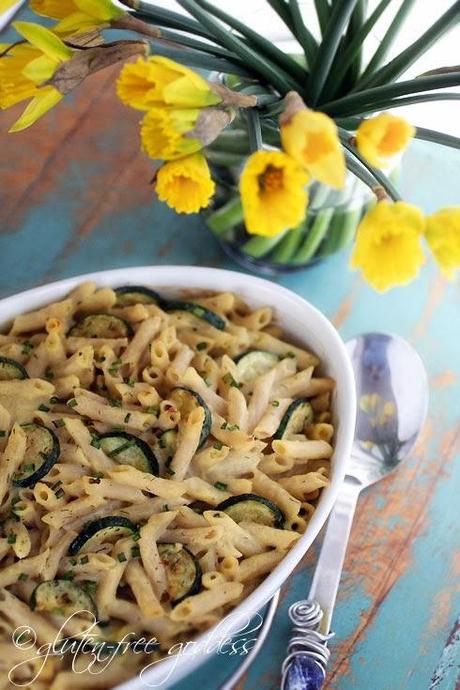 This fresh as a breeze Spring pasta bake is light and easy, vegan and gluten-free. The creamy non-dairy sauce is kid-friendly and mild. If your kids like a deeper, orange colored sauce, add half a teaspoon of paprika to the sauce and stir until blended.
Preheat the oven to 350ºF. Lightly oil the bottom of a large gratin dish or casserole and set aside. 
Ingredients:
12 ounces gluten-free brown rice penne
 pasta
1 medium zucchini
Olive oil
1 garlic clove, minced
Sea salt and ground pepper
, to taste
Sprinkle of 

dried dill

 or Italian herbs, to taste
For the sauce:
2 tablespoons olive oil
2 tablespoons vegan butter such as 

Smart Balance
4 tablespoons brown rice flour
2 1/2 cups 

organic soy milk

* see notes
1/4 cup gluten-free 

nutritional yeast

* see notes
1 teaspoon garlic powder
1 teaspoon sea salt
1/2 teaspoon ground nutmeg
1 teaspoon mild 

rice vinegar
1/2 to 1 teaspoon 

Dijon mustard

, optional
For the topping:
Chopped 

fresh chives
Instructions:
Bring a large pot of salted water to a rolling boil and partially cook the brown rice penne, till 
just this side of
 al dente. You don't want to cook it completely, or you'll end up with mushy pasta, after it bakes.
Meanwhile wash, trim, and slice the zucchini into half moons. Heat a skillet over medium heat and add a splash of olive oil. Add the zucchini and minced garlic, season with sea salt, ground pepper, and a dash or two of dried dill or Italian herbs. Stir to coat, and quickly stir-fry, just until the zucchini is tender-crisp. Don't overcook it. It will continue to cook in the oven.
Start making the creamy pasta sauce. Heat the olive in a medium saucepan and add the vegan butter. When the "butter" melts, add in the brown rice flour and stir with a whisk to make a paste. Heat it through, stirring and cooking the paste for a minute. Slowly add in the soy milk (or your milk of choice) and whisk the milk with the paste to combine. Add in the nutritional yeast, garlic powder, sea salt, nutmeg, rice vinegar and mustard (if using). Stir the sauce until it thickens and turn down the heat. If it gets too thick you can thin it with a dash of white wine, or more soy milk.
When the pasta is done, drain it well, and drizzle it with a touch of good olive oil. Pour the cooked penne into a large gratin dish or casserole. Add in the zucchini. Pour the sauce in and gently, very gently, combine the penne, zucchini, and sauce until the penne is coated. Sprinkle the top with fresh snipped chives.
Cover the dish with foil. Bake the penne in the center of a preheated oven for 20 minutes, until heated through and bubbling.
Cook time: 
35 min
Yield: 
Serves 6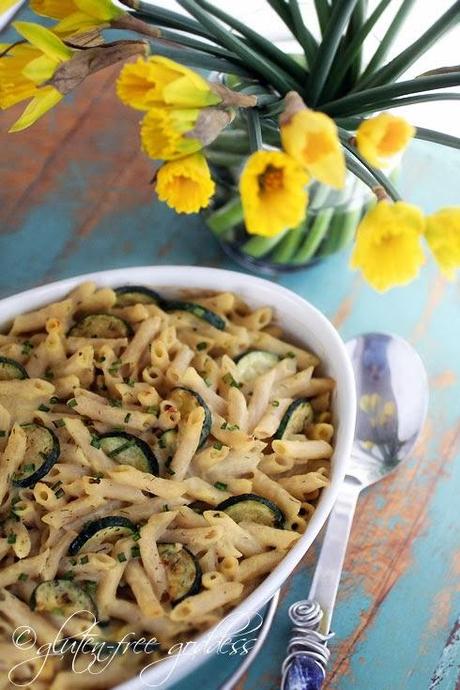 Creamy Penne Pasta Bake with Zucchini
Recipe Notes:
I used organic soy milk in this sauce- and it helps make the sauce rich and creamy. If you cannot tolerate soy, try unsweetened, clean tasting hemp milk, almond milk, or light coconut milk (like So Delicious).
If you do not care for nutritional yeast, omit it and add one to two tablespoons creamy, mild raw almond butter or raw cashew butter. (Roasted will be too strong.)
Add 1/4 cup dry white wine to the sauce for a more "grown-up" flavor.
This creamy vegan sauce is also wonderful spooned over hot cooked pasta (if you don't have the time or inclination to bake it), or poured on steamed vegetables, even brown rice.