This creamy pan-fried gnocchi recipe is sure to please vegans and non-vegans alike: it's creamy, bursting with flavor and has a bit of bite too. The gnocchi is cooked straight in the frying pan to give it golden edges, while chestnut mushrooms and almonds add texture.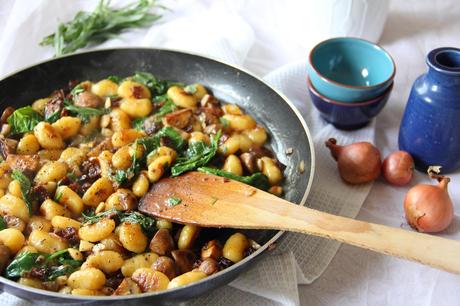 In fact, this creamy pan-fried gnocchi avoids the typical pitfall of most creamy gnocchi dishes to remain fresh and light – no doughy gnocchi or heavy sauces here! The combination of soft sun-dried tomatoes, lemon and fresh tarragon lift the oat cream sauce and create a delightful dish. It's perfect for a quick and easy dinner, or to serve as an impressive main for something more special.
I made this creamy pan-fried gnocchi recipe using some authentic Italian ingredients sourced from Ciao Gusto. Ciao Gusto is an online Italian food shop found on Ocado that offers a whole host of authentic Italian food brands, including some impressive vegan-friendly brands, such as Valsoia and Noberasco.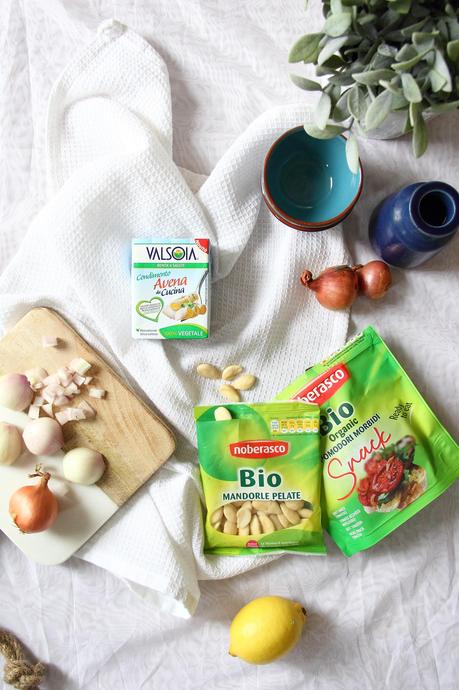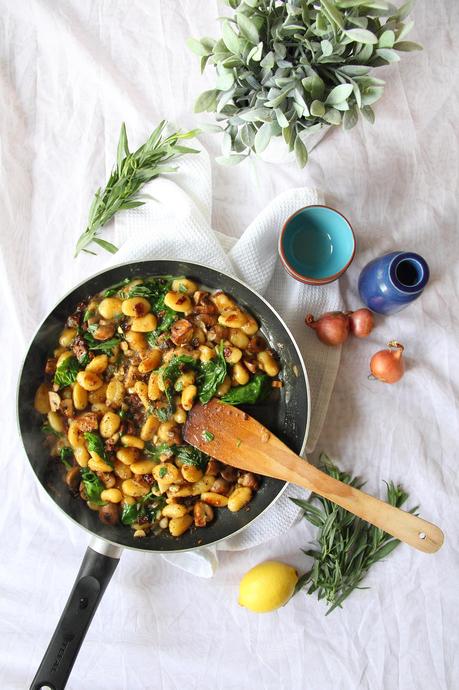 Valsoia have a mind-blowing range of vegan options – including vegan pizza (some of you might have spotted me raving about this on Instagram!), vegan lasagne and all sorts of vegan dairy substitutes. To make the creamy sauce in this recipe, I used Valsoia's oat cream.
Another great vegan-friendly brand is Noberasco, who sell a variety of dried fruits and nuts that I've found are both reasonably priced and high quality. I used Noberasco's peeled organic almonds and soft sun-dried tomatoes in this recipe.
Ciao Gusto is now easily available via their dedicated tab on the Ocado website. I'll warn you now though: prepare to want all the Valsoia vegan goodies!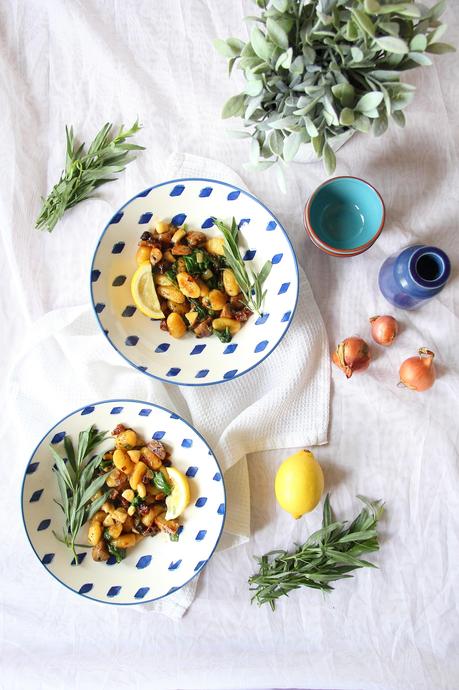 5.0

from

1

reviews
Creamy Pan-Fried Gnocchi | Vegan Recipe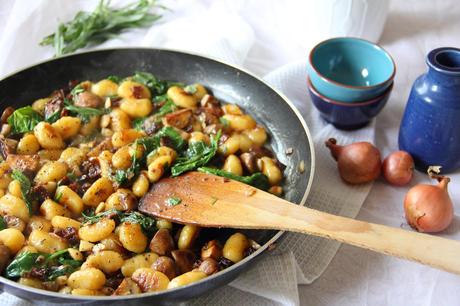 Save
Print
Prep time 10 mins Cook time 15 mins Total time 25 mins   This creamy pan-fried gnocchi is sure to please vegans and non-vegans alike: it's creamy, bursting with flavor and has a bit of bite too. Author:
The Tofu Diaries
Recipe type:
Main
Cuisine:
Italian
Serves:
4
Ingredients
6 shallots, finely chopped
3tbsp olive oil
400g gnocchi (I used gluten free)
250g chestnut mushrooms, cleaned and quartered
50g Noberasco soft sun-dried tomatoes, chopped
30g Noberasco peeled almonds, roughly chopped (not too small)
2 handfuls baby spinach
1 clove garlic, crushed
200ml Valsoia Condisoia Oat Cream
Juice of ½ lemon + ½ lemon to serve
2 tbsp fresh tarragon, roughly chopped with any hard stalks removed
Black pepper and sea salt, to taste
Method
Add 2 tbsp of olive oil to a large frying pan and heat over a medium heat. Once hot, add the shallots and sautée for few mins, stirring regularly.
Once the shallots have softened, add the gnocchi to the pan. Continue to sautée, stirring occasionally, for around 5 minutes until the gnocchi have begun to turn brown.
Meanwhile, in a second frying pan, heat 1 tbsp olive oil over a medium-high heat. Once hot, add the mushrooms and cook for around 5-7 minutes, stirring occasionally, until they have released their liquid and become crispy.
Add the mushrooms, sun-dried tomatoes, almonds, spinach and garlic to the pan with the gnocchi. Stir well and cook for a minute to wilt the spinach.
Add the remaining ingredients, stir well, and simmer for 2 minutes.
Remove from the heat and serve with a wedge of lemon!
Notes You can make the dish gluten-free by using a gluten-free gnocchi (which I did), otherwise any vacuum-packed gnocchi straight from the packet will be fine – but do check that it's suitable for vegans too! If you decide to use homemade or fresh gnocchi, you may need to reduce the cooking time accordingly. 3.5.3229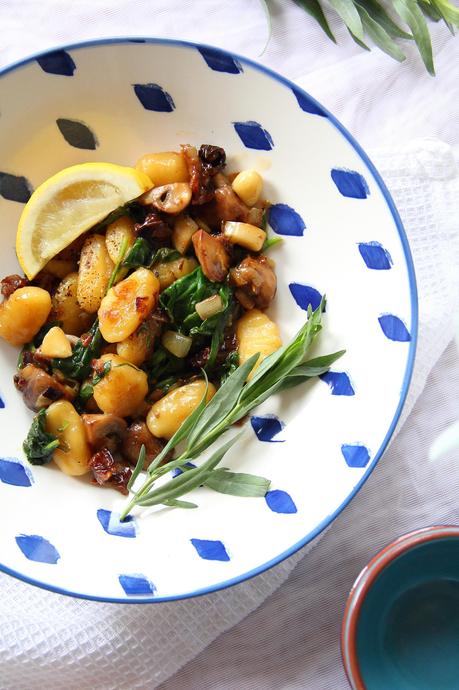 Click here to shop the Ciao Gusto range.
Find out more about Ciao Gusto by visiting:
https://www.facebook.com/CiaoGustoItaly
https://twitter.com/CiaoGustoItaly
https://www.instagram.com/ciaogustoitaly/
https://uk.pinterest.com/CiaoGustoItaly/
Pin this recipe for later:

A huge thank you to Ciao Gusto for sponsoring this recipe and helping to keep The Tofu Diaries up and running! All thoughts, recipes and photos my own. Please see my disclaimer for more details.