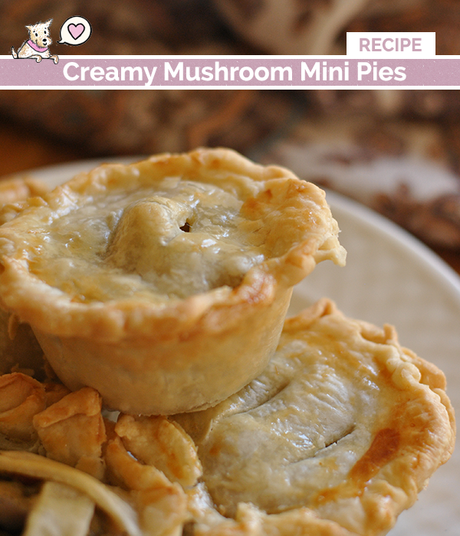 I am a pot pie fanatic. I love everything about them. The gravy, the crust… okay that's about it. To be honest I always pick out the vegetables in most store-bought pot pies. But if I make them at home, I cut the veggies up super small and cook them until they're so soft I barely know they're there and that is the only way I can eat them. I decided to make these little mini pot pies because I always end up wanting more crust when I make a normal sized pot pie. These little guys have the perfect crust to filling ratio, plus they are just adorable!
You could easily make these little babies with leftover turkey and Thanksgiving goodies! Stuff these pies with whatever your heart desires.
Creamy Mushroom Pot Pies Recipe
1/2 cup cooked chicken, cubed or shredded
1/2 cup cooked broccoli, chopped
4 oz. Crimini mushrooms, sliced
1 carrot, chopped
1 celery stalk, thinly sliced
1 clove garlic
2 Tablespoons unsalted butter
2 Tablespoons all-purpose flour
1/4 whole milk or cream
1 cup chicken broth
1/2 teaspoon salt
1 teaspoon pepper
1/4 teaspoon ground sage
2 teaspoons Worcestershire sauce
Pinch red pepper flakes (optional)
1 package double pie shell
1 egg, beaten
I used leftover chicken and broccoli to make this recipe. If you don't have pre-cooked broccoli, cut florets off one head and place them into boiling water for 3-4 minutes until fork tender. Drain and submerge into an ice bath. Chop and set aside.
Pre-heat your oven to 350-degrees.
In a medium dutch oven, add 2 tablespoons olive oil and warm on medium heat. Add your carrots and celery and cook until they become slightly softened.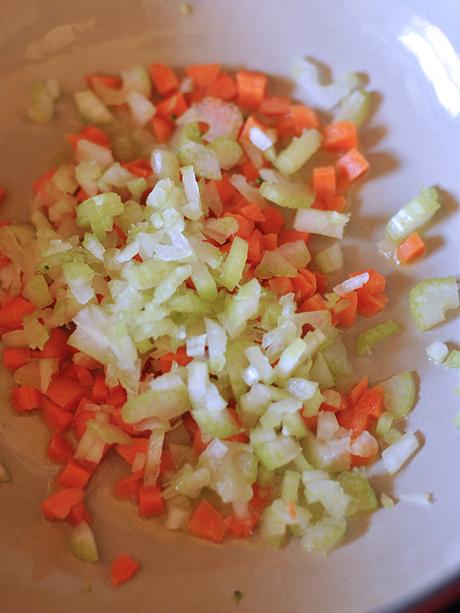 Add your mushrooms and garlic and cook until everything is softened completely and the mushrooms are browned and tender. Add your butter and garlic.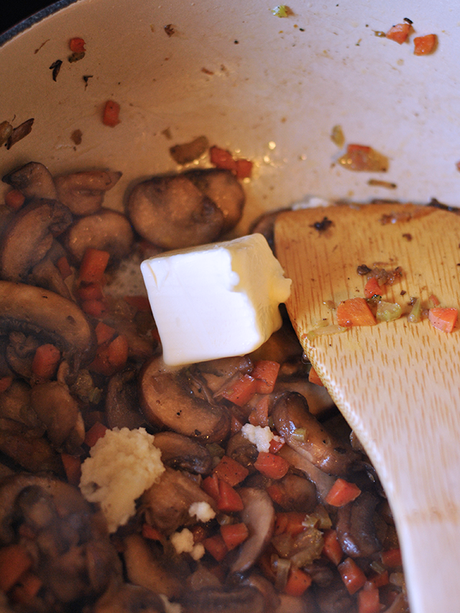 Melt your butter and then sprinkle in your flour and stir until everything is coated.
Cook for 1 minute until the flour browns slightly and becomes a paste covering all of your vegetables. Pour in your chicken broth and milk. It will be thin at first.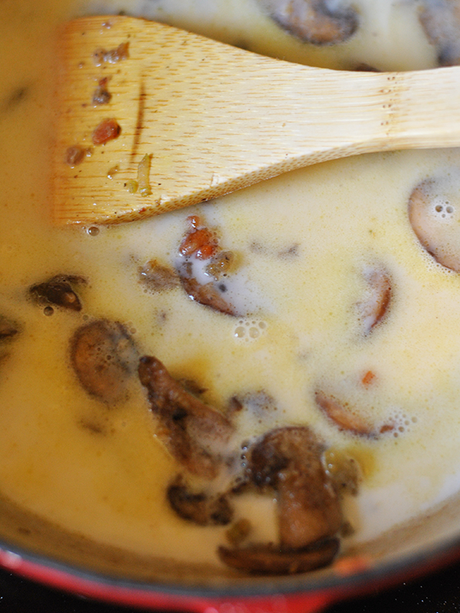 Cook on medium for 5-7 minutes until it thickens into a gravy. Stir in your salt, pepper, Worcestershire sauce, sage and red pepper flakes. Add in your chicken and cooked broccoli.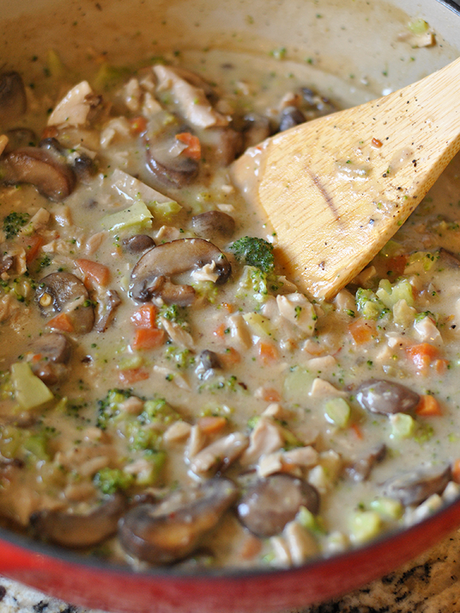 While your gravy is cooking, you can start on your pie crusts. Roll out your pre-made crusts and cut into 5-inch circles. You can trace a 5 inch glass with a knife, use a biscuit cutter, or do I like did and use a cream cheese lid that was the right size!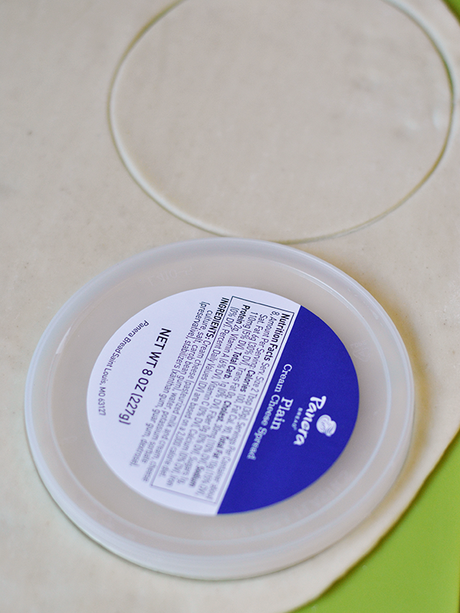 Place each round into a cup in a greased muffin tin. Fill with about 1/4 cup of the filling.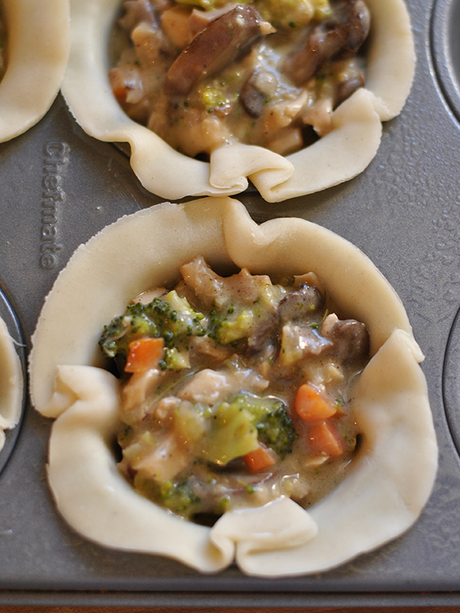 Top with another dough round and crimp the edges using your fingers to pinch it closed. Cut little vents in the top to stop it from bursting while it bakes. Beat one egg with a fork and then brush the egg wash onto each pie.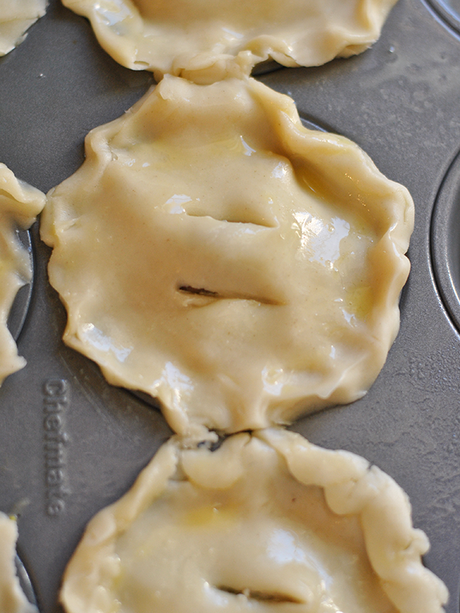 Bake in a 350-degree oven for about 20-25 minutes until golden brown on the outside and warmed through.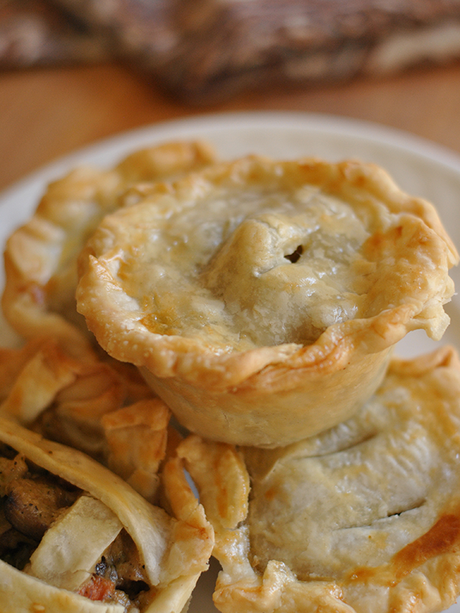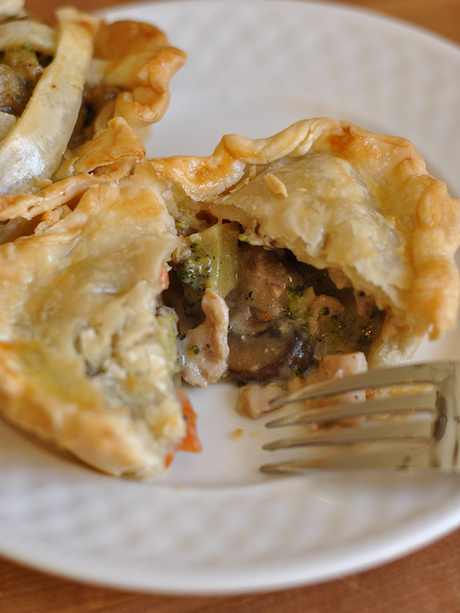 I hope you all have a very happy Thanksgiving!