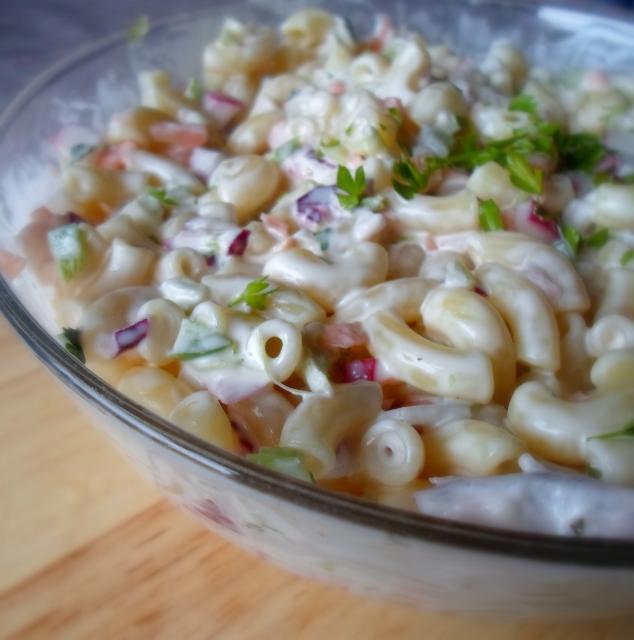 I was a little late in life in coming to the macaroni salad table.  It wasn't something that my mother had ever made when I was growing up.  In fact we only ever very rarely had macaroni at all, and when we did it was in a hot dish or casserole, not a salad.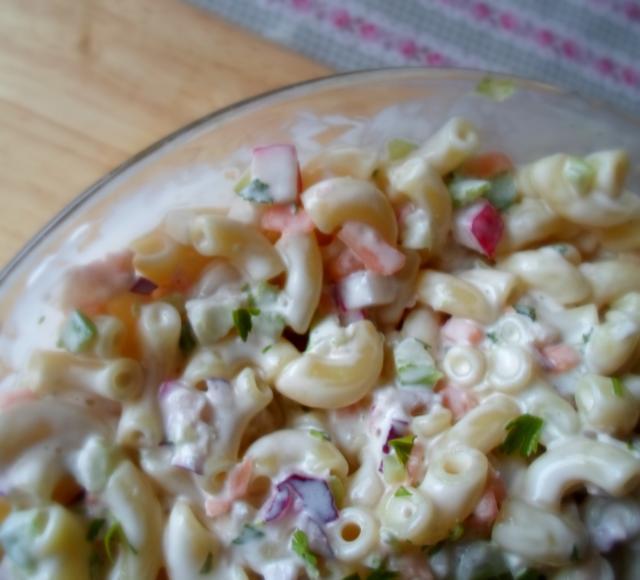 As an adult I have come to love pasta salads, and none better than plain old macaroni salad.  There is so much you can do with it.  Macaroni is the perfect canvas on which to play with your favorite flavor combinations.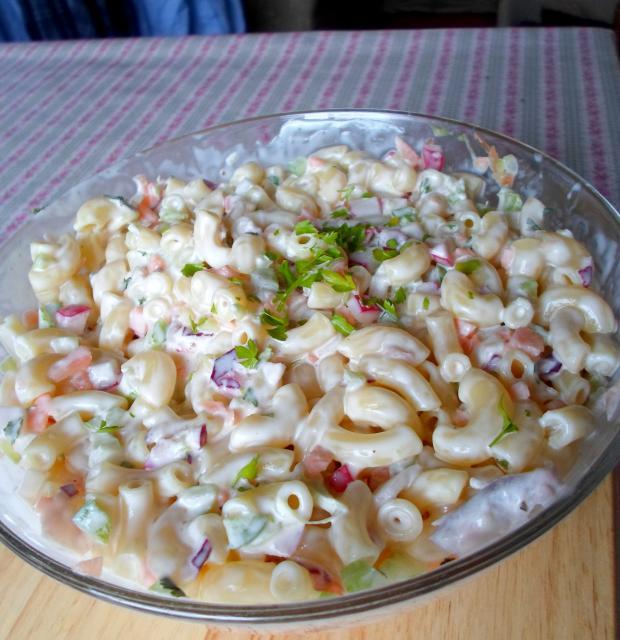 I have one pasta salad recipe that has somewhat of a pesto type of dressing, but those types of dressings are better suited to a fluted or ridged pasta . . . one that will hug onto the dressing and tuck it into all of it's crevices.  Macaroni calls for something a bit more sublime . . .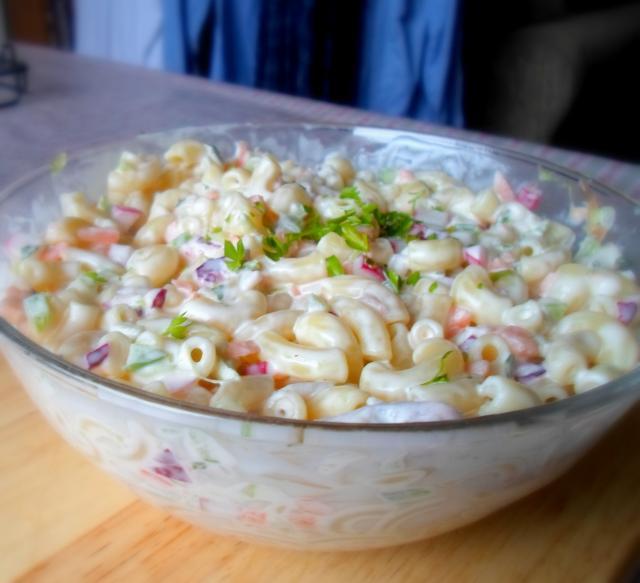 In fact it is well suited to a creamy type of dressing  . . . nothing over stated, and yet  . . .  rich.  A dressing which will cling generously and coat it without overpowering the value of the macaroni . . . or else why even use macaroni or anything else for that matter.   You want something which will enhance all of macaroni's properties.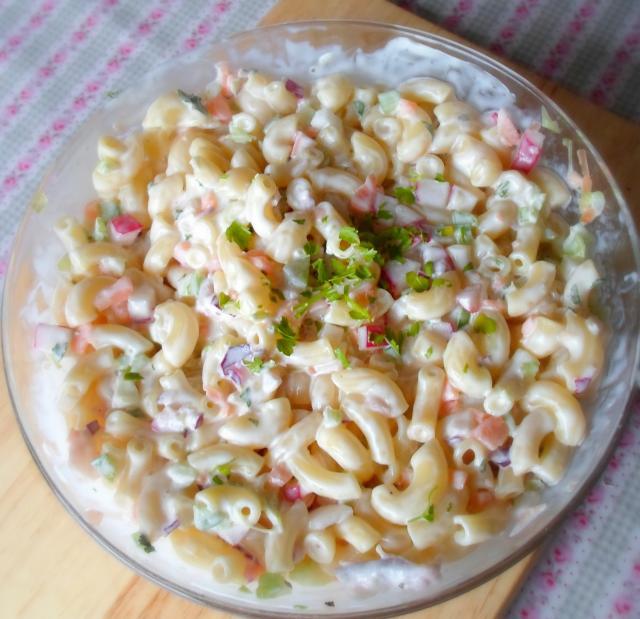 And of course something which dresses up well with a bit of crunch and colour, which you get from the liberal use of fresh vegetables here . . . celery, carrots, radishes, onion and peppers . . .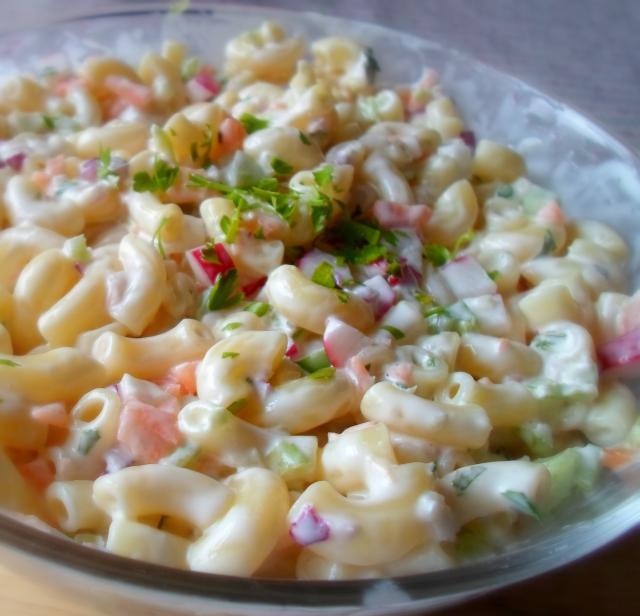 The dressing itself is not overly mayonnaise-y . . . it's lightened a bit with the use of salad cream, and some fresh and tangy lemon juice, with just a hint of sugar to counteract the tartness of the lemon so that it doesn't smack you in the face and make your jaws ache . . .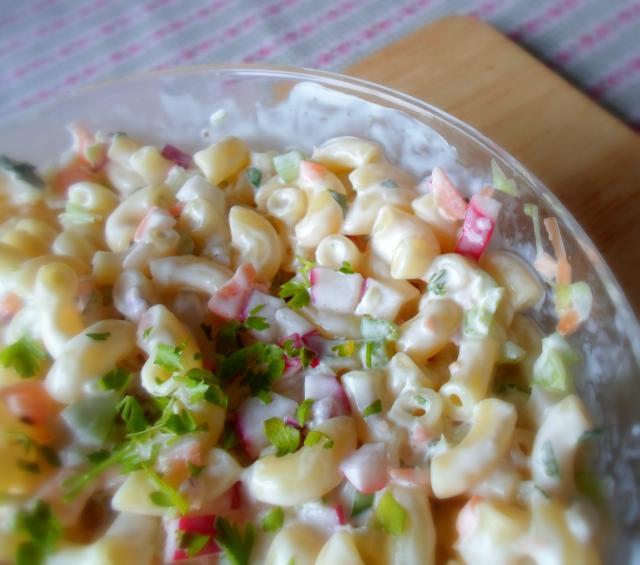 Quite, quite delicious actually.  This recipe combines all of the elements of several macaroni salad recipes I have taken to through the yeas, and comes out as the perfect salad for me.  Todd seems to enjoy it as well . . . even if it does have the dreaded macaroni in it! ☺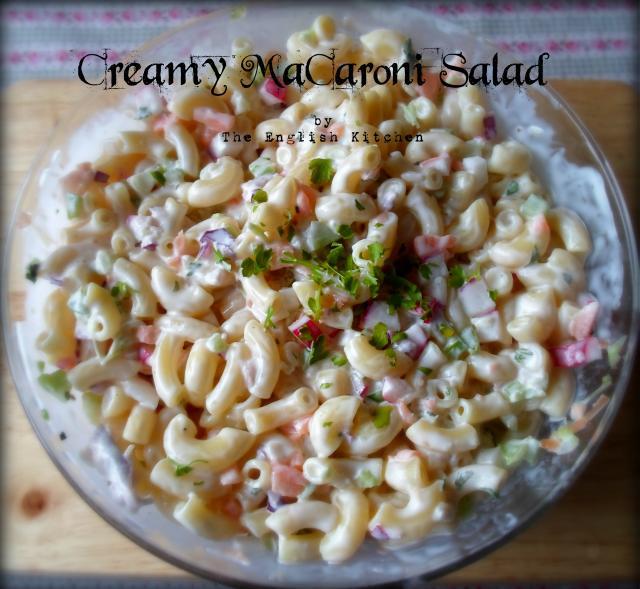 *Marie's Creamy Macaroni Salad*Serves 6 to 8Printable RecipeA combination of what I think are the best elements of any macaroni salad I have ever eaten.   Simple and delicious.boiling water1 chicken stock pot1 pound of elbow macaroni1 small green pepper, diced1 small bag of radishes, trimmed and diced (about 1/2 cup)1 small red onion, chopped1 large carrot, peeled and chopped2 stalks celery, trimmed and choppedFor the Dressing:2/3 cup mayonnaise1/3 cup salad creamthe juice of two lemons1 tsp sugar1 tsp salt1 tsp freshly ground black peppera small handful of chopped fresh flat leaf parsleyAdd the chicken stock pot to the boiling water.  Add the macaroni and cook according to package directions until desired done-ness.  Drain well.  Rinse in cold water.  Drain again and then tip into a bowl.   Add all of the vegetables and stir together to combine.  Whisk together all of the dressing ingredients.  Taste and adjust seasoning as desired.  Fold this dressing into the macaroni and vegetable mixture.  Smooth over and cover.  Chill for about 3 hours before serving.  Stir again just before serving.  If desired sprinkle with some more parsley.
Note:   A chicken stock pot is a small plastic pot, holding about a TBS of stock concentrate.  There are a variety of different ones on the market.  I normally use the Knorr ones.  You could also turn this into a main dish salad by adding cubes of cheese and meat or fish to it.  Ham, Tuna and Salmon are each one very nice additions.  One stock pot makes 500ml of 2 cups of chicken stock.
Salad Cream is a thin mayonnaise type of dressing sold over here in the UK.  The North American equivalent would be Coleslaw Dressing.  Kraft makes one as does a company called Marzetti.