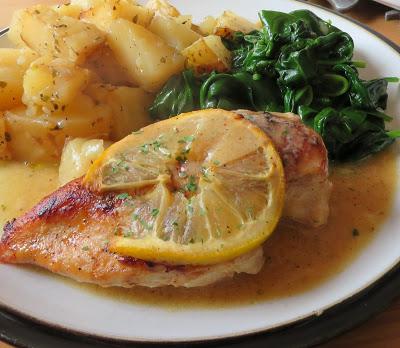 We eat a lot of chicken in our house. I think we probably have it twice a week in one way or another.  Sometimes we will have a roast chicken, but  most of the time we have either breasts or thighs, usually boneless, skinless.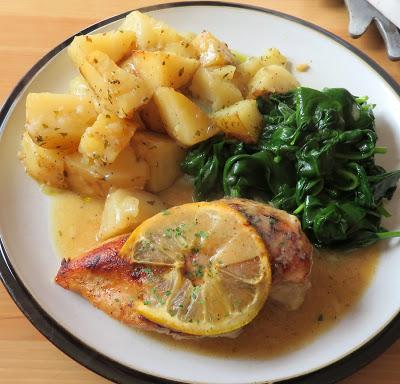 I pick them up a Costco and break them down into smaller packages, and then pop them into the freezer, ready to be used at one time or another.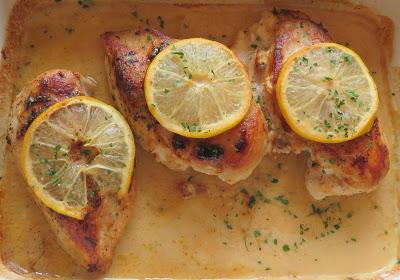 Chicken is a very versatile meat. I do prefer the thighs over the breasts as far as flavor goes, but breasts are healthier, so we eat them most of the time.  Chicken is one of those proteins that adapts itself very well to a variety of flavours.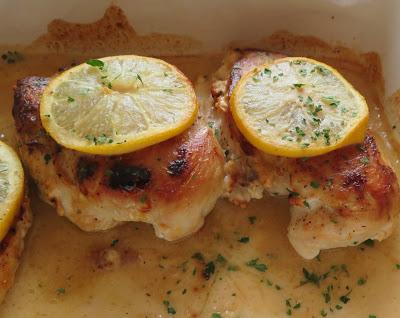 The recipe I am sharing today is one I adapted from
Bunny's Warm Oven
.  I saw it on Pinterest and it looked really delicious but then again, all of her recipes look delicious!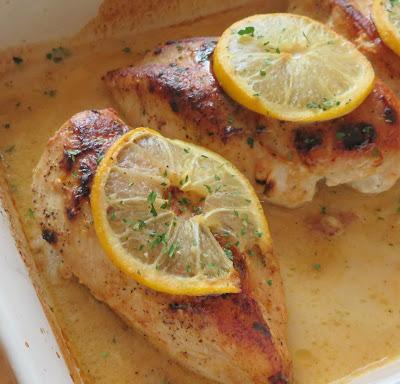 Her recipe was for 8 servings however and I didn't want 8 servings, so I adapted it to British measurements and cut the recipe in half.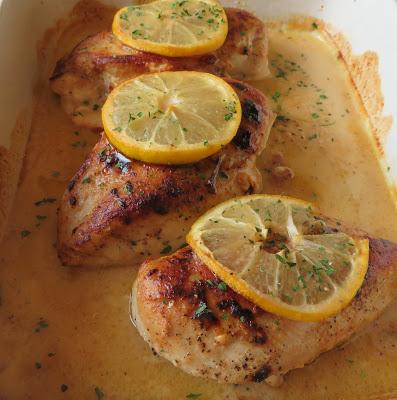 I also changed the method a bit to what I thought worked better and was less trouble, created less of a mess.  I like to make things easier if I can.  I am rather lazy at the end of the day . . .  yes, truly.  If I can save a few steps or a few dirty dishes I will!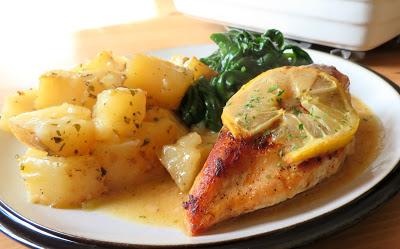 Her recipe called for the use of cream.  I didn't have any cream.  I did have cans of evaporated milk however and I have always found that in recipes such as this, it makes a great substitute for cream.  And is often much lower in fat and calories.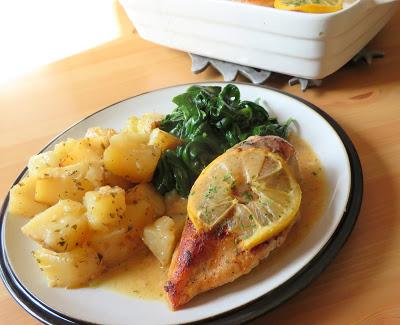 Especially if you use evaporated skimmed milk.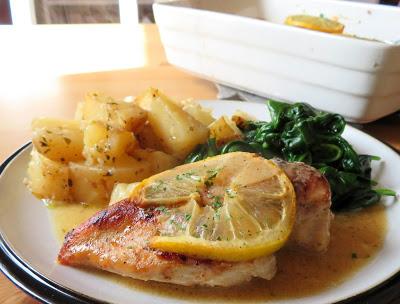 I served them with Slow Roasted Greek Potatoes.  I used a recipe for those that I found
here
.   They were okay, nothing spectacular to write home about.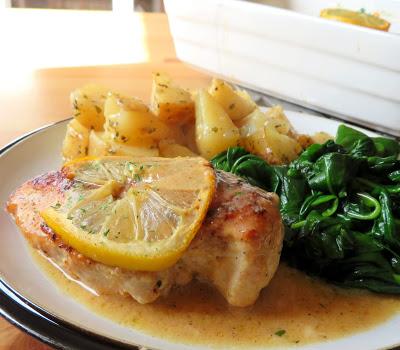 I sauteed some baby spinach to go along with them also.  Again, I used the same skillet that I had cooked the chicken in.  I just wiped it out.  Again.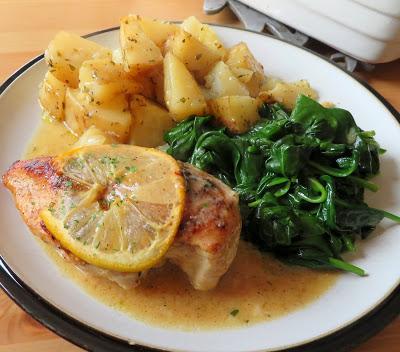 Spinach is so easy to cook.  I simply sautee a bit of garlic in some olive oil and then I start adding the washed spinach by the handful.  It wilts as I add handfuls and by the time I get the last handful added, its all done.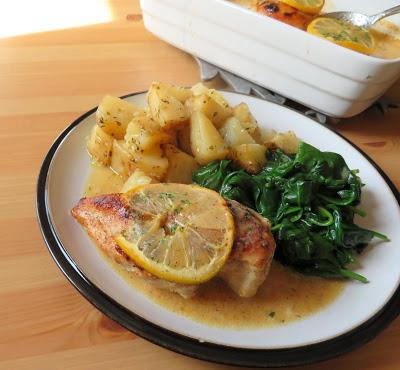 You can remove the stems or not as you wish.  I don't mind the stems. When I worked at the Manor, i always had to remove them.  I would remove them for a dinner party, but for every day, I don't bother.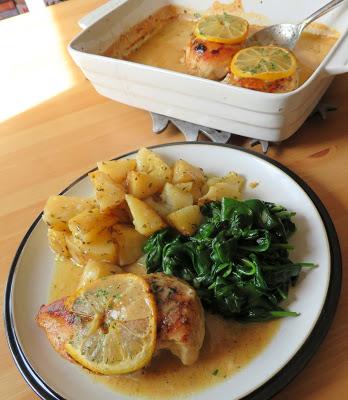 Altogether this made for a realy delicious supper for us both, with some leftovers for another day.  The chicken was tender and the sauce delicious. I think the chicken would be even more tender if you pounded it a bit prior to browning it, which I will definitely do the next time I cook it.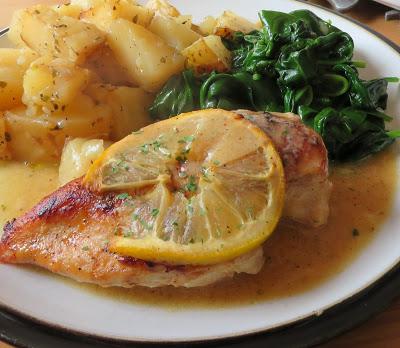 Creamy Lemon Chicken
Yield:
4
Author:
Marie Rayner
Tender chicken breasts baked in a rich and creamy lemon sauce.
Ingredients:
4 boneless, skinless chicken breasts
salt and pepper
120ml heavy cream, or undiluted evaporated milk (1/2 cup)
240ml chicken stock (1 cup)
the juice of 1/2 lemon
the zest of one lemon
3/4 tsp garlic powder
45g grated Parmesan Cheese (1/4 cup)
3/4 tsp salt
1 TBS butter
1/2 TBS olive oil
1 tsp cornstarch, diluted with 1 tsp water
4 slices of lemon
Instructions:
How to cook Creamy Lemon Chicken
Preheat the oven to 190*C/375*F/gas mark 5. 
Heat the butter and oil together in a skillet over moderate heat, until the butter starts to foam.   Season the chicken breasts lightly and add to the pan, top side down.  Saute until golden brown, flip over and saute on the other side until golden brown.  Transfer to a baking dish large enough to hold them all in a single layer.
Wipe out the skillet. Add the cream/milk, chicken stock, lemon juice, zest, garlic powder and the remainder of the salt and pepper to the skillet. Whisk to combine.  Whisk in the cheese.  Cook and simmer for about 10 minutes so that the flavours meld.  Whisk together th cornstarch and water and whisk into the sauce.  Cook until it thickens slightly.  Pour the sauce over the chicken breasts.  Top each with a slice of lemon.
Bake in the preheated oven for  25 to 30 minutes or until the chicken juices run clear.  Serve hot with some of the sauce spooned over top.
Did you make this recipe?
Tag @marierayner5530 on instagram and hashtag it #EnglishKitchenCreated using
The Recipes Generator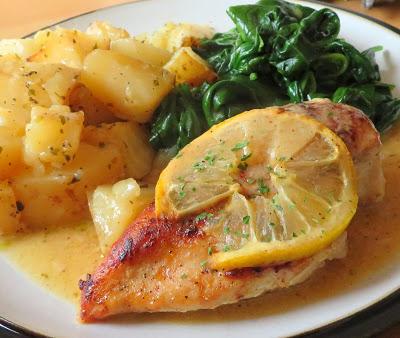 This would make a spectacular dinner party dish.  I don't think I would use cornflour and water in it next time. Instead I would use heavy cream and then reduce it by boiling.  Also lemon juice naturally thickens cream.  Anyways, this was quite tasty!  Enjoy! 

Follow my blog with Bloglovin