My kids love Cream of mushroom soup.  It is a compulsory item whenever we dined out.  Most of the time, it is just crappy stuff.
One of the best tasting Cream of Mushroom Soup that I tasted, was from a club that no longer exist.  Such a pity.
Making this soup seems easy based on the method.  The only hard part is slicing up the mushrooms!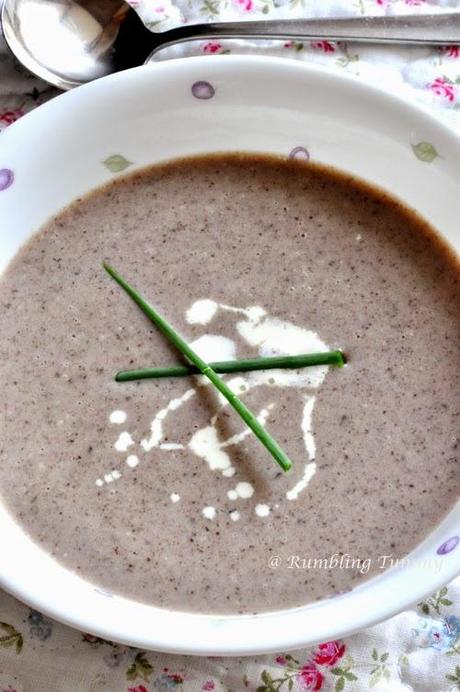 Findings: I don't know why my mushroom soup has a slight tinge of bitterness.  Hubby said could be too much mushroom?  Is there such a thing? 

Perhaps I should omit the red wine?  

Okay back to the drawing board, this recipe I don't think my kids like it.What you need:1 dollop of unsalted butter3 cloves garlic, minced500g fresh mushrooms, thinly sliced1 onion, dicedKosher salt and freshly ground black pepper, to taste1 cup red wine4 cups chicken broth1 cup heavy cream2 tablespoons cornstarchMethod:Melt butter in a large stockpot or Dutch oven over medium heat. Saute garlic and mushrooms, and cook, stirring occasionally, until tender and browned, about 5-6 minutes; season with salt and pepper, to taste. Stir in onion and cooked until translucent, about 2-3 minutes.Add in wine and bring to a boil; reduce heat and simmer until slightly reduced, about 5 minutes. Add in chicken broth, heavy cream and thyme.In a small bowl, whisk together cornstarch and 1/4 cup water. Stir in mixture to the soup until slightly thickened, about 1-2 minutes; season with salt and pepper, to taste. If the soup is too thin, add more cornstarch as needed until desired consistency is reached.Serve immediately.