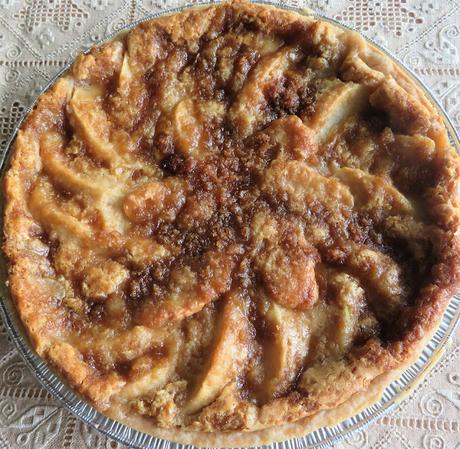 This has to be my favorite apple pie of all time, I kid you not! It is the best apple pie recipe and I think you best prepare yourself now to fall in love because I am pretty certain you will do just that! 
The original recipe comes from an old recipe book of mine entitled Food that Really Schmecks, Mennonite Cooking by Edna Staebler, published in 1968.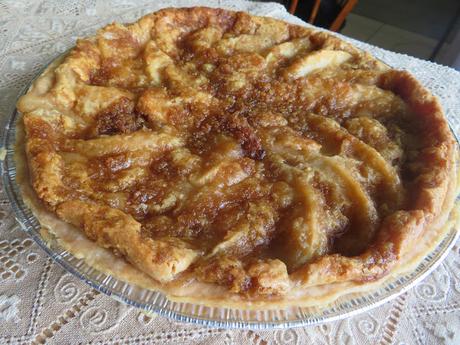 I remember taking a copy of the book out of the library when I was a very young mother and living in London, Ontario.  I painstakingly copied some of the recipes out into my Big Blue Binder. This would have been back in the early 1980's.
I eventually purchased a copy for myself many years later. It is a wonderful example of Canadian Mennonite Cooking, written by Edna Staebler who grew up in Waterloo county in Ontario, Canada, at the very heart of Canadian Mennonite Country.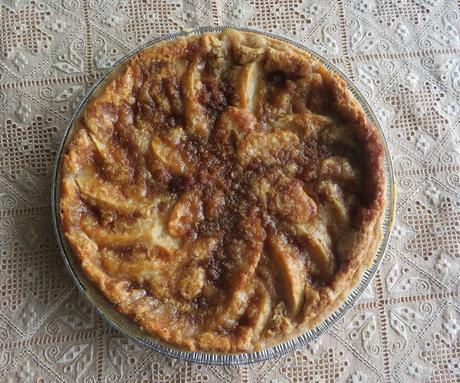 I have been to the area many, many times myself.  The farm market in Kitchener is fabulous and filled with an abundance of Mennonite cooking and quilts, meats, etc.
I also have been to Saint Jacobs many times, which is a very Mennonite town.  We used to love to eat at a Mennonite Restaurant called Anna Mae's in Millbank which is in the same area.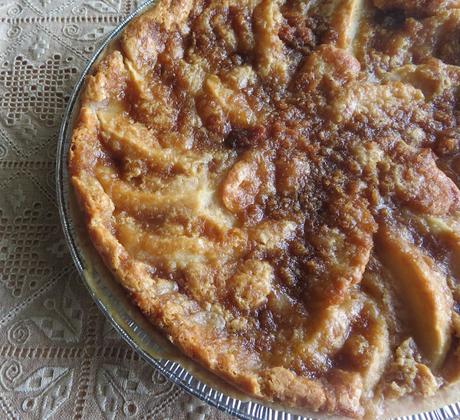 I have eaten there many times and in my opinion it was the best home cooking you could get in a restaurant outside of a home!  Everything was delicious.  They have a different special every night of the week, along with their special Broasted Chicken, and of course the pies are to die for.
If you ever happen to have a chance to visit it and eat there, I highly recommend.  Be sure to bring along a hearty appetite because they will be rolling you out of there!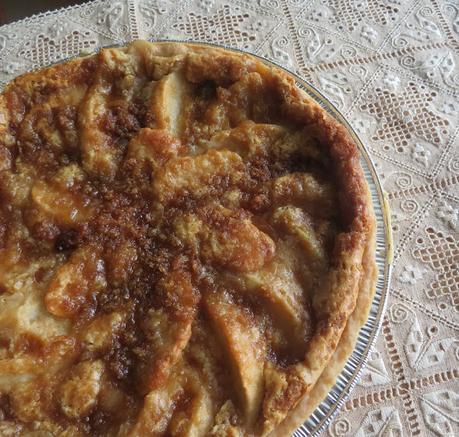 Mennonites are known for being excellent cooks.  I am not surprised.  They are very similar to the Amish in origin and life style.  We lived not too far from Mennonite country and often saw them in their horse and buggies.
Anyways, this pie is one of the best apple pies you could ever want to bake and to eat, and its very simple as well.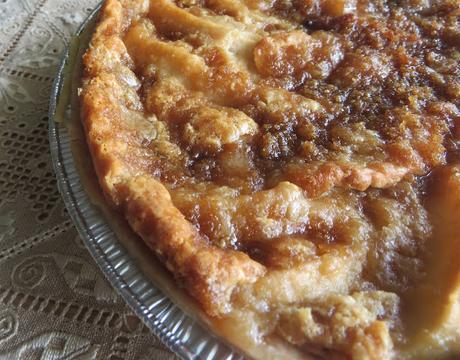 Schnitz usually refers to dried apples, but in this case it refers simply to sliced apples.  I don't want to start any arguments here. I know people can be very pedantic about terminology, etc.  
I am only giving you the name by which it is listed in the book. A rose by any other name and all that.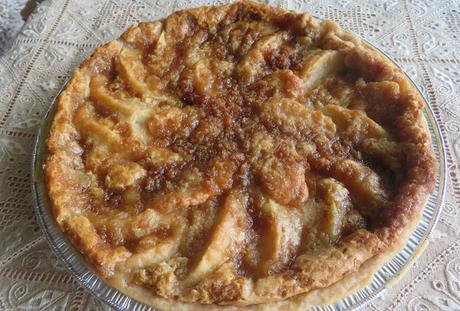 This is a single crust pie, composed of a delicious streusel crumb that is used in three separate ways. First as a base in the bottom of the crust beneath the apples.
Second mixed into sour cream or cream as a creamy custard that gets poured over the apples, and finally, third as a cinnamon streusel topping that gets sprinkled over top of the pie before baking.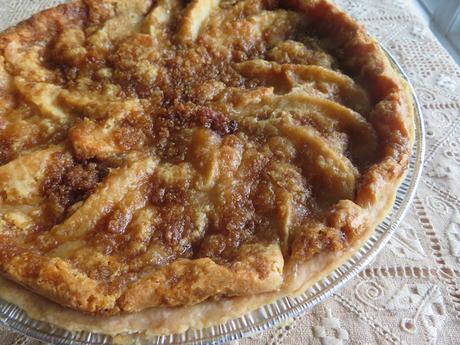 There is nothing extraordinary called for her, unless you consider cream or sour cream to be extraordinary.
For me they are just staples and something which I always have in my kitchen. It is the same with buttermilk and plain yogurt.  Trust me when I tell you that they always, always get used!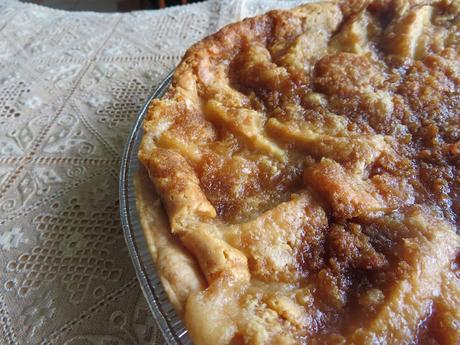 You will want to use a nice all rounder when it comes to apples.  Today I used some Gravensteins that are now coming into crop.
The Gravenstein apple is one of the earliest croppers when it comes to apples in Nova Scotia. They are great all rounders making for both great eating and great cooking. Firm, crisp and juicy.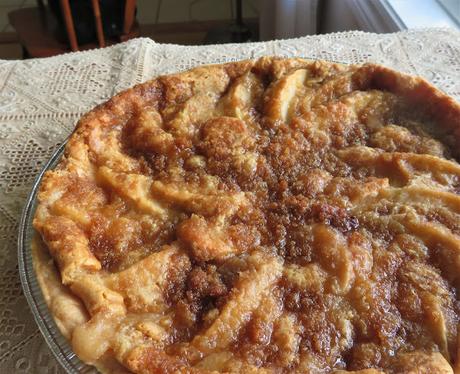 As you can tell they hold their shape well in cooking. They are also generally quite large. I used one and a half for this pie.
The other half I ate out of hand and it was delicious!  Best apple I have eaten in a while. Not long since being picked I am sure.  I bought them at Goucher's farm market on Friday.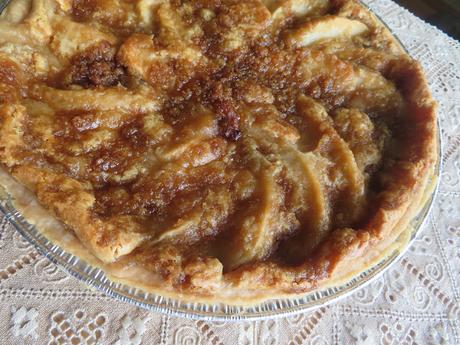 I had forgotten just how delicious fresh picked apples are. My first husband's family were farmers. They had orchards as well as chickens, eggs, lamb, beef cattle, and farmed vegetables as well for the local processing plant.
My late Mother In Law knew what to do with all of these things and she did it really well. Nothing was wasted.  I learned a lot from her. Lois was a real treasure.  She passed away a few years ago at the age of 100.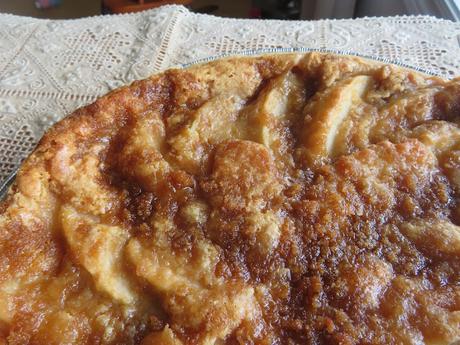 Normally I would make my own pastry for this but had a really busy day today so used a frozen pie crust. A Tenderflake crust. They are the best when it comes to ready crusts here in Canada. 
Normally I would make my Butter & Lard Pastry. It is the best, flakiest pastry you could ever want in a pie, single or double, sweet or savory.  Trust me on this.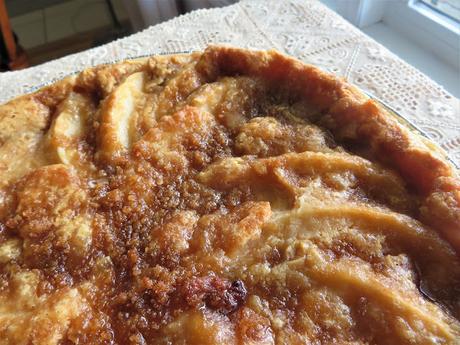 *Butter-Lard Pastry*
Makes 2 nine - inch crusts
Printable Recipe


This is a beautiful pastry.  Flaky just right.  You can add a touch of sugar to it if you are making a fruit pie.




2 cups all purpose flour (280g)




3/4 teaspoon salt




1/3 cup butter (76g)




1/3 cup lard (or white vegetable shortening) (74g)




5 to 6 tablespoons of ice water




(note: if using for a sweet pie, add 1 or 2 teaspoons of sugar.)




Mix flour with salt, and cut in butter and lard, until you have pieces of fat in the flour about the size of peas.  Add ice water, one TBS at a time, tossing it in with a fork until pastry comes together. Form in to a ball and cut in two pieces. Form each into a round flat disc.  Warp in cling film and refrigerate for 1 hour.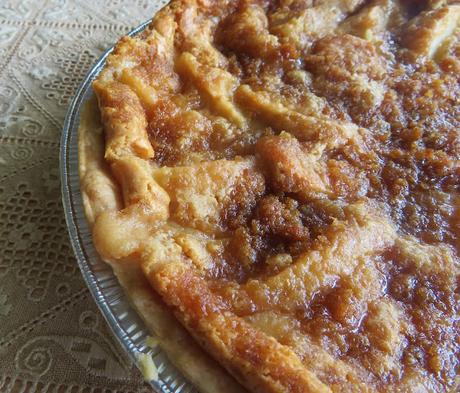 When the children were growing up, I always, ALWAYS had to make one of these for Thanksgiving along with the traditional Pumpkin Pie. The family loved it.
I also loved it. I would cut you a piece to show you inside the pie, but it really needs to stand overnight before I do that, and I am thinking I will bring it to my sister's tomorrow if I get invited for supper.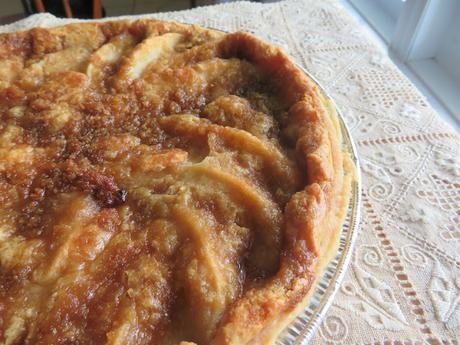 Do believe me however when I tell you that this is a
D
E
L
I
C
I
O
U
S 
pie!  (Sorry for shouting but I can't help myself when it comes to this pie.)
Crisp buttery crust, sweet, rich apple filling with a creamy sweet brown sugar custard and cinnamon brown sugar streusel on top. Now if that doesn't get your taste buds to tingling, I don't know what will.
I am only sorry it took me so long to share this with you!  Now get off here and go and bake one for your family. This pie is guaranteed to make you one of their most favorite people ever!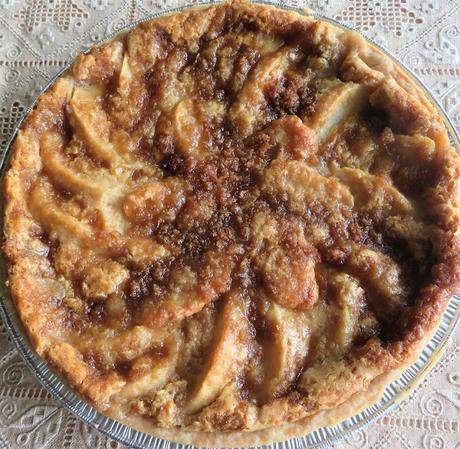 Cream & Crumb Schnitz Pie
Yield:
Makes one 9-inch pie
Author:
Marie Rayner
Prep time: 15 Min
Cook time: 50 Min
Total time: 1 H & 4 M
This is quite simply my favorite apple pie. I have been baking and eating it for many years. The original recipe comes from a book entitles Food That Really Schmecks by Edna Staebler, published in 1968.
Ingredients
Pastry for one 9-inch single crust pie
enough apples to fill the pie shell (I used 1 1/2 large gravenstein apples)
1 cup (200g) soft light brown sugar, packed
3 TBS cold butter
1/3 cup (47g) all purpose plain flour
2/3 cup (160ml) cream (sweet, sour or turning)
3/4 tsp cinnamon
Instructions
Preheat the oven to 425*F/220*C/ gas mark 7.  Have your unbaked pie crust ready.
Measure the flour, sugar and butter into a bowl and rub into crumbs. Sprinkle half of them into the bottom of the pie crust.
Peel, core and slice your apple into slices (schnitz). Place them in the pie crust on top of the crumbs.
Divide the remaining crumbs in two.  Mix the cream into one portion and mix the cinnamon into the other portion.
Spoon the cream portion over top of the apples to cover them completely.  Sprinkle the cinnamon crumbs over top of all evenly.
Bake in the preheated oven for 10 minutes, then reduce the oven temperature to 350*F/180*C/gas mark 4.  Bake for an additional 35 to 40 minutes.  The crust will be golden brown, the apples tender and the cream set and golden brown as well.
Let cool to at least lukewarm before cutting into wedges to serve.
Did you make this recipe?
Tag @marierayner5530 on instagram and hashtag it #TheEnglishKitchen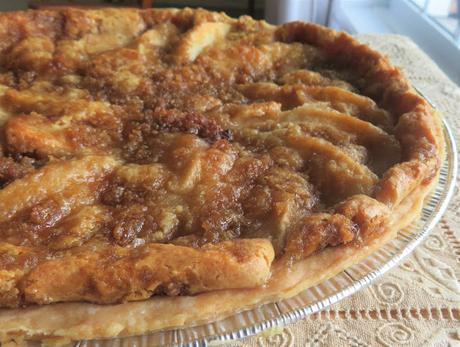 All of the content you see here on this page, both photography and written, are the sole property of The English Kitchen, Marie Rayner. Any reposting or misuse is not permitted. If you are reading this elsewhere, please know that it is stolen content and you may report it to me at mariealicejoan at aol dot com. 
 Follow me on Bloglovin